« previous post | next post »
I'm all too familiar with the idea that people from such-and-such a country can't deal with concept X because they simply have no word for it. One common version of this is the idea that without a word for something bad like bribery, people are incapable of understanding that they shouldn't do it.  Alternatively, the idea may be turned around the other way — without a word for something bad like lying, people allegedly don't understand that it's even a possible option.
I wasn't aware, but it seems that until 1990 or so, a linguistic gap of this kind protected Australians from such social evils as begging and armed robbery.  As Andrew Herrick explains ("With American lingo, we've imported toxic US culture", The Age 8/6/2010):
When Australian vernacular is replaced by franchised American terms, exotic tropes are too often introduced into our social and political ecology. Twenty years ago, Australia didn't need the terms homey, mugging, drive-by shooting, gated community and panhandling because these were foreign concepts. But they are not so strange to us now.
We've imported America's toxic culture with its language, and react by resorting to a questionable American "solution".
So it's already too late, really, but Andrew Herrick is not going down without a fight:
Border security is high on the agenda since so much is apparently at threat. But what about the security of our language?
What indeed?  As usual with border security, infiltration can be insidious:
Often the difference is subtle. Sandpit becomes sandbox, and blackboard, chalkboard.
This last one puzzled me, because as an American I've always heard (and used) blackboard in preference to chalkboard. The NYT more or less agrees:  it indexes 2,619 uses of blackboard since 1981, vs. 751 for chalkboard.  The Australian National Dictionary doesn't have either one, nor sandpit v. sandbox either — whatever the usage issues are in these cases, the AND seems to feel that they're the same as in British English. In fact, a bit of Zimmering in the lovely free Australian Newspapers archive reveals that Australians have been using chalkboard at least since this item in the Sydney Morning Herald for 1/14/1954: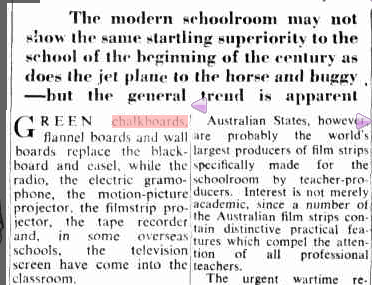 I've run into similar problems documenting some of Herrick's other cases:
Even a language bastion such as ABC radio has allowed its presenters to replace peak hour with rush hour. We barely notice the change.
Maybe that's because the OED treats "rush hour" as a prefectly good British English expression, with only one American citation among nine:
1898 Westm. Gaz. 28 Oct. 8/3 Trailer cars can be put on during the 'rush hours', mornings and evenings. 1907 'O. HENRY' Trimmed Lamp 233 As solid as granite in the 'rush-hour' tide of humanity, stood the Man from Nome. 1926 Daily Graphic 13 May 1 (caption) The 'rush hour' at Earl's Court yesterday. Travelling discomforts are mitigated by much good humour and politeness. 1931 Morn. Post 18 Aug. 6/4 Rush-hour trains held up. 1932 D. L. SAYERS Have his Carcase iv. 50 The place is like the Corner House in the rush hour. 1955 Times 17 June 9/4 Even now, great congestion is caused by traffic entering and leaving the park, particularly in the rush hours. 1961 I. MURDOCH Severed Head xxvii. 221 Through the rush-hour traffic the god that protects drunken men protected me. 1973 'M. INNES' Appleby's Answer iii. 32 It was the first of London's evening rush-hours, and their taxi made only a tedious stop-go progress. 1977 B. PYM Quartet in Autumn ii. 17 A woman, slumped on a seat on the Underground platform while the rush hour crowds hurried past her.
And Australians have been happily using this phrase for some time, e.g. this little piece from the Brisbane Courier for 12/20/1902, again courtesy of the Australian Newspapers archive: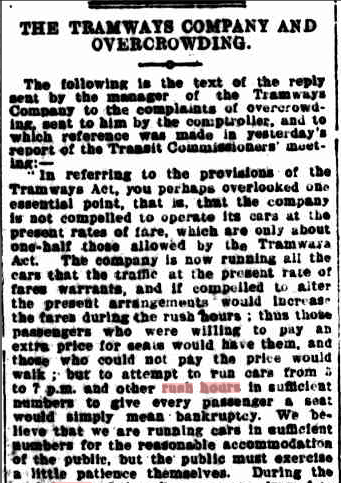 Or this from the Sydney Morning Herald for 7/12/1935: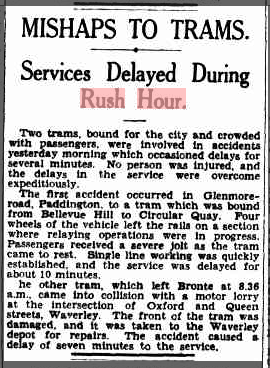 This search of the Australian Newspaper Archive suggested to me that more than a century before the American word "mugging" slipped past the border guards, Aussies somehow managed to work out for themselves the concept of using violence to take valuables away from strangers in public places.
As for those gated communities, the OED's earliest citation is from 1979:
1979 N.Y. Times 26 Jan. A1/5 The deal includes most of the undeveloped portions of Pebble Beach and the Del Monte Forest, a gated community of expensive homes, 5,200 acres of verdant pine, oak, and cypress trees, [etc.].
But I don't think that I noticed the term until somewhat later, though I first encountered the concept, as applied in the modern world, when I saw the 1981 Australian movie Mad Max 2.
A bit of web search informs me that Andrew Herrick knows quite a bit about chickens, and is "a wine-maker, carpenter and writer who lives with his birds in Melbourne". I'm sure that Mr. Herrick's toxic-culture-via-language rant is much appreciated by his friends, especially after a few glasses of wine, but it's always a bit surprising to me when a major newspaper gives space to stuff like this.
---