« previous post | next post »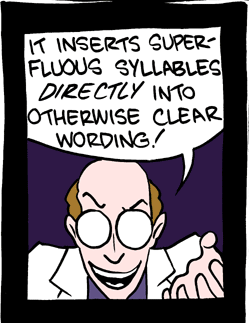 Zach Weiner's most recent Saturday Morning Breakfast Cereal reveals an invention that may allow Big Science to complete the transition to assembly-line methods.
But for me, this strip raised an iconographic question: when did white lab coats become the comic-strip uniform of scientists? And when this convention arose, which scientists actually wore white lab coats? Because these days, it's not easy to find an actual scientist (as opposed to one in a comic or an advertisement) who wears (or even owns) one. [OK, I yield to the commenters who observe e.g. that "in … biomedical research, maybe a third of the researchers wear lab coats whenever they're at the bench". Let's just say that a fairly small minority of scientists (and engineers and other inventors) wear white lab coats, and leave it at that.]
The guy in this strip apparently designs or builds hand-held electronic devices that make electronic-y noises accompanied by actinic flashes. That's another piece of interestingly dated comic-strip iconography, since an invention that modifies wording would of course for the past half-century have been a computer program. It's easy to see why Zach likes the idea of a stand-alone device involving electrical dischanges, since some guy just showing PowerPoint slides about his new program might as well be reporting on sales figures for the last quarter, and is completely lacking in audio-visual oomph.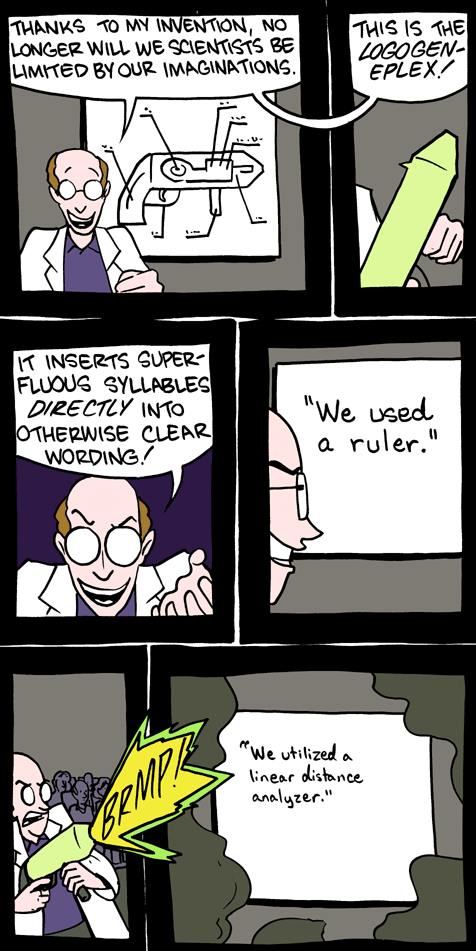 Zach could have used movie-based stuff like cascades of green lettering on a black background, as if the hackers of the future used futuristic Tektronix terminals, but that's harder to draw and has less of that mad-scientist vibe.
Even clockwork is more visually dynamic than modern computer hardware is. And Mary Shelley didn't invent the mad-scientist meme until after the age of clockwork was mostly over, so that electrical discharges were part of the mad-scientist story from the start, while clockwork wasn't — though comics like Girl Genius have done a wonderful job of re-imagining that history. With white lab coats, natch: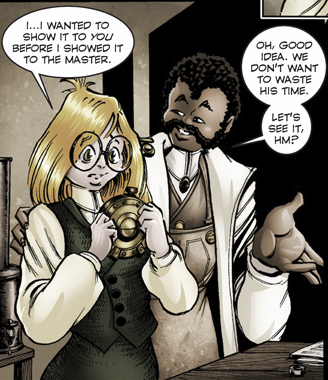 Girl Genius has plenty of electrical discharges along with the clockwork and the lab coats, of course: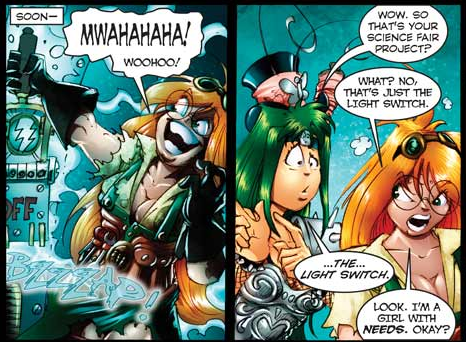 For the rest of the Logogeneplex story, including the bonus picture of the hypocube (mouseover the red dot at the bottom to see it), you'll have to hit Zach's web site.
But seriously, white lab coats?
[Update — promoted from the comments, same sample pictures of scientists drawn before and after a seventh-grade class's visit to Fermilab. Nearly all of the "before" pictures involve white lab coats. None of the "after" pictures do. A typical example: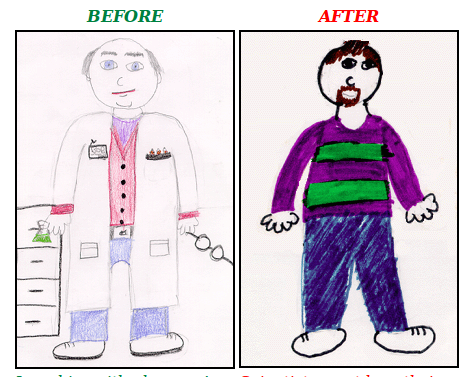 And another one: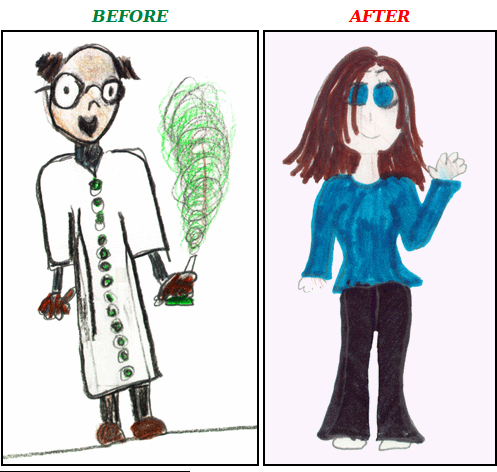 Follow the link and see the other 29 pictures, along with the students' comments, like ". . . . anyone can be a scientist. I saw people walking around in sweatshirts and jeans. Who knows? Maybe I can be a scientist."
Another interesting comment:
The purpose of a lab coat, as many above have mentioned, is to protect you and your own clothes from the messy and unpleasant effects of whatever you're working with. So why after all this time do popular depictions of scientists (a) always wear lab coats but (b) never button them up?! Do they all fear acid attacks, but only from the rear? It's not even worth wearing if it's not done up properly.
The obvious answer: it's semiotics, not functionality, that drives the choices. Note that it's not just popular depictions — a white lab coat is basically a uniform for doctors in at least some hospitals, and memory (perhaps fallibly) tells me that they  leave them unbuttoned at least as often as not, as in many of these pictures (not that those are mostly real doctors at work, but still).]
---