« previous post | next post »
My note this morning on "Most" stirred up some discussion:
Geoff Nunberg: I think 'most' licenses a default generalization, relative to a bunch of pragmatic factors, …
MattF: I think 'most' has a normative or qualitative sense in addition to a quantitative sense.
John Cowan: For me too, "most" has a defeasible implicature of "much more than a majority".
Those rear ends are pretty well covered — "default", "in addition to", "defeasible" — but Nicholas Waller got numerical:
I would be with John Irving – 51% of a population isn't "most" but around 60-75% would be. (90% or more would be "almost all"; well, until it hit "all" at 100%; and 75-90% would be "a very large majority")
So did T.T., although with somewhat different thresholds:
"Most X are Y", to me, means a substantial majority of X are Y—certainly more than 50%-plus-1. Even two-thirds feels borderline.
But Adrian Bailey agreed with my first reaction:
Most has always meant "more than half (but less than all)" to me. If there are 100 of us and I say "Most of us stayed behind" I mean between 51 and 99.
And there were other opinions as well. So I poured myself a cup of coffee and did a little Breakfast Experiment™, even though it's mid-afternoon.
I searched on Google for the pattern "most * percent", and picked out of the first 150 hits all the examples like these:
most Pakistanis (64 percent) believe it is important to improve relations with their powerful ally
Most (72.4 percent) said that they would consider dating someone of a different race.
Most Americans (51.4 percent) will live in poverty at some point before age 65.
There were 72 numbers in my list, and the histogram of 69 of them looked like this: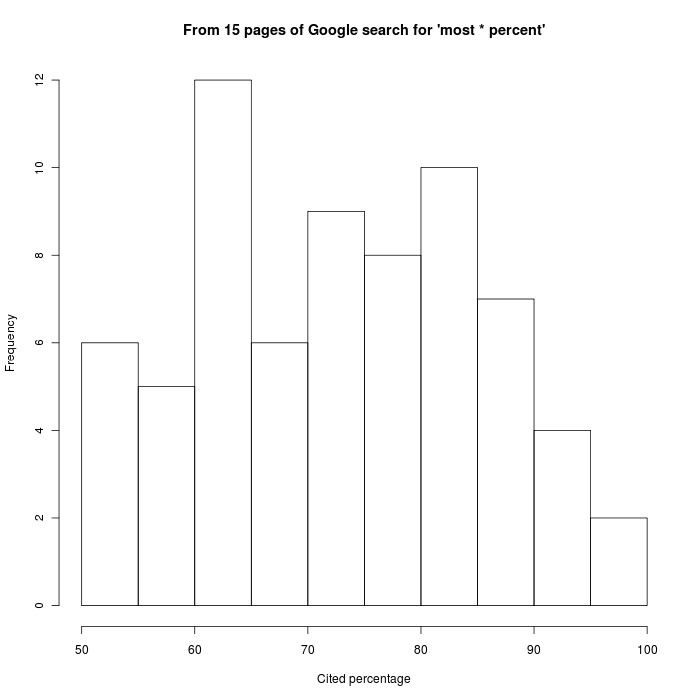 You might believe that this is a bimodal distribution, with one mode just above 60% and another just above 80% — though if you divide things up into ten-percent bins, the stretch from 60 to 90 flattens out: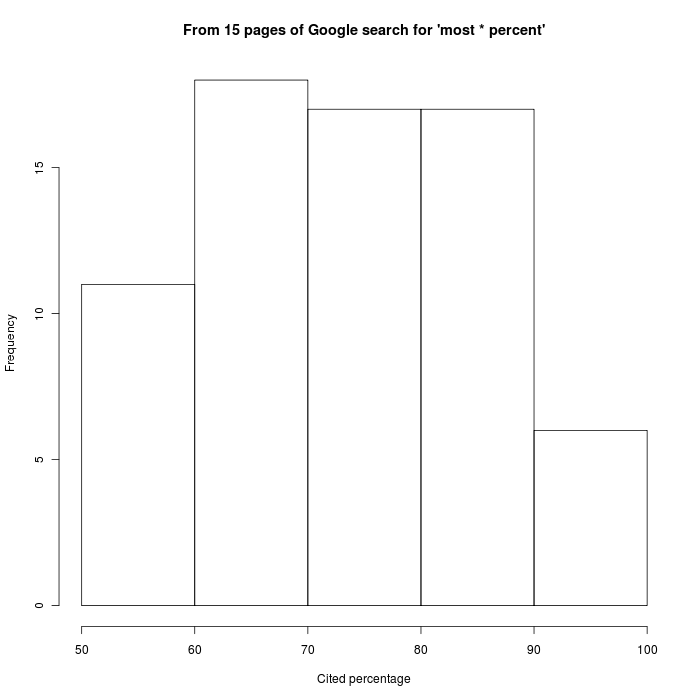 In any event, it's pretty clear that the whole range from 50.1 to 99.9 is getting some action.
The three examples that I left out of the histogram were cases where "most" meant "a plurality", i.e. the subset with the largest proportion even though that proportion was less than 0.5:
There were 42,286 eye accidents reported in private industry in 2002, and the most prevalent (38 percent) type of event involved the eye or eyes being rubbed or abraded by foreign matter.
Most (44.5 percent) said that 25-49 percent of students will transfer to a 4-year college.
Most independents, or 40 percent, said they would vote for Giuliani.
According to the Third National Health and Nutrition Examination Survey, approximately one-quarter of people examined (4,801 of 17,235) had oral lesions, with most lesions (46.3 percent) located on the hard palate or gingiva where red-and-white lesions were most prevalent.
I thought that the following juxtaposition was striking evidence that most= >50% is alive and well in some quarters:
Many dancers (49 percent) were comfortable or very comfortable in revealing their occupation to others. Interestingly, most (52 percent) respondents viewed exotic dancing as a promiscuous activity.
The other 69 examples were:
Most farms — 61 percent in 2004 — do no receive any government payments.
most Pakistanis (64 percent) believe it is important to improve relations with their powerful ally
Most respondents (59.1 percent) believed that in a situation where a black and a white applicant were equally qualified, the white person was most likely to get the job.
Most (72.4 percent) said that they would consider dating someone of a different race.
Most Americans (51.4 percent) will live in poverty at some point before age 65.
Most (57.3 percent) do not keep any form of personal health records.
Most (68.3 percent) say they "strongly agree" with this statement.
Most (69 percent) of the respondents are white
Most respondents (86.3 percent) considered exotic dancing a legitimate line of work
Interestingly, most (52 percent) respondents viewed exotic dancing as a promiscuous activity.
Most (63 percent) dancers have never dated a customer.
Most (78 percent) were not exposed.
Most Californians (54 percent) say global warming is already having an impact
Most likely voters (79 percent) also view the U.S. Senate candidates' positions on the environment as at least somewhat important.
Most U.S. voters (52 percent) continue to believe that tax increases will hurt the economy
Most uninsured Nevadans (81.5 percent) are members of working families
Most (63 percent) also see blogs as an "equal playing field," where everyone has a voice in a democratic forum.
Most, 71.5 percent ,agree with the U.S. bishops in their call for immigration reform
Most breaches (60 percent) continue to be discovered by external parties and then only after a considerable amount of time
When people search their names, most, 63 percent, find some relevant information about themselves
Most students (60.9 percent) believe it improves their learning.
Most women (71.5 percent) reported having never experienced any side effects associated with vibrator use.
Most firms (51.4 percent) had an. initial capitalization of less than $20000.
most men (71.5 percent) reported they would choose radical prostatectomy again.
Most students (63.1 percent) were not swayed away from a college by the presence of large lecture classes
Most (70.3 percent) of the fatally injured athletes were between the ages of 20 and 44
in most cases (59.3 percent), a risk category was not reported or identified.
most (82 percent) said they would be opposed to the nomination of a Supreme Court Justice who supports such abortions
most (90 percent) of these households contained elderly or disabled members
Most abortions (89 percent) in 2004 occurred during the first trimester
The injuries were, in most cases (62.0 percent), caused by the players falling or stumbling while attmepting to retrieve the shuttle.
liquid propane gas is the cooking fuel used by most households (78.5 percent)
most (71 percent) didn't even receive any World Cup spam
Most – 88 percent – had established between four and 10 anti-stress programs
Most (84 percent, or 155 of 185) of the generic drug products had no change in price during the 12-month period
Most (62 percent) work published in the leading journals was done at the individual level.
most fistulas (61.5 percent) occurred at the distal anastomosis in patients who did receive radiation therapy
most (88 percent) thought about it only occasionally or not at all
Most (57.5 percent) of the 89 protracted projects studied were between 5 and 7 years old
most (93.6 percent) were in male- headed households
most Republicans (79 percent) approve of Bush's performance and most Democrats disapprove (83 percent)
most – 62.2 percent – worked in industry.
Most of them — 51 percent — worry most about meat.
Most (74 percent) of the victims who reported violent crimes by juveniles said the offender was a male
Most U.S. farms—98 percent in 2004—are family farms
Most (85 percent) cancers in which the primary site is unknown are adenocarcinomas.
Most (89.2 percent) of the 4.4 million recent alcohol initiates were younger than 21 at the time of initiation.
of the burglaries for which the time could be established, most (62.2 percent) residential burglaries occurred during the day
Most urban physicians (81 percent) participated in Medicaid
For most (89.2 percent), the decision to go overseas was based entirely on personal interest.
which indicates that most (77.7 percent), but not all, of their responses were correct.
Most (83 percent) said that they got vaccinated to prevent themselves from getting sick
Most proxies (93.6 percent) also observed that their counterparts have no difficulty in making new friends.
Most (70 percent) have parents who are employed, many in small firms, or are self-employed.
Most — 81.5 percent — were aware of the straw poll
most (70 percent) were killed when they had car trouble or stopped to help someone on the road
Most companies — 78.5 percent and 77.4 percent for the current and most recently completed examinations, respectively — obtained a written commitment
most mayors (72.1 percent) indicated that they would cut parks, recreation, and libraries
Most (68 percent) attribute the attack to opposition of U.S. ties to Israel and U.S. policies toward Palestinians
Most (82.6 percent) of the rich women attend ANC from medically trained providers in the urban area
with most (92 percent) involving polydrug abuse
Most banks (75.1 percent) automatically enrolled customers in automated overdraft programs
Most injuries (71.3 percent) happened in the bathtub,
Most fixed annuities, 92 percent, have a death waiver
Most smokers (97.2 percent) acknowledged that smoking was harmful to them
Most producers (81.7 percent) are in the cow-calf business
Most respondents (67.7 percent) also stated that they feel pressure to reduce the law department budget
[Update — as I suppose is obvious, all of this is consistent with the view that the literal meaning of most (as applied to count nouns) is something like "the greatest number of of", which in the case of an assumed partition in two parts implies "more than half"; and that the usual Gricean considerations tend to add conversational implicatures, just as Geoff Nunberg suggested, which as usual are defeasible, just as John Cowan suggested.
This is exactly as predicted for the superlative of more. It remains plausible that some of these implicatures have been conventionalized for some people.
In a comment on Geoff Nunberg's post, Itamar points us to Martin Hackl, "On the grammar and processing of proportional quantifiers: most versus more than half", Natural Language Semantics 17:63-98, 2009, which argues for a literal formalization of this history (or something close to it).
But see also the references accumulated in "Most bibliography", 8/2/2010.]
---