« previous post | next post »
The most recent xkcd: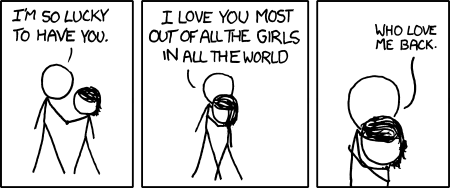 Phil Resnik, who's apparently forgotten his LL password again, writes:
Does a language with pre-nominal relative clauses (e.g. Chinese) have a way of achieving a similar effect?  Is English particularly well designed for taking a seemingly completed proposition and then drastically changing its meaning?
Oh, wow, I can imagine a really fun Whorfian story coming out of this one… ;-)
Whatever the grammatical answer, there are surely discourse-level alternatives.
Arno Penzias used to offer two semi-contradictory pieces of advice about communication, both apparently based on his personal experience.
One recommendation was always to document and report everything, because you never know what might be important. He would then tell the story of how what he originally thought was thermal emissions from pigeon waste turned out to be the cosmic microwave background ("It's not birdshit", he would exclaim, "it's the origin of the universe!"), and led to his Nobel prize.
The other piece of advice — typically offered as a comment on presentations indended for AT&T line managers — was that sometimes more information is less convincing. His example was wooing someone by praising their intelligence, grace, and beauty, and then noting how conveniently located their apartment is. This is a somewhat more elaborate version of the xkcd joke, but one which makes no particular demands on a language's word-order preferences.
The xkcd joke, as written, does depend on the option of having a "restrictive relative clause" come last, specifically in the case where it denotes the background set from which an optimal member is chosen. But I suspect there is always a paratactic way to do this — anyone want to step forward to show us how to translate the strip into Chinese or Japanese?
---