« previous post | next post »
Comedians and cartoonists continue to have fun with Sarah Palin's use of refudiate, and her Shakespeare-citing defense — here's Jeff Danziger's editorial cartoon for 7/20/1010: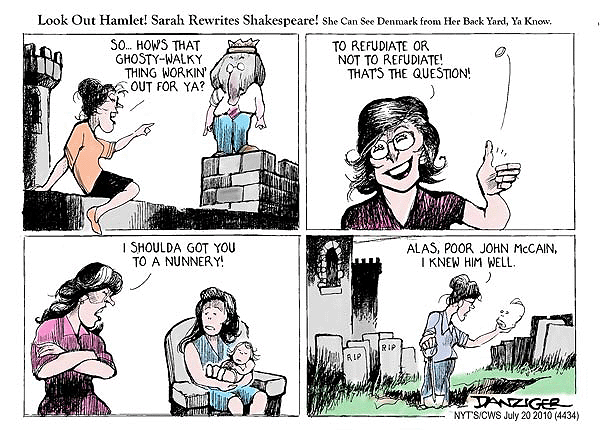 As I've written many times, I'm not a fan of pouncing on linguistic "mistakes", whether they're regionalisms, slips of the tongue, malapropisms, or individual idiosyncrasies. Nit-picking your acquaintances' speech is obnoxious. And this is worse, if anything, when it becomes part of the pack-journalism stereotype for a public figure, as it did in the case of George W. Bush, where (in my opinion) a combination of regionalisms and a folksy rather than intellectual manner made him a convenient target.
Unsurprisingly, there's an on-going attempt to transplant the journalistic weed of Bushisms to the arguably less fertile soil of our current president's public discourse: a web search for Obamaisms turns up quite a number of collections of alleged "dumb quotes and gaffes".  The results are even less impressive, in my opinion, than the Bush-oriented collections were. As I wrote about the Bushisms industry ("You say Nevada, I say Nevahda", 1/3/2004):
You can make any public figure sound like a boob, if you record everything he says and set hundreds of hostile observers to combing the transcripts for disfluencies, malapropisms, word formation errors and examples of non-standard pronunciation or usage. It's even easier if the critics use anecdotes based on the perceptions and verbal memories of equally hostile listeners.
Reporters, pundits, comics, and cartoonists have largely ignored the whole "Obamaisms" concept, in favor of various other empirically vacuous pack-journalism memes ("Obambi", "Chicago thug", "narcissist", "aloof elitist", etc.).  This is probably not because Barack Obama makes fewer verbal slips than George W. Bush did — I think that it's an open question which way the count would go, if anyone bothered to check. Part of the reason for low Obamaisms-meme uptake may be his generally standard dialect and his typically formal style of speech. Some of it may be overall X-isms fatigue. And there's also an overall (and historically strange) alignment of political stereotypes, as "dumb hicks" on the right vs. "aloof elitists" on the left, which tends to lower the memetic fitness of the whole Obamaisms concept.
From Sarah Palin's first emergence on the national political scence, comics, cartoonists, pundits (and even scholars) have focused on  various salient regional and class characteristics of her speech. Some of the previous LL posts on the subject: "Palin's accent", 10/1/2008; "'Too reform also' vs. 'number united understand'", 10/3/2008; "Affective demonstratives", 10/5/2008; "Verbage", 10/20/2008; "Bebop language?", 11/16/2008; "Sarah Palin's distal demonstratives", 4/9/2010.
The fact that she talks in ways that are noticeably different from typical national radio or TV announcers, along with the previously noted hicks-v.-elitists opposition, is probably enough to guarantee that people will continue to notice (and sometimes poke fun at) her speech. It's less clear to me what effect this will have on her political fortunes. My impression is that the Bushisms business was a comfort to W's enemies, but was mostly irrelevant to his fans, and didn't have much effect on those in the middle — except perhaps when his popularity plummeted and a certain amount of political piling-on took place.
---