« previous post | next post »
[Note: Thanks to a link from Andrew Sullivan, our server is maxed out at around 2,000 visitors/hour, and things are a little slow. If you come back in a few hours, response times for browsing or commenting should be better.]
Back on July 14, when Sarah Palin used the blend refudiate in her role as Fox News contributor, I considered posting about it, but decided not to, since I'm not a fan of pouncing on political slips of the tongue.
But today, a week later, she used the same blend in a message on Twitter: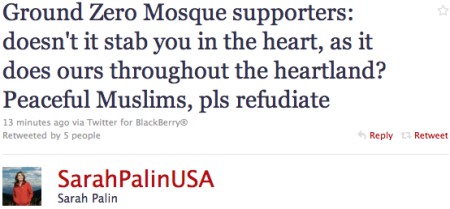 The repetition means two things, one not very important, the other one more consequential.
The unimportant one is that the original example wasn't a slip of the tongue, but a symptom of the fact that Ms. Palin had a blend of repudiate and refute as a well-established entry in her mental lexicon.  This is unimportant because politics is not a vocabulary contest. What's more serious, in my opinion, is that she didn't get set straight about the words in question by any of her advisors and friends, or for that matter by anyone at Fox. She was widely ridiculed for the error, at least in the blogosphere, and so you'd think that a functional staff would intervene to prevent future embarrassment.
The use of refudiate in today's tweet was also noted by bloggers, and was then removed within half an hour or so, showing that someone in her entourage is on the ball. But why didn't the first mistake get brought to her attention? This suggests that either her staff is not very efficient, or they're afraid to bring certain kinds of problems to her attention, or both.
I found the screenshot of the deleted tweet on Charles Johnson's blog, Little Green Footballs, which has a useful review of the political controversy that prompted the second slip.
And here's the audio and transcript, in context, of last week's comment:
Audio clip: Adobe Flash Player (version 9 or above) is required to play this audio clip. Download the latest version here. You also need to have JavaScript enabled in your browser.
Well it's- it's very unfortunate that they're- they're taking this tactic
because it's a false accusation that tea-party Americans are racist.
Any good American
hates racism.
We don't stand for it. It is unacceptable.
So to be called a racist —
yeah, those over there on the left who are opposing that good message of tea-party Americans
are using this racism accusation
in order to keep people away from not only the movement
but keeping them- keeping a wall built between what the message actually is
and the American public that is
today receiving that message very well.
It- it- False accusation, very unfortunate, and again very very unnecessary.
And the president
and his wife, you know the first lady spoke at NAACP so recently,
they have power in their words
they could refudiate what it is that this group is saying, and they could set the record straight
And they could-
they could correct what this false accusation is
that the tea party American, that movement, is racist.
[For those of you who may be having trouble following the action without a program, CNN reported today that the National Tea Party Federation has expelled Mark Williams and his Tea Party Express organization because of the controversy over his "Letter to Lincoln". Since Ms. Palin has been a featured speaker at at least one Tea Party Express rally, it's not clear which "tea party Americans" she's now aligned with. ]
[Update — I note that refudiate has been invented before. A Google Books search turns up four instances. The most notable one is probably this passage in John Sladek's 1984 story "Answers", published in The Lunatics of Terra:
The other three seem to be isolated cases that might well be writers' or transcribers' slips of the finger. But I expect that a search of student essays would turn up quite a few more. And David Segal, "When capitalism meets cannabis", NYT 6/25/2010, offers another perspective:
…interviewing pot sellers is unlike interviewing anyone else in business. Simple yes-or-no questions yield 10-minute soliloquies. Words are coined on the spot, like "refudiate," and regular words are used in ways that make sense only in context. One guy kept saying "rue" as though it meant "reluctant," as in "I think the state was rue to act."
Many have a long history with marijuana, and they remain — let's just run with it — rue to share their names. One dispensary employee swears that his hippie parents christened him Onefree, but he prefers to be called Dave and everyone calls him Van.
Here's evidence from Twitter that the Palin refudiate story has some legs. And some more.]
---