« previous post | next post »
Reader JL sent in a pointer to this wonderful picture from the blog The Thought Experiment: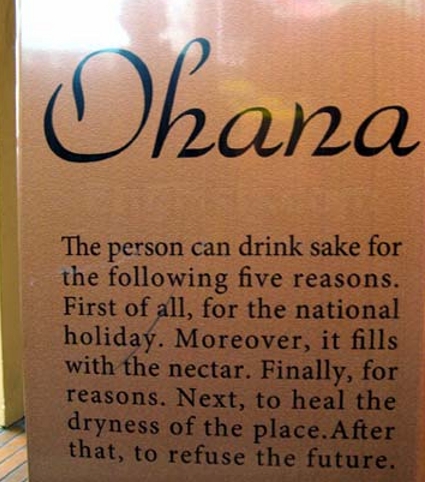 JL observes that
There's much to like, obviously. The sequence
First of all…
Moreover…
Finally…
Next…
After that…
is especially nice.
And E. at Thought Experiment notes that
To be honest, when I drink, it is often "to refuse the future" and "for reasons," so this sake advertisement actually speaks quite effectively to me.
I can only add that a version of this sign was posted by Mark Schreiber at engrish.com in February of 2007, identified as a "bar sign found in Tokyo".
[Note that Mark Etherington has identified the source: a famous 17th-century English version of a 16th-century Latin epigram, translated into Japanese and then translated back into English…]
---