« previous post | next post »
According to a recent press release, "Many English speakers cannot understand basic grammar":
Research into grammar by academics at Northumbria University suggests that a significant proportion of native English speakers are unable to understand some basic sentences.
The findings — which undermine the assumption that all speakers have a core ability to use grammatical cues — could have significant implications for education, communication and linguistic theory.
There hasn't been a lot of press uptake so far — just three articles as to this moment indexed by Google News, with the UPI the most prominent, although the press release is a couple of days old.  But half a dozen people have sent me email about it, so it's creating some buzz nevertheless.
Although the work hasn't been formally published yet, I'm happy to say that preprints are available on the web site of the prime mover, Ewa Dabrowska. The key findings are discussed in Ewa Dabrowska, "Individual differences in native language attainment: A review article", and James Street and Ewa Dabrowska, "More individual differences in language attainment: How much do adult native speakers of English know about passives and quantifiers?".
The key experimental setting involves showing subjects pictures like these: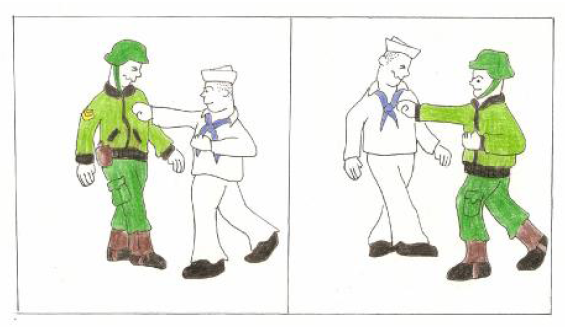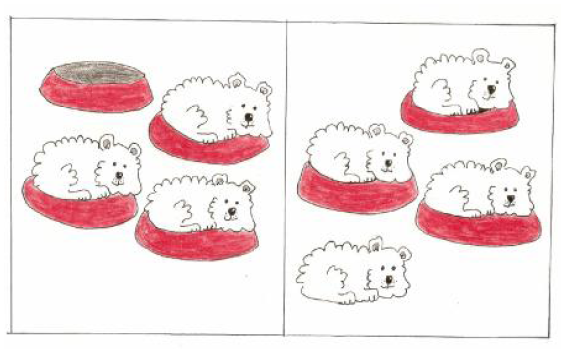 paired with sentences like these:
Actives:
The boy photographed the girl.
The soldier grabbed the sailor.
The man carried the woman.
The girl fed the boy.
The sailor hit the soldier.
The soldier pushed the sailor.
Passives:
The girl was hugged by the boy.
The woman was chased by the man.
The woman was pulled by the man.
The soldier was frightened by the sailor.
The sailor was kicked by the soldier.
The man was kissed by the woman.
Q-is:
Every umbrella is in a stand.
Every feather is in a vase.
Every toothbrush is in a mug.
Every ball is in a box.
Every pencil is in a jar.
Every cake is in a tin.
Q-has:
Every shoe has a hamster in it.
Every bowl has a turtle in it.
Every cone has an ice cream in it.
Every pot has a windmill in it.
Every basket has a dog in it.
Every dish has an orange in it.
On each trial, the subject's task is to say whether the sentence is true of the picture. The pairings of picture-types and sentence-types were semi-randomized, so that two of the same sentence type were never adjacent. Each subject got six instances of each sentence type.
The subjects were of two types: "High Academic Attainment" (basically graduate students) and "Low Academic Attainment" (who "had at most 11 years of formal education and were employed as shelf-stackers, packers, assemblers, or clerical workers").  Unsurprisingly, the HAA subjects never made a mistake. You may or may not be surprised to learn that the LAA subject often got things wrong, and that their error rate varied systematically with the type of sentence:
| | | | |
| --- | --- | --- | --- |
| Condition | | HAA (N=19) | LAA (N=31) |
| Active | | | |
| | Mean (SD) | 100 (0) | 97 (6) |
| | Median | 100 | 100 |
| | Min-Max | 100-100 | 83-100 |
| Passive | | | |
| | Mean (SD) | 100 (0) | 88 (18) |
| | Median | 100 | 100 |
| | Min-Max | 100-100 | 33-100 |
| Q-is | | | |
| | Mean (SD) | 100 (0) | 78 (24) |
| | Median | 100 | 83 |
| | Min-Max | 100-100 | 0-100 |
| Q-has | | | |
| | Mean (SD) | 100 (0) | 43 (30) |
| | Median | 100 | 33 |
| | Min-Max | 100-100 | 0-100 |
Here's a bit more detail on the distribution of mistakes across LAA subjects in the passive, Q-is and Q-has cases: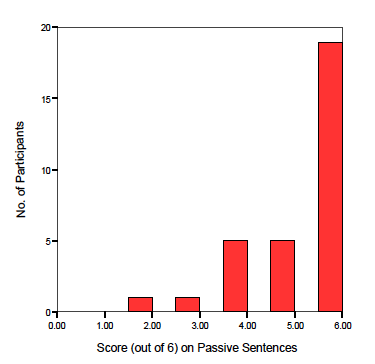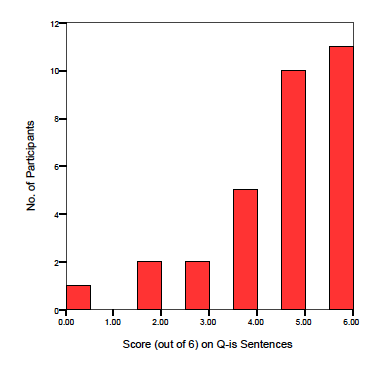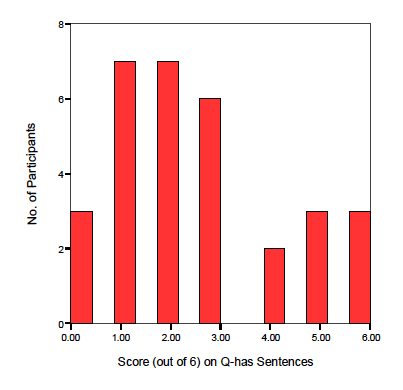 (Note that the bars are plotted just to the left of the corresponding number at the high end of the scale, and just to the right of the corresponding number at the low end of the scale, somewhat confusingly…)
In a second experiment, Street and Dabrowska looked at the effects of systematic instruction in this particular task on subjects' performance.
Overall, I found the experiments fairly convincing.  I do worry a bit about what some colleagues and I used to call "the paper airplane effect": At one point we thought we had discovered that a certain fraction of the population is surprisingly deaf to certain fairly easy speech-perception distinctions; the effect, noted in a population of high-school-student subjects, was replicable; but observing one group of subjects more closely, we observed that a similar fraction spent the experiment surreptitiously launching paper airplanes and spitballs at one another. In my opinion, Street & Dabrowska's learning experiment (not discussed here yet) lowers but doesn't eliminate the possibility that the effect is due as much to a difference in diligence and attentiveness as to a difference in linguistic knowledge.
But almost half a century after the work of Peter Wason (see here and here), I don't think anyone should find it shocking that significant numbers of people find it difficult to "understand" some fairly elementary sentences. I don't mean to say that there's nothing new here, just that Dabrowska seems to me to overstate the "consensus" about the distribution of linguistic (and in particular semantic) abilities of certain sorts.
Anyhow, I've got to check out of my hotel and head for the airport, so that's all I have time to say now. I'll take this up again after I get back to Philadelphia.
---