« previous post | next post »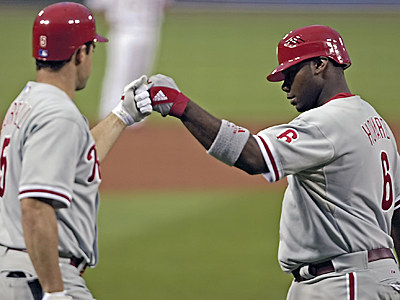 The Phils are having their best start since 1993. The picture on the right, by the AP's Tom Gannam, accompanies a stories in today's Philadelphia Inquirer by Jim Salisbury, "Phillies pack lots of punch in rout: They scored 20 runs for the second time this season".
The caption below the picture:
Pat Burrell (left) congratulates Ryan Howard on his first-inning home run, one batter after Chase Utley's solo blast. Burrell followed Howard with a homer of his own. Howard hit another shot later in the game in St. Louis.
Fox News has apparently let their semiotic guard down on this one, because a search of their site turned up no evidence of concern that the "terrorist fist jab" may have infiltrated the national pastime.
---