« previous post | next post »
Here's something for our "Words for X" file, along with some historical fiction and a bit of relevant psychology.
A blog post at Discover Magazine recently discussed some interesting new psycholinguistic research ("New Nicaraguan sign language shows how language affects thought", Discover, 6/22/2010):
[Nicaraguan Sign Language] is not a direct translation of Spanish – it is a language in its own right, complete with its own grammar and vocabulary. Its child inventors created it naturally by combining and adding to gestures that they had used at home. Gradually, the language became more regular, more complex and faster. Ever since, NSL has been a goldmine for scientists, providing an unparalleled opportunity to study the emergence of a new language. And in a new study led by Jennie Pyers from Wellesley College, it even tells us how language shapes our thought.
By studying children who learned NSL at various stages of its development, Pyers has shown that the vocabulary they pick up affects the way they think. Specifically, those who learned NSL before it developed specific gestures for left and right perform more poorly on a spatial awareness test than children who grew up knowing how to sign those terms.
Over at BoingBoing, Maggie Koerth-Baker quoted the Discover article and added some commentary ("What the invention of Nicaraguan Sign Language teaches us about the human brain").  Several of the commenters took off with the "words for X" idea:
Fascinating. This moves me to prune my vocabulary and limit my exposure to talking points.
(I am assuming that, if the lack of useful words impairs awareness, then the lack of vacuous/fallacious words will improve it. And that I'm not too old for it to do any good.)
But there's a basic problem with this way of looking at the research: there are no "specific gestures" or "vocabulary" items involved.
Rather,  (according to Jennie Pyers, Anna Shusterman, Ann Senghas, Elizabeth Spelke, and Karen Emmorey, "Evidence from an emerging sign language reveals that language supports spatial cognition", PNAS published online 6/25/2010):
Sign languages provide a unique window into the relation between language and spatial cognition because they differ from spoken languages in how spatial relations are linguistically marked. Instead of using spatial terms such as "in" or "left," sign languages use signing space to represent spatial relations iconically. Signers create a representation in which real-world spatial relations are mapped onto the relative positions of their hands. For example, to describe a cat on a table, a signer would place one hand representing the cat onto the other hand representing the table, with no separate sign (e.g., "on") that labels the spatial relation. Left-right relations are also marked by the positions of the hands in signing space. Within this system, signers can represent a scene either from their own perspective (describing an object to the right by producing a sign on their right side) or from the perceiver's perspective (describing an object to the right by producing a sign on their left side). In most sign languages signers choose to represent the scene from their own perspective.
NSL has not yet converged on a spatial strategy like the one found in most established sign languages. Individual first-cohort signers are inconsistent in marking left–right relationships; objects on the left side are represented sometimes with signs on the left, and sometimes with signs on the right. Consequently, the first cohort's utterances are ambiguous with respect to left–right relations. Second-cohort signers are mixed as a group and will negotiate a strategy for each conversation, but as individuals they tend to be consistent in their chosen strategy.
So to sum up, there are no specific signs for "left" and "right" in any stage of Nicaraguan Sign Language. (Or if such signs exist, as Katy points out in the comments, they are not mentioned in this research report.)  Rather, individual signers in the "first cohort" map horizontal position into sign space inconsistently, sometimes from one point of view, sometimes from another; while in the "second cohort", individual signers tend to be more consistent in their preferences, though they are still mixed as a group.
The paper doesn't say how big these differences in signing consistency are (though they do correlate consistency in spatial aspects of signing with performance on the task described below). However, the phrase "tend to be more consistent" suggests that the evolution in usage is a change in shades of gray rather than a black-and-white difference. And similarly, the experimental results were also a change in shades of gray: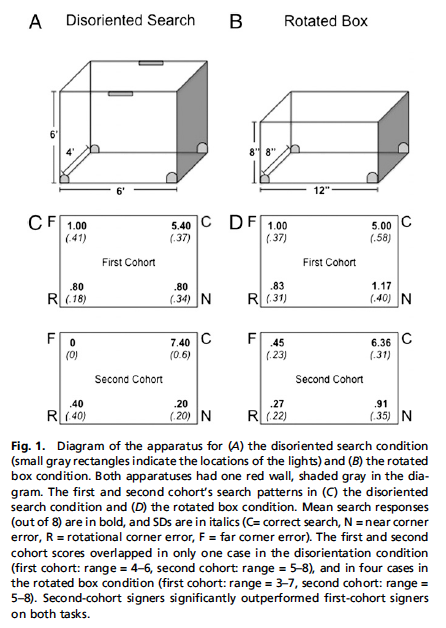 The two experiments involve simple tasks
…  that require the use of a landmark, a brightly colored wall, to find a hidden object. In the disoriented search condition, participants entered a small, enclosed room with a single red wall as a landmark. For each trial, they watched an experimenter hide a token in one corner, and then were blindfolded and turned slowly until disoriented. They then removed the blindfold and indicated the corner where they thought the token was hidden. In the rotated box condition, the procedure was similar: the token was hidden in a small-scale tabletop model of the room, the participant was blindfolded, and the model (not the participant) was turned. There were eight trials per condition, two in each corner.
In interpreting the reported numbers of overlaps in scores — one in the first experiment, and four in the second —  it's worth keeping in mind the rather small number of subjects. The first experiment involved five first-cohort signers and five second-cohort signers, while the second experiment involved seven of each category.  If I understand what "overlap" means here, this suggests that the differences in mean values must be driven by a small number of extreme scores — unfortunately, following the standard (in my opinion very bad) practice among psychologists, individual scores are not given.
According to common sense, and also according to Guy Vingerhoets and Lemke Sarecchia, "Individual differences in degree of handedness and somesthetic asymmetry predict individual differences in left-right confusion", Behavioural Brain Research 204(1):212-216, 2009:
Confusion or frustration connected with daily demands involving left-right discrimination is a common observation even in neurologically intact adults.
There's a historical anecdote associated with this observation. According to Bruce Catton, Mr. Lincoln's Army, 1951:
"Straw-foot" was the Civil War term for rookie. The idea was that some of the new recruits were of such fantastic greenness that they did not know the left foot from the right and hence could not be taught to keep time propertly or to step off on the left foot as all soldiers should. The drill sergeants, in desperation, had finally realized that these green country lads did at least know hay from straw and so had tied wisps of hay to the left foot and straw to the right foot and marched them off to the chant of "Hay-foot, straw-foot, hay-foot, straw-foot." Hence: straw-foot ~ rookie, especially a dumb rookie.
Unfortunately for Mr. Catton's credibility, the same story is told about American soldiers in the War of American Independence. From Wilbur Fiske Crafts in 1922:
You remember that the young men of the American Revolution who came to Concord and Lexington to the join the Army were many of them so unschooled that they did not know the right foot from the left, and so could not obey the drill-master's "Right –left". The disgusted officers siad, "Send these greenhorns home, for if they cannot keep step they will be of no use as soldiers" But there was one officer there who used his head for something besides a hat rack. […] "These farmer boys do not know right from left, but they do know hay from straw. Tie a little hay on every right foot, and a little straw on every left foot, and send them to the awkward squad to be drilled." "Hay-foot — straw-foot, hay-foot–straw-foot" they drilled, very awkwardly at first, and then more firmly, and at last they marched to victory at Yorktown.
Both Catton and Crafts are trumped by an article on "Irish Step Dancing" in Chambers' Journal of November 1885:
To dance the steps really well, one must be nimble and active. I remember seeing a number of the peasants, who, to try and perfect themselves in their dance, danced on the road near some trees, and constantly held on to some of the low branches, to enable them to jump high and use their feet to advantage. There is a story told of a certain mayor who did not know how to dance; and as there was to be the customary ball on St. Patrick's night at the vice-regal court, at which he was, as is usual, to dance with her Excellency, he hired a private room, and when his shop was closed at night, went there, where a dancing-master met him to teach him his steps, unknown, as he hoped, to any one. Unfortunately, it leaked out, and some people annoyed the poor mayor sorely by standing outside the window and saying: "Right foot, left foot, hay foot, straw foot. Faix, thin, an' Paddy 'tis you as can soon fut the floor." The origin of hay foot, straw foot, was, that when, as is sometimes the case, the right foot or hand was not known from the left, a dancing-master often tied a wisp of hay on one foot and of straw on the other, and thus forcibly impressed the difference.
And in Notes and Queries for Dec. 5, 1857, W.W. (Malta) contributed "A Highlander's Drill by chalking his left foot",
"I shall never forget," says Strang in his Glasgow and its Clubs, "the fun which during my boyhood my companions and myself had in witnessing the daily drilling of the new-caught Highlanders, in the low Green, or the pity we felt for the cruel usage of the poor fellows by the cane-wielding sergeants or corporals who were utting them through their facings. No doubt some of them were stupid enough, and was worse, it was their misfortune to comprehend but indifferently the English word of command, so much that it was found absolutely necessary to chalk their left feet, and instead of crying out when marching, left, right, the common call was caukit foot foremost."
This anecdote reminds me of the manner which long since was adopted by the sergeants of another race, when drilling their raw recruits: it being done by tying straw to the right, and hay to the left foot, and then giving the word of command by straw foot, — hay foot, as the movement of their men might require.
The OED has an entry with citations back to 1851:
hay-foot, straw-foot: with right and left foot alternately (at the word of command). Also as v. In allusion to the alleged use of hay and straw to enable a rustic recruit to distinguish the right foot from the left.
1851 Knickerbocker XXXVIII. 79 At company-training and general-training..it was all 'hay-foot, straw-foot' with him. 1887 J. D. BILLINGS Hardtack & Coffee 208 Scores of men..would 'hay-foot' every time when they should 'straw-foot'. 1898 J. MACMANUS Bend of Road 40 Poor fool, he's off, hay foot straw foot, an' small grass grows round his heels till he's there. 1911 R. D. SAUNDERS Col. Todhunter vii. 98 You never got in a thousand miles of one of 'em for all your 'heppin' and 'hay-foot' and 'straw-foot' drillin'. 1911 H. S. HARRISON Queed i. 12 They march like little lambs when I say the word. Hay-foot–straw-foot.
Thus the origin of this practice and the associated phrase is uncertain, but it is certainly before the U.S. Civil War.  Whatever the origin, the implication is that in the 19th century and earlier, recruits could not be depended on to interpret "left" and "right" reliably, and various audio-visual aids were used to help them maintain a consistent mapping from words to feet.
Now, I can testify from personal experience that by 1969, draftees into the U.S. Army no longer needed hay, straw, or chalk. At least, drill sergeants attributed our occasional errors in lateral asymmetry to stupidity or inadequate numbers of push-ups, rather than to lack of education.
What changed (if anything did) between 1860 and 1960? It certainly wasn't the English language — right has been around since before Beowulf, and left since the 13th century, and both have long been commonly used in their contemporary meaning.  Perhaps the change was due to literacy, which reinforces implicit familiarity with the notion of "left to right". Perhaps it was the automobile, which even more emphatically reinforces a distinction between "driving on the left" and "driving on the right".  But both of these involve reference to an external coordinate system rather than an egocentric one.
It would be nice to have some less anecdotal evidence about the history of recruit drillability, and some confirmation from contemporary populations about the possible role of literacy, driving etc. in establishing reliable verbal habits and reliable left-right problem-solving of various kinds. The previously cited paper by Vingerhoets and Sarecchia observes that
Two major explanations for left-right confusion have been proposed. The first hypothesis states that the problem of left and right is related to the bilateral symmetry of the body and the nervous system. Interhemispheric exchange of memory traces through homotopic commissural connections generalizes events to their mirror-images. Animals and men solve left-right discrimination problems by making asymmetrical responses in orientation or posture toward stimuli. In humans, left-to-right eye movements and especially hand preference are believed to produce a constant left-right response bias. The second hypothesis refers to structural properties of the environment such as gravity, that offers an asymmetrical differentiation of the vertical dimension that is absent along the horizontal dimension. According to this view the vertical dimension contains a natural referent (the ground plane) and a natural direction away from that referent (up). Experimental research has shown that horizontal discriminations are made more slowly than vertical discriminations, but also that in vertical discriminations up is judged consistently faster than down — suggesting an asymmetry of the perceived vertical dimension, whereas in the horizontal dimension such a consistent natural referent is lacking making left-right discrimination more difficult. Clearly, both hypotheses are not in contradiction, but differ in the relative importance of internal versus external cues on perceived (a)symmetry in the horizontal plane.
V & S tested 62 female undergraduates on their ability to press appropriate buttons in response to verbal stimuli ("left" – "right" or "up" – "down") or visual stimuli (arrows pointing left or right, up or down). They "defined the level of individual left-right confusion as the difference between a subject's average [reaction times] on words minus arrows for the horizontal dimension trials thus correcting for individual differences in response time and focusing on the conceptual, rather than the perceptual–motor part of the decision process".
(Note that this task could not be applied in the case of the NSL subjects, since there are apparently no sign equivalents for "left" and "right", and thus the kind of "left-right confusion" that it measures is apparently different from the kind of confusion tested by Pyers et al.)
The first thing that V & S found was that their subjects were not in much need of hay or straw. The error rates were fairly low in both dimensions (4.9% for the horizontal and 5.7% for the vertical dimension), and the reaction-time differences between words and arrows were also similar in both dimensions:

A multivariate regression showed that measures of handedness and left-right differences in tactile sensitivity were significant predictors of (their measure of) left-right confusion, accounting for 21.5% of the variance.
V & S limited the subject population to females because some previous studies show fairly large sex differences in left-right confusion.  But as Marco Hirstein et al. observe (Sex differences in left-right confusion depend on hemispheric asymmetry", Cortex 45:891-899, 2009), "studies reporting
more left–right confusion for women have been criticised because the tasks that have been
used involved mental rotation, a spatial ability in which men typically excel". So in Hirstein et al's study,
34 right-handed women and 31 right-handed men completed two behavioural left– right discrimination tasks, in which mental rotation was either experimentally controlled for or was not needed. To measure the degree of hemispheric asymmetry participants also completed a dichotic listening test. Although women were not less lateralised than men, both tasks consistently revealed that women were more susceptible to left–right confusion than men.
But curiously,
… only women with a significant right ear advantage in the dichotic listening test had more difficulties in LRC tasks than men. There was no sex difference in less lateralised participants. This finding suggests that the impact of functional verbal asymmetries on LRC is mediated by sex.
Since this result indicates that women who are more lateralized (i.e. have greater somatic left-right asymmetry) are more prone to left-right confusions, it's prima facie contradictory to the results of V & S, who found that women who are more lateralized are less prone to left-right confusions.
I should note in passing that the male-female differences on the tasks in this experiment seem qualitatively comparable to the inter-cohort differences in the Pyers et al. study. Here's the table of results for simple commands ("raise your right foot") and complex commands ("touch your left ear with your right hand"):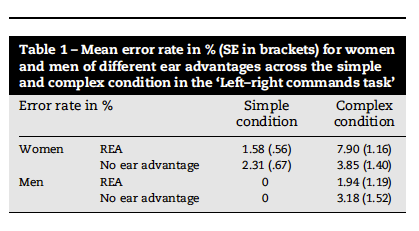 And here are the results from an experiment where subjects were asked to identify picture of hands as "left hand" or "right hand", where the non-rotated hands were in an invariant thumb-up palm-forward position, whereas the "rotated" hands were a mixed bag of thumb up or down, palm facing towards the viewer or away from the viewer:

After all of this, I'm somewhat more confused about left-right confusion that I was to start with. But I'm clear on a few points:
Whatever is responsible for the apparent difference in performance between cohorts of NSL users, it's not the development of new vocabulary items;
Whatever is responsible for the apparent difference in left-right confusion between army recruits 150 years ago and recruits today, it's not the development of new vocabulary items;
Whatever is responsible for measured male-female differences in left-right confusion among contemporary American undergraduates, it's not a difference in vocabulary.
This doesn't after the conclusion of Pyers et al. that
Consistent spatial language is necessary for some aspects of mature spatial reasoning, even for adults who routinely navigate through a complex urban environment.
and that
Language may serve as a medium of spatial representation, as an aid to cognitive processing, or as an anchor for systematizing spatial concepts that are otherwise ephemeral.
But let's not get carried away about the positive impact of "useful words", the negative impact of "vacuous/fallacious words", or any of the other common pop misintrerpretations of Sapir-Whorf.  The relationship between language and thought, here and in general, is more subtle and complex than that.
---