« previous post | next post »
I have no context for this photo, but the character on the car and sign behind make the situation pretty obvious. Courtesy of Josh Ellis on Facebook, via Michael Cannings on Twitter: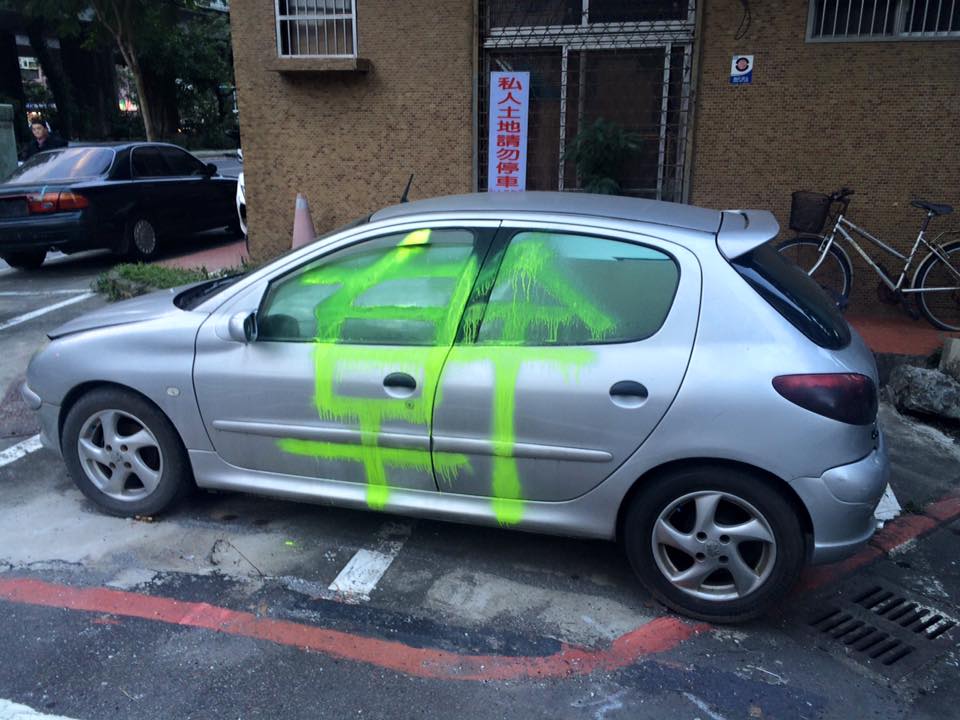 The vertical sign on the door in the background reads:
sīrén tǔdì qǐng wù tíngchē 私人土地請勿停車
("private land; please do not park")
The single large character spray painted in green on the car is gàn 幹, which has the following meanings: "the trunk of a tree or the body; business, to attend to business; manage; skillful, capable; do; fuck".  You can guess which one is meant in this instance.
See, among other Language Log posts, the following:
"The Etiology and Elaboration of a Flagrant Mistranslation" (12/9/07)
"The further elaboration of a flagrant mistranslation " (8/31/13)
The latter post explains in detail the relationship of gàn 幹 to gān 乾 ("dry, dried; clean, exhausted; to possess the name without the true relationship; to hold a position in name only").  During the process of simplification, both of these characters were collapsed into gān 干, which originally had these meanings:  "to oppose, offend against; a shield; the bank of a river; a stem (including a cyclical / calendrical symbol); attend to, concern; involve; consequences, results; seek; arrange".  This collapsing of gàn 幹 and gān 乾 into gān 干 resulted in a flood of embarrassing mistranslations.
The character on the car does not mean "dry", not by a long shot.
[h/t/ Ben Zimmer]
---