« previous post | next post »
"Purity" at xkcd: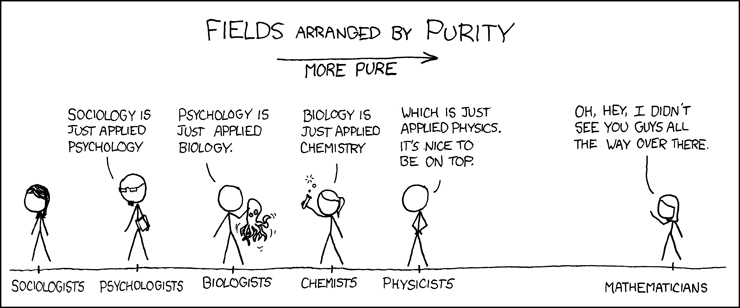 Addendum by Simon Holloway at Davar Akher: "Of course, you can't see Linguistics because it's waaaay over to the right."
That's funny, but not it's really accurate. The interesting thing about linguistics is that it's spread out all along Randall Munroe's continuum: there's sociolinguistics, and psycholinguistics, and biological linguistics (as in the relevant aspects of neuroscience), and some applied physics (as in acoustics, vocal tract dynamics, and so on), and mathematical linguistics. There are other relevant dimensions as well, on which you could place historical linguistics, philosophy of language, stylistics, language engineering, and so on.
Chemical linguistics is a neglected area, however.
The unserious best that I do, for now, is an antique and untranslated quotation, from Lavoisier's Mémoire sur la nécessité de réformer et de perfectionner la nomenclature de la chimie:
Les langues n'ont pas seulement pour objet, comme on le croit communément, d'exprimer par des signes des idées et des images ; ce sont, de plus, de véritables méthodes analytiques, à l'aide desquelles nous procédons du connu à l'inconnu, et, jusqu'à un certain point, à la manière des mathématiciens ; essayons de développer cette idée.
L'algèbre est la méthode analytique par excellence ; elle a été imaginée pour faciliter les opérations de l'esprit, pour abréger la marche du raisonnement, pour resserrer dans un petit nombre de lignes ce qui aurait exigé un grand nombre de pages de discussions, enfin pour conduire d'une manière plus commode, plus prompte et plus sûre à la solution de questions très compliquées. Mais un instant de réflexion fait aisément apercevoir que l'algèbre est une véritable langue ; comme toutes les langues, elle a ses signes représentatifs, sa méthode, sa grammaire, s'il est permis de se servir de cette expression. Ainsi une méthode analytique est une langue ; une langue est une méthode analytique, et ces deux expressions sont, dans un certain sens, synonymes.
Cette vérité a été développée avec infiniment de justesse et de clarté dans la Logique de l'abbé de Condillac, ouvrage que les jeunes gens qui se destinent aux sciences ne sauraient trop lire et dont nous ne pouvons nous dispenser d'emprunter quelques idées. Il y a fait voir comment on pouvait traduire le langage algébrique en langage vulgaire et réciproquement ; comment la marche de l'esprit était la même dans les deux cas ; comment l'art de raisonner était l'art d'analyser.
Mais si les langues sont de véritables instruments que les hommes se sont formés pour faciliter les opérations de leur esprit, il est important que ces instruments soient les meilleurs qu'il est possible, et c'est travailler véritablement à l'avancement des sciences que de s'attacher à les perfectionner.
---