« previous post | next post »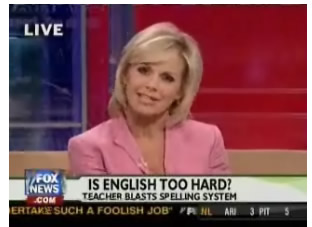 On 6/10/2008, the Fox & friends crew discussed viewer response to a piece on spelling reform:
| | |
| --- | --- |
| Gretchen Carlson: | Uh this one was "Teach children how to use a dictionary; that is how they will learn … |
| Steve Doocy: | Yeah. |
| Gretchen Carlson: | … to spell!" But here's the problem: do they even sell hardcore dictionaries anymore, or … |
| Steve Doocy: | Sure! |
| Gretchen Carlson: | … is it all in the computer? Do they? |
| Steve Doocy: | Yeah, or sit next to a (([unintelligible])) |
| Gretchen Carlson: | I'm glad to know that! |
Please hold the blonde jokes: despite her somewhat air-headed self-presentation, Gretchen Carlson graduated with honors from Stanford in 1990, and "has also studied at Oxford University". And of course, Ms. Carlson meant to say "hard copy", or perhaps "hard cover", but came out with "hardcore" instead, in the the sort of lexical substitution that could happen to any of us.
In any case, I'm happy to say that there are some excellent hardcore dictionaries still in print. For example, Allen Walker Read, Lexical Evidence from Epigraphy in Western North America: A Glossarial Study of the Low Element in the English Vocabulary, originally published in 75 copies in Paris in 1935, was republished in 1977 as Classic American Graffiti, and is still available for $7.50 from Maledicta Press.
According to a review by William Bright (Language, 55(2): 496-497, 1979:
The manuscript was first declined by a German scholarly editor because it discussed such 'furchtbare Tatsachen', but was eventually printed privately, with this proviso on the title page: 'Circulation restricted to students of linguistics, folk-lore, abnormal psychology, and allied branches of the social sciences.' In his preface, Read warned that, 'Judged merely as reading matter, the following work … is abominably, incredibly obscene'; but he affirmed his belief that 'no emanation of the human spirit is too vile or too despicable to come under the record and analysis of the scientist'. The original edition was favorably reviewed in Language by R.G. Kent (11.166, 1935).
This is the sort of book that used to be kept in special locked sections of research libraries, but I don't think that there's much in it that couldn't now be read out loud on cable TV shows like The Wire. And it documents "graffiti collected, especially from public lavatories, 'in the course of an extensive sight-seeing trip throughout the western United States and Canada in the summer of 1928", so none of these "emanations of the human spirit" are likely to be news to many American adults.
[Update 6/19/2008 — Ammon Shea has much more to say about "Hardcore Dictionaries" at OUPblog.]
---