« previous post | next post »
A LL reader sent in this picture of a "no hawkers or canversers" sign on a gate in a retirement community in Sawbridgeworth, England: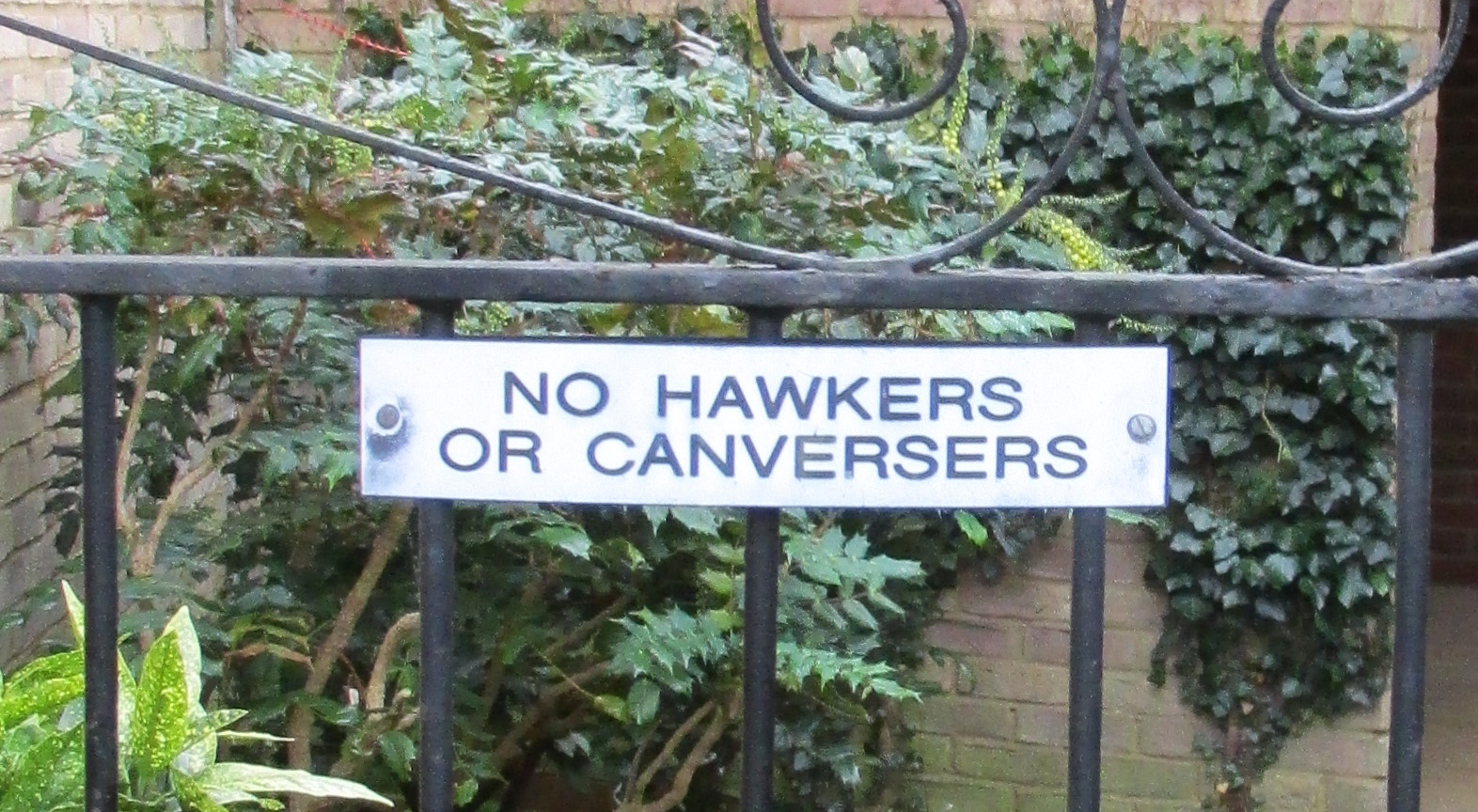 They observed that there are many other examples of orthographic or morphological revision due to r-lessness, such as this example from Roland Oliphant, "Crimea faces months without power rather than be defined as part of Ukraine", The Telegraph 1/1/2016:
The peninsular, which was annexed by Russia in 2014, has been in a state of emergency since an "energy blockade" by Ukrainian activists left nearly two million people without power in November.
Or Olivia O'Neill, "Monarch Airlines latest to cancel flights to Sharm el-Sheikh until January", The Telegraph 12/2/2015:
The Foreign Office continues to advise against all but essential travel by air to or from the Egyptian resort. The rest of the Sinai peninsular is also deemed unsafe to visit.
Or this tweet by the BBC's arts editor:
Poking around Blythe House museum storage facility & saw this in a draw: a dress worn by Queen Elizabeth II in 1957 pic.twitter.com/qSy3LD9HdE

— Will Gompertz (@WillGompertzBBC) December 10, 2015
Or this story by  Imogen Calderwood in the Daily Mail ("Greedy burglar couldn't resist scoffing children's Easter eggs during raid – and was caught by DNA he left on the crumbs of chocolate"):
But he was caught after he took some time out of the raid in June, to nibble on some Easter eggs belonging to the family's children that he found in a draw.
Or in the Guardian, "The most unmissable culture of 2016"):
From corsets and crinolines to boxer shorts and bras, the V&A will be raiding the underwear draw this spring to put on a big show of smalls throughout the ages.
Or this:
Got a draw full of old, metal spoons? How about turning them into a fun and easy-to-make light feature?
---