« previous post | next post »
We've often discussed the stylistic choice between hypotaxis, where semantic and pragmatic relations are signaled with explicit connectives and syntactic embedding, and parataxis, which relies more heavily on context and common sense to communicate the same relationships, using phrases strung together like beads on a string.
The paratactic style is more modern, more demotic, and usually shorter. But sometimes, as in the case of this flashing highway sign, it's also harder to interpret: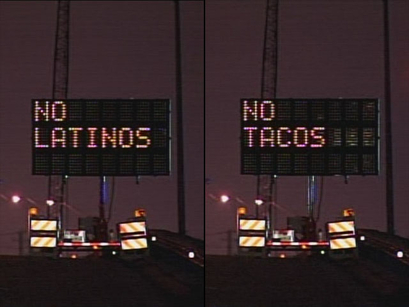 According to Brian Hamacher and Carolyn Ryan, "Road Rage: Hackers Say 'No Latinos' on Highway Sign", NBC News Miami 5/25/2010,
A highway sign flashing "NO LATINOS NO TACOS" greeted drivers on the Palmetto Expressway in Northwest Miami-Dade, after hackers managed to alter it early Tuesday morning.
The sign was in the northbound side of the 826, right near the Northwest 25th street exit.
It's unknown how long the sign had been flashing the message, but by 6 a.m., members of the Florida Highway Patrol and a road crew had turned the sign away from the highway and were working to erase the message.
Apparently some hackers have learned to crack the password protection on these portable highway-status signs:
Last year, a string of road sign hacks were made in three separate states.

In Austin, Texas, a sign cautioned drivers to the "ZOMBIES IN AREA! RUN." Another in Collinsville, Illinois said "Daily LANE CLOSURES DUE TO ZOMBIES." And another in rural Indiana read "RAPTORS AHEAD – CAUTION."
Many drivers, and the NBC News article, interpreted the sign as a double anti-Latino-immigration slogan: "(There should be) no Latinos (here, and also) no tacos". But Alex Pareene at salon.com saw another interpretation:
Everyone blames racists for the hacked highway sign that says, "NO LATINOS / NO TACOS." But I think they meant that without Latinos, Americans wouldn't have tacos. And that's a pro-immigrant message. Because who hates tacos? No one!
There's certainly plenty of precedent for the idea that "No X No Y" implies a conditional relationship between the lack of X and the lack of Y, generally with an implied modal as well: "If there (is, were) no X then there (will, can, should, would) be no Y".  Examples include "No justice / no peace" and "No shirt / no shoes / no service". [And, predating all of these, as DRL pointed out by email, "No tickee, no washee".]
[Update — Dan Bruno in the comments links to this 2006 precedent for the conditional interpretation:]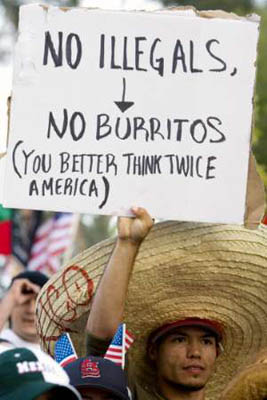 The conditional interpretation is potentially offensive in its own way, among other things because it stereotypically trivializes the contributions of Latinos in the U.S., but it might indeed have been intended as a pro-immigrant rather than anti-immigrant message.
[Hat tip to Gene Buckley.]
[Some other relevant LL posts: Discourse: branch or tangle?", 11/6/2003; "Homo hemingwayensis", 1/9/2005; "The evolution of disornamentation", 2/21/2005; "Inaugural embedding", 9/9/2005; "Parataxis in Pirahã", 5/19/2006; "Sex & language stereotypes through the ages", 9/10/2006; "Baseball conditionals", 5/23/2007; "Roeper on recursion", 6/24/2007; "A principle that no one can convince me that doesn't exist", 8/18/2007; "Ontological promiscuity vs. recursion", 2/10/2008; "Presidential parataxis?", 1/24/2009.]
---