« previous post | next post »
This is what happens when copy editors type what they're feeling and then forget to take it out again before it goes online: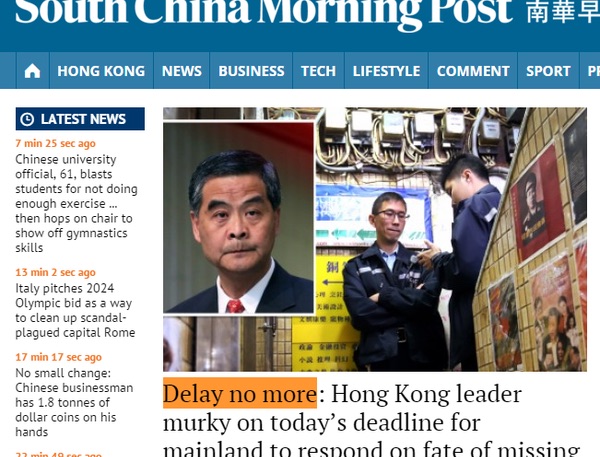 This is from the following article in Coconuts Hong Kong:
"Delay what?! SCMP readers blast paper for headline innuendo" (1/12/16)
As the article explains:
As most Hongkongers know, "delay no more" is a homophone for "diu lei lo mo"*, which means "f*ck your mum". The common and irreverent phrase has inspired a range of products and even a short-lived lifestyle shopping centre from Hong Kong retailer G.O.D., dubbed the Delay No Mall.
*[VHM: diu2 nei5 lou5mou5-2 屌你老母]
What's even more incredible about the use of "delay no more" in this context is that the surface meaning of the phrase in English also is pregnantly applicable here:  it's as though the SCMP were telling Leung Chun-ying (CY Leung), the Chief Executive of Hong Kong, to get off his duff and do something about all the Hong Kong booksellers who have gone missing (i.e., have been "disappeared") in recent months.
"Delay No More", perhaps the most offensive of all Cantonese profanities, is the trademark slogan of the Hong Kong design and retail brand company called Goods of Desire (G.O.D.; zyu6hou2di1 住好啲), mentioned above in the quoted passage.
[h/t Mark Swofford]
---