« previous post | next post »
Andrew Jacobs' article on Shanghai's efforts to unmangle Chinglish generated tremendous interest — for several days it was the most e-mailed NYT article.  The Chinglish fervor also spawned a broader interest in strange signs from all over the world.  Several friends have called to my attention this wonderful collection of bizarre notices, placards, and postings in the Times that were sent in by bemused travellers.

For ease of viewing, I suggest that you click on the first thumbnail to expand it, then go consecutively from 1 to 177 by clicking on the arrows at the left of the page.  To w(h)et your whistle, I here select some of the more interesting and intriguing examples (but they're all fantastic):  1. Neuroticos Anonimos (Mexico), 3. Foot Wearing Prohibited:  Strictly Prohibited (Myanmar), 4. Stars and Bucks Café (Israel [VHM: I have just noticed that the numbers have been changed since I first looked at the collection, and now there are only 176 photographs; please forgive the discrepancies]), 6. In Danger of Dead Don't Pass (Costa Rica), 9. Decent Public School (India), 13. The Small Thing Is Quick (China), 14. Former Chicken (China), 17. Physically Impossible Entry (Spain), 18. Careful Drowning (China), 20. Pick One's Steps (China), 23. The Tourist Halts (China), 25. Homely Style Food (China), 28. Drive Slowly:  Very Steep with Flying Stones (Uganda), 31. Huaan Hairdressing Saloon (China), 33. Exit:  No Way Out (Singapore), 35. No slaughtering sheep at the beach (Saudia Arabia), 39. Positive Suggestion Box (Washington state), 40. Please Do Not Spit Here and There (India) [VHM:  this could be a translation of a sign commonly seen in China:  Qǐng wù suídì tǔ tán 請勿隨地吐痰], 41. Because you are dangerous, you must not enter (Japan), 43. Genuine Fake Watches (Istanbul), 44. Fish & Ships (United Arab Emirates), 47. Oldman [on a toilet door] (China), 48. Each hour takes about 1 hour (Korea), 49. Letting Them Turtle (China), 50. Café Arsenik (Canada), 53. Hamburgers Chips & Russians [VHM:  sign on a café; can anyone tell me what that means?] (South Africa), 54. Butts Wynd (street sign in Scotland), 55. Soft Drinks Inside Toilet (Thailand), 56. goat dung on toast (France), concerning which Mark Liberman has already made a post here at Language Log, 58. No Entry for Those Wearing Slippers or Slovenly Dress (Taiwan), 60. Enjoy your life!  Enjoy your socks style! (Japan), 62. Rigidity Waiting Lounge (China), 63. Exterminate Capitalism Lobster Package; Tiny Dish of Chef's Sincerity (China [VHM:  see below for discussion]), 65. Stay away from deer with ANTLERS!! (Japan), 66. Humped Zebra Crossing (UK), 69. a. Loving You Is Wrong; I Don't Want to Be Right, b. You Are My Love My Angle; Don't Treat Me Like Potato (Macao), 68. Rest rooms:  Please use them without hesitation (Japan), 69. Talk to Me — God (Philippines), 70. No Adults Unless Accompanied by a Child (England), 77. Be Soft on My Curves (road sign in India), 75. The Old Weak Sick Disable and Pregnant Only (China), 76. A better future without blue sky and clear rivers is in our hands (Tibet), 78. Do Not Use Elevator, While Causing Fire (Thailand), 79. Please help us save water.  Press flush button twice.  (Turkey), 80. Deformed Man End Place (China), 82. No Wasting Garbage! (Indonesia), 87. Medicated food buffet (China), 90. Take Luggage of Foreigner:  No Charge (Vietnam), 91. Dangerous Not to Swim (Mexico), 96. Danger of Death:  Keep out (Scotland), 98. Crack (across the aisle from "Chips" in a Chinese grocery store; the equivalent Chinese sign says pénghuà shípǐn 膨化食品, which means "popped / puffed foods"; I think that they meant to say "Crackers"), 100. Dead Slow (on a precarious road in India), 101. Way Back to following, (Japan), 103. Wildlife is not food. (China), 104. Danger: Zone Technique Pecheurs / Danger Technical Zone Sinners / Gefahr — Zone Technische Sünder (France), 105. Sorry We're Open (Turkey), 106. No Porking (China), 108. Govt. Approved STD (India), 111. The Grass Is Smiling at You.  Please Detour. (China), 119. Do Not Touch Me   Do Not Kiss Me (on a mountainside in China), 121. Caution Heavy Plant Emerging (Ireland), 123. Tarot Café:  Coffeeing Your Future (China), 126. Overbig Baggage (China), 127. No cashier receipts are given, you can refuse payment. Thank you! (China), 131. Bus Stop (You can't take – a bus from here.) (Japan), 137. Mixed sea food Iraq government office surface (China [VHM:  I will explain this below, since Ben Zimmer made a special request that I do so]), 142. Starvations:  Skipping About All Over the World (Japan), 150 [now #4]. Wikipedia fried with eggs (Chin [VHM:  Ben also requested that I explain this one]), 151. LEERMEI'SHAMBURGER (China), 155. Don't Run Across the Road and Confuse the Driver (India), 158. Fresh Garbage (Ireland), 170. No Celery Phones (Yellowstone National Park), 175. Dumplings human (Vietnam), 177. Drunken people crossing (Thailand).
About number 63 ("Exterminate Capitalism Lobster Package; Tiny Dish of Chef's Sincerity"), Ben Zimmer says, "'Tiny Dish of Chef's Sincerity' I can sort of understand, but 'Exterminate Capitalism Lobster Package'??"  I agree with Ben that the second part is intelligible enough, but how do you get from Tāotiè lóngxiā cān 饕餮龙虾餐 to "Exterminate Capitalism Lobster Package"?  The answer is that there is no way you can get from there to here.  Fair enough, lóngxiā means "lobster," and cān in this case signifies a complete meal, i.e., a "package."  But Tāotiè is the name of an ancient mythological monster (often translated as "glutton").  Since Tāotiè is a bisyllabic morpheme (neither tāo nor tiè means anything by itself [there are plenty of such bisyllabic morphemes in Old Sinitic]), it is absolutely impossible to break Tāotiè down into anything that might mean "Exterminate Capitalism."  Therefore, my conclusion is that somebody was playing around with whomever was responsible for preparing this menu and mischievously provided an absurd translation, perhaps with the intention of poking fun at the Chinese Communist system which has given rise to such luxurious and fancy dining practices as reflected in pretentious menus of this sort.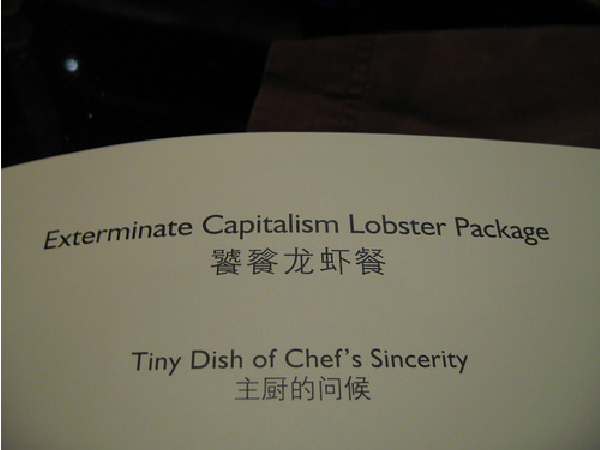 Number 137 ("Mixed sea food Iraq government office surface" [Google Translate gave me "Sam Sun Iraqi government face") surely must throw everyone who sees it for a loop.  The solution, however, is actually fairly straightforward.  Sānxiān Yīfǔ miàn 三鮮伊府面 may be broken down simply thus:  Sānxiān signifies "three fresh / seafood (ingredients)," hence the "mixed sea food," and Yīfǔ miàn refers to a type of noodles.  The mixup with the "Iraqi government surface / face" comes about this way: Yī 伊 is short for Yīlākè 伊拉克 ("Iraq" [and many other transcribed names, one of which I shall discuss briefly later in this post]), but it actually is supposed to be a Chinese surname, while fǔ refers to the mansion where a family surnamed Yī lived, but it can also signify a government office.  The problem with miàn being mistranslated as "surface" or "face" arises because the simplified character 面 collapses the two traditional characters 面 ("surface, face") and 麵 ("flour, powder, noodles") — which are exact homophones — into one.  This sort of mistake occurs constantly as a result of the confusion of simplified and traditional characters, and not just on the part of machines!
Now, since even few Chinese speakers know the etymology of the name Yīfǔ, it is nearly always merely transcribed as Yi (mein), e-fu noodles, yee-fu (noodles), yi (noodles), yifu (noodles), and so forth.  Only rarely does anyone have the temerity to attempt a translation of Yifu, and when they do, the result is usually some such howler as the one currently under discussion.  Here is a good entry on the origin of the name of this food item from a dictionary of Singlish:
====
http://www.singlishdictionary.com/singlish_E.htm
ee fu noodles /ee foo, eː fuː/ n. [Mand. 伊府 Yīfǔ official residence of Yi: Yī a Chi. surname (see notes below) + fǔ official residence, mansion + Eng. noodles, a transl. of Mand. 面 miàn noodles (Chi.–Eng. Dict.)]  A type of Chinese noodles, dull yellow in colour, which are coiled into cakes, dried and partially cooked by deep-frying, causing them to retain a firm texture when remoistened and stir-fried. Ee fu noodles are often served at wedding banquets.
¶ It is said that ee fu noodles were created in China during the reign of the Qiánlóng Emperor [Mand. 乾隆: qián (arch.) male + lóng grand; prosperous, thriving; intense, deep] (18 October 1735 – 9 February 1796) of the Qing Dynasty [Mand. 清朝 Qīng Cháo: qīng unmixed, clear + cháo dynasty] (1644–1911) and named after the poet, calligrapher, minor painter and seal carver 伊秉绶 Yī Bǐngshòu (1754–1815) from 太宁 Tàiníng in 惠州 Huìzhōu, 广东 Guǎngdōng (Canton) Province, China. The story is told that Yi often had gatherings of the literati and other guests at his home to recite and compose poems. As his cook was very busy during these events, Yi suggested that he should make noodles out of flour, eggs and water, coil them into cakes, air-dry the noodles, and fry them before storing them. Thus, when Yi's guests came, it would only be necessary to put the cakes of noodles into boiling water and add other ingredients to them. On one occasion, he served these noodles to fellow poet and calligrapher 宋湘 Sòng Xiāng, who found them delicious and asked him what they were called. Yi replied that these noodles had been created in his own household and had no name. Song then proposed that they be called 'ee fu noodles'. See the Makan Time website (2004, accessed 11 April 2006) and the article "最滋味:伊面",《广州日报》("Most Flavoursome: Ee Noodles", Guangzhou Daily Newspaper) (8 October 2005, accessed 7 September 2006).
It is possible that ee fu noodles are served at wedding banquets because the long noodles signify the length of the marriage and their stickiness the closeness of the husband and wife.
Known in Cant. as Ee Meen.
2001 Cat Ong (quoting Ase Wang) The Sunday Times (Sunday Plus), 11 February, P8 I love to eat Swedish meatballs with ee fu noodles.  2006 Foong Woei Wan The Sunday Times (LifeStyle) (from Straits Times Interactive), 8 October. The ee fu noodles with seafood and fried rice I ordered were just as outstanding.  2006 Wong Ah Yoke The Sunday Times (LifeStyle) (from Straits Times Interactive), 29 October. Even better was the braised ee-fu noodles with roasted pork, preserved sausage and vegetable ($20). It was an unusual combination of ingredients, which were not at all healthy. But they tasted so good. .. [T]he seafood eefu noodles ($22) were well-stewed, with the noodles soaking in a well-flavoured stock.
====
Number 150. "Wikipedia fried with eggs" is an interesting case.  The same restaurant has mistranslated jīzōng 鸡枞 as "Wikipedia" at least three other times on their menu.  The correct translation of jīzōng is "termite mushroom." I suspect that someone may have been confused by the name (the characters could also be pronounced as jīcōng, and there are many different ways [probably topolectal] of writing the name in characters).  This may have led a collaborator in the translation to say something like "It's in Wikipedia" or "Go look it up in Wikpedia."  Thus "Wikipedia" becomes a sort of default translation for any term that one cannot find in one's dictionary.
Although the marvelous NYT collection described above demonstrates that no country has a monopoly on strange signs, for sheer frequency and whimsicality, Chinglish takes pride of place.
To add to my delight, Gloria Bien sent me some of her own favorites, including an ad for a luxurious home furnishings line called "Ilinoi" 伊力諾依.  This string is composed of characters that are frequently used for purposes of transcription and does not make any sense as a phrase or a sentence.  "Ilinoi" looks suspiciously like "Illinois," yet one cannot be sure, since the proper pinyin for those four characters would be Yīlìnuòyī.  The company was founded by a woman who might be thought of as The Martha Stewart of China.  Who knows?  Maybe she spent some time in the Land of Lincoln, the name of which is transcribed variously in characters as Yīlìnuòsī 伊利诺斯, Yīlìnuò 伊利诺, Yīlìnuòyī 伊利诺伊, and so forth.
More to come.
---