« previous post | next post »
Following up on "I'ma", 7/3/2005, Brett Reynolds sends this clip from the Art Blakey Quintet's A Night At Birdland, Vol. 2 [Live], the end of track 4, Now's The Time:
A transcription:
"Yes, sir, I'ma stay with the youngsters. When these get too old,  I'ma get some younger ones."
The point? In that 2005 LL post, I quoted from Shana Poplack and Sali Tagliamonte, "The grammaticization of going to in (African American) English", Language Variation and Change, 11 (2000), 315-342:
Joan Fickett (personal communication, cited by Labov et al., 1968:25) suggested that the reduced form I'ma denotes immediate future, in contrast to I'm gonna, which would be more remote.
Brett observes that Mr. Blakey's second sentence "seems a remote use".
[Update — Some more ima-ology from Neal Whitman:
"Thoughts on Imma", Literal Minded 4/25/2010
"Prime Time for Imma", Visual Thesaurus 4/26/2010
And I'm back from a meeting, and not yet immersed in working on talks and papers, so here's a spectrogram and waveform of the first "I'ma" region (roughly "…sir I'ma stay with…"):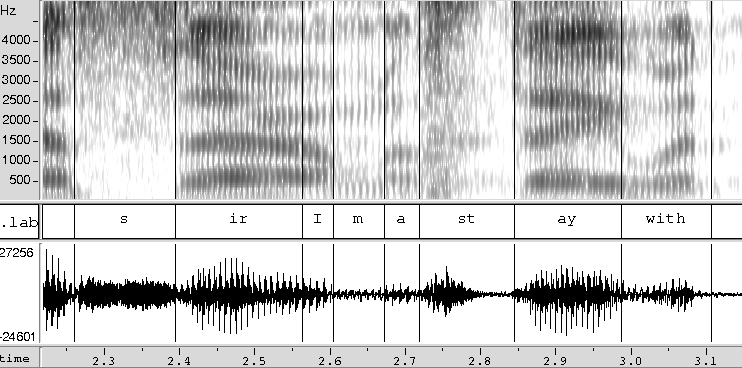 And here's an audio clip of just the "…sir I'ma stay…" sequence:
The part transcribed as "I'ma" consists of
1. An open, fairly monophthongal vowel, which is a sort of [a] carrying over some [r] coloration from "sir". There's no clear dividing line between the end of "sir" and the start of "I" — the whole vocalic sequence is 200 milliseconds long, and depending on where you place the boundary (I listened to the sound in order to place it as well as one can in such cases), the "I" vowel might be about 50 to 60 milliseconds of that.
2. A nasal murmur about 70 milliseconds long, which is fairly uniform in both amplitude and spectrum, although there's evidence of a stronger nasal zero in the 1000 to 1500 Hz range during the last 10-20 milliseconds.
3. Another open, monophthongal vowel, about 40-50 milliseconds long.
So to sum up, we've got a vowel+nasal+vowel sequence, about 160 milliseconds long in total.
Here's a spectrogram of the second "I'ma" region: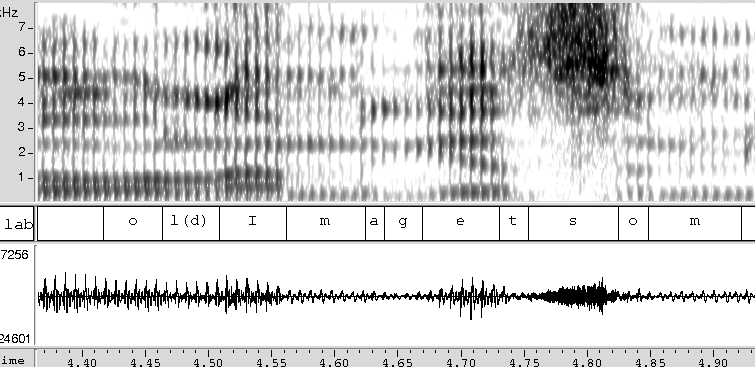 And an audio clip:
Here the part transcribed as "I'ma" consists of
1. An open vowel, with fairly clear boundaries, about 50 milliseconds long.
2. A nasal murmur, about 60 milliseconds long, with a hint of a spectral change during the last 15 milliseconds or so.
3. A brief vowel about 20 milliseconds long, somewhat gradually shading into a velar approximant that is the reflex of the /g/ in "get".
Thus we again have a vowel+nasal+vowel sequence, pretty much the same as the first one except that it's somewhat shorter.
If there's a swallowed "gonna" in there, it's well hidden…
Also, David Bamman has been inducing demographics in the publicly-available twitter stream, normalizing by  tweet volume, and plotting on a map using the google charts API.  The map for "I'ma" is here, and for "Imma" here. (This is worth a post of its own…)]
---