« previous post | next post »
"Scientists sequence first ancient Irish human genomes", Press Release from Trinity College Dublin: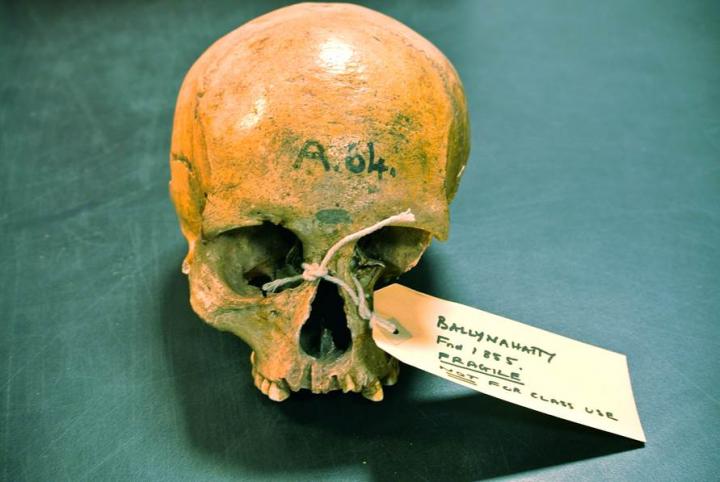 A team of geneticists from Trinity College Dublin and archaeologists from Queen's University Belfast has sequenced the first genomes from ancient Irish humans, and the information buried within is already answering pivotal questions about the origins of Ireland's people and their culture.  
The team sequenced the genome of an early farmer woman, who lived near Belfast some 5,200 years ago, and those of three men from a later period, around 4,000 years ago in the Bronze Age, after the introduction of metalworking. […]
These ancient Irish genomes each show unequivocal evidence for massive migration. The early farmer has a majority ancestry originating ultimately in the Middle East, where agriculture was invented. The Bronze Age genomes are different again with about a third of their ancestry coming from ancient sources in the Pontic Steppe.
"There was a great wave of genome change that swept into Europe from above the Black Sea into Bronze Age Europe and we now know it washed all the way to the shores of its most westerly island," said Professor of Population Genetics in Trinity College Dublin, Dan Bradley, who led the study, "and this degree of genetic change invites the possibility of other associated changes, perhaps even the introduction of language ancestral to western Celtic tongues."
The paper is Lara M. Cassidy et al., "Neolithic and Bronze Age migration to Ireland and establishment of the insular Atlantic genome", PNAS 2015:
Modern Europe has been shaped by two episodes in prehistory, the advent of agriculture and later metallurgy. These innovations brought not only massive cultural change but also, in certain parts of the continent, a change in genetic structure. The manner in which these transitions affected the islands of Ireland and Britain on the northwestern edge of the continent remains the subject of debate. The first ancient whole genomes from Ireland, including two at high coverage, demonstrate that large-scale genetic shifts accompanied both transitions. We also observe a strong signal of continuity between modern day Irish populations and the Bronze Age individuals, one of whom is a carrier for the C282Y hemochromatosis mutation, which has its highest frequencies in Ireland today.
This is presented as support for the Pontic-Caspian Steppes theory of Indo-European origins:
Three Bronze Age individuals from Rathlin Island (2026–1534 cal BC), including one high coverage (10.5×) genome, showed substantial Steppe genetic heritage indicating that the European population upheavals of the third millennium manifested all of the way from southern Siberia to the western ocean. This turnover invites the possibility of accompanying introduction of Indo-European, perhaps early Celtic, language. Irish Bronze Age haplotypic similarity is strongest within modern Irish, Scottish, and Welsh populations, and several important genetic variants that today show maximal or very high frequencies in Ireland appear at this horizon. These include those coding for lactase persistence, blue eye color, Y chromosome R1b haplotypes, and the hemochromatosis C282Y allele; to our knowledge, the first detection of a known Mendelian disease variant in prehistory.
See David W. Anthony and Don Ringe, "The Indo-European Homeland from Linguistic and Archaeological Perspectives", Annual Review of Linguistics 2015, for further arguments in favor of this view.
For the contrary position, see Russell D. Gray and Quentin D. Atkinson, "Language-tree divergence times support the Anatolian theory of Indo-European origin", Nature 2003.
For a review of the previous state of the genetic evidence, see Pedro Soares et al., "The Archeogenetics of Europe", Current Biology 2010:
The question of the spread of the Neolithic became intertwined with that of the dispersal of the Indo-European languages, as a result of Renfrew's proposal that the Proto-Indo-European language spread from Anatolia with early farming. This hypothesis has become less plausible in the light of the mtDNA and Y-chromosome evidence as well as archaeological and linguistic criticisms. Although computational analyses of lexical data have been cited in its support, historical linguists find such analyses unpersuasive because of the unreliability of word-lists (especially due to borrowing) and because the approach ignores the strong likelihood of convergence and underestimates the rate of language change. The implied reinstatement of glottochronology — dating language splits — has also failed to win backing from linguists, and there has been widespread scepticism as to whether archaeology and linguistics can be combined so readily. Paraphrasing Kohl, conflating language, culture and genetics is the "cardinal sin" of molecular anthropology. If any consensus remains, it is probably that if there is any single explanation to be found for the spread of Indo-European, it is more likely to lie with the next major change to reshape Europe in the wake of a continent-wide system collapse. Possibly incurred by climatic changes c. 6 kya, this culminated in Sherratt's "secondary products revolution" of the 3rd millennium BC, when a number of agricultural innovations, including wool, the plough, the horse and wheeled vehicles, were introduced and spread within Europe 118, 124, 125, 126 and 127. This is, however, a time window little explored by archaeogeneticists to date.
So if I understand the impact of these new findings, they verify that "Bronze age individuals" from County Antrim, 3500-4000 years ago, had both "substantial Steppe genetic heritage" as well as "several important genetic variants that today show maximal or very high frequencies in Ireland". While this doesn't prove that IE languages were brought to the western edge of Europe by Bronze-age migrants from the steppes rather than earlier agriculturists from the middle east, at least it shows that some (descendants of) steppe immigrants were there at the right time, and that their progeny remain prominently represented in the current Irish gene pool.
The critical question for the study's authors seems to be diffusion vs. displacement:
Twentieth-century archaeology was dominated by two nonmutually-exclusive paradigms for how such large scale social change occurs. The first, demic diffusion, linked archaeological change with the displacement and disruption of local populations by inward migrations. However, from the 1960s onwards, this assertion was challenged by a paradigm of cultural diffusion whereby social change happened largely through indigenous processes.
High-throughput sequencing has opened the possibility for genome-wide comparisons of genetic variation in ancient populations, which may be informatively set in the context of extensive modern data. In Europe, these clearly show population replacement by migrating farmers from southwest Asia at the onset of the Neolithic with some retrenchment of the earlier Mesolithic genome at later stages. Three longitudinal genome studies have also shown later genome-wide shifts around the beginnings of the Bronze Age in central Europe with substantial introgression originating with the Yamnaya steppe herders. However, replacement coupled to archaeological horizons is unlikely to be a universal phenomenon, and whether the islands of Britain and Ireland, residing at the temporal and geographical edges of both the Neolithic and steppe migrations, were subject to successive substantial population influxes remains an open and debated question. For example, a recent survey of archaeological opinion on the origins of agriculture in Ireland showed an even split between adoption and colonization as explanatory processes. Recent archaeological literature is also divided on the origins of the insular Bronze Age, with most opinion favoring incursion of only small numbers of technical specialists.
The genetic evidence from the "early farmer woman" seems to favor the diffusion side of the argument:
From examination of the fraction of her genome, which is under ROH, she seems similar to other ancient Neolithics, suggesting that she belonged to a large outbreeding population. This analysis argues against a marked population bottleneck in her ancestry, such as might have occurred had she been descended from a small pioneering group of migrating farmers. Either a restricted colonization does not reflect the nature of the first Irish farmers or her ancestry was augmented by substantial additional Neolithic communication from elsewhere in intervening centuries.
But the men from Rathlin Island seem to offer some evidence for displacement:
Thus, it is clear that the great wave of genomic change which swept from above the Black Sea into Europe around 3000 BC washed all of the way to the northeast shore of its most westerly island. At present, the Beaker culture is the most probable archaeological vector of this Steppe ancestry into Ireland from the continent, although further sampling from Beaker burials across western Europe will be necessary to confirm this. The extent of this change, which we estimate at roughly a third of Irish Bronze Age ancestry, opens the possibility of accompanying language change, perhaps the first introduction of Indo-European language ancestral to Irish. This assertion gains some support by the relative lack of affinity of non-Indo-European speakers, Basques, to the ancient Bronze Age genomes.
So on balance, a win for the Pontic Steppes.
---