« previous post | next post »
Randall Munroe has  a great post on the xkcd blog that reports and discusses the results of an online color survey.  With 222,500 user responses, this was almost certainly the largest scientific experiment ever run by a cartoonist.
The most interesting result reported so far is an experimental test of the old stereotype about sex differences in color naming.
As Randall explains,
By a strange coincidence, the same night I first made the color survey public, the webcomic Doghouse Diaries put up this comic (which I altered slightly to fit in this blog, click for original):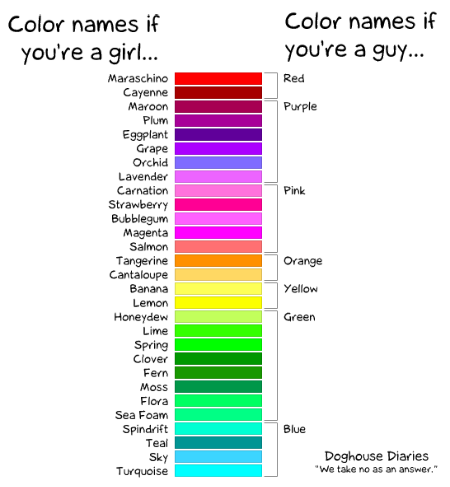 It was funny, but I realized I could test whether it was accurate (as far as chromosomal sex goes, anyway, which we asked about because it's tied to colorblindness). After the survey closed, I generated a version of the Doghouse Diaries comic with actual data, using the most frequent color name for the handful of colors in the survey closest to the ones in the comic: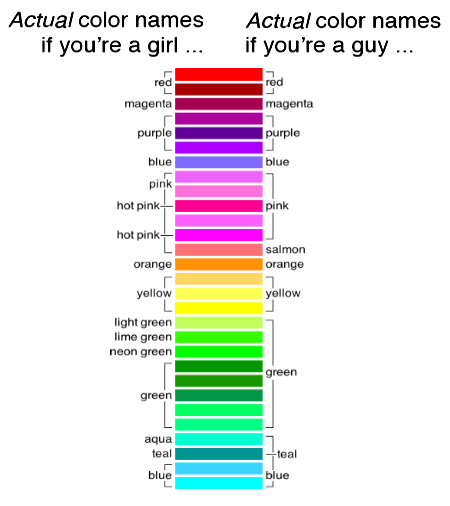 But if you ask a different question — not what were the commonest behaviors for each group, but rather what behaviors were most different between the groups — you get a different sort of answer. The color names "most disproportionately popular among women" were
1. Dusty Teal
2. Blush Pink
3. Dusty Lavender
4. Butter Yellow
5. Dusky Rose
Randall describes this as "Kind of an incense-bomb-set-off-in-a-Bed-Bath-&-Beyond vibe". The same list for male subjects:
1. Penis
2. Gay
3. WTF
4. Dunno
5. Baige
As Randall says, "I weep for my gender". (This result is Too Good To Check, but the whole dataset is available for download — in this respect the comics industry is way ahead of the scientific publishers, alas — so you can try different definitions of "most disproportionately popular", whether by sex or by geographical regions or whatever.)
The experiment's other major discovery is that no one knows how to spell fuchsia.  Below is my own set of Google counts confirming this result:
| | | |
| --- | --- | --- |
| Spelling | Count | Did you mean __? |
| fuchsia | 8,470,000 | |
| fuschia | 1,960,000 | |
| fucsia | 1,400,000 | |
| fushia | 795,000 | fuschia |
| fuscia | 200,000 | fuschia |
| fucshia | 79,500 | fuchsia |
| fuchia | 103,000 | fuchsia |
The correct spelling wins — but the second-place-winner is suggested as a correction more often.
[Hat tip to Tiago Tresoldi.]
[Note, by the way, that Language Logger Paul Kay is an expert on the question of color naming and color perception, a topic that he posted about e.g. here. See also here and here. The techniques described in Paul's post on "Color vocabulary and pre-attentive color perception" would make it possible to determine whether the small sex differences that Randall found in naming varieties of green and blue are facts about perception or facts about response generation. Of course, Randall's experiment was not designed to address these questions, and didn't attempt to distinguish among color perception, knowledge of color names, and propensity to assign different names (if known) to different shades. ]
---