« previous post | next post »
In one of the comments on my recent "begging the question" post, Samantha asked:
Could someone give me a concrete example of this fallacy (the simpler, the better?) It would be especially great if it was an example like what Aristotle had in mind, something that showed "how such arguments can be disguised so as to appear persuasive." I've read the Wikipedia articles about the fallacy but I still can't wrap my mind around it.
As far as I know, Aristotle's discussion (e.g. in Part 16 of Book II of the Prior Analytics) is entirely abstract. However, others have supplied plenty of concrete illustrations of the concept over the centuries: here's an example from Ryan North's Dinosaur Comics for 1/5/2006: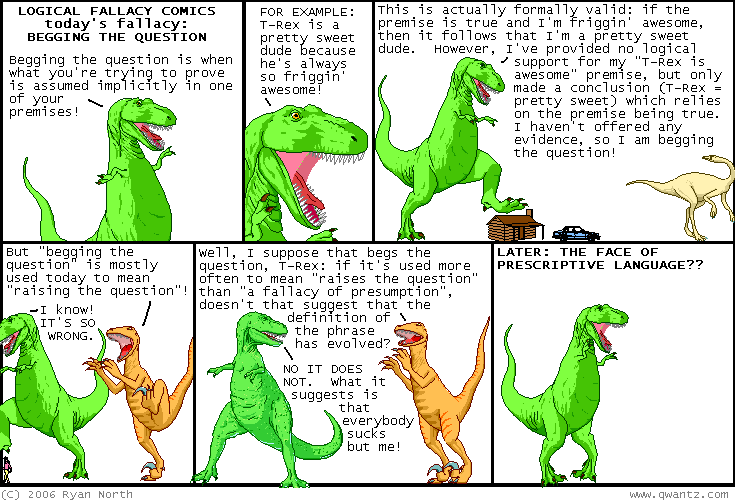 Needless to say, in most real-world cases where someone accuses someone else of somehow smuggling the point to be proved into their premises, the structure of the offending argument is not nearly so clear-cut .
In my earlier post, I gave an example from Paul Krugman's blog ("Austrian Follow-up", 4/7/2010):
As predicted, many of the comments to my Austrian economics post are of the form "Well, of course employment rises when investment is expanding, and falls when the investment is falling — in the first case the economy is booming while in the second it's slumping."
As I tried to explain, however, that's assuming the conclusion; there's no "of course" about it. Why do periods when the economy is investing more correspond to booms, while periods when it's investing less correspond to slumps? That's easy to understand in Keynesian terms — but the whole Austrian claim is that they're an alternative to Keynesianism. Yet I have never seen a clear explanation of this central point.
What happens, instead — or at least that's how I read it — is that Austrians slip Keynesianism in through the back door. Implicitly, they associate booms and slumps with rising or falling aggregate demand — utterly unaware that their own theory doesn't actually make room for such a thing as aggregate demand to exist, or at least to affect overall employment. So Austrians are basically Keynesians in denial — self-hating Keynesians? — pretending to themselves that they're not using ideas that are in fact essential to their story.
But this example was clearly not clear enough to help Samantha.
The structure of Krugman's accusation is simple — "Austrians slip Keynesianism in through the back door". However, in order to understand the content of this claim, you need to understand two different classes of economic theories. At least, you need to grasp what it means to say that "Austrian" economic theories don't "make room for such a thing as aggregate demand to exist", and why this might be a problem for the Austrian version of an apparently common-sensical explanation of the connections among employment, investment, and demand. To make the situation worse, Krugman cites no specific instance of the allegedly question-begging argument, but only gives us his caricature of it. (I'm not saying that Krugman was wrong, just that the passage that I quotes was too complex and too allusive to be useful as an illustration of "assuming the conclusion".)
So here's another attempt.  In a (comment on his) blog post "Honest Science" (4/12/2010), David Heddle argued that
If free will is an illusion, then deterrents are an illusion. How can a deterrent make me choose not to commit a crime, unless I have the facility of choice?
This is a somewhat persuasive piece of rhetoric, in my opinion. I tried it out on a couple of random acquaintances, whose initial responses were something like "yeah, that makes sense". But Jeffrey Shallit's response ("Muddled Thinking about Free Will", 4/30/2010) points out the problem:
Let's pretend that humans are soulless computational machines, shaped by evolution […] Now the human machine suddenly sees resources, for the taking, that belong to another. The human machine does a cost-benefit analysis to "decide" whether to take the resources or not. In the absence of a known deterrent, such as a dangerous dog or future incarceration, the human machine may decide to take the resource. In the presence of a deterrent, the human machine may make another decision.
How does this involve "free will"? You can call this decision-making "free will" if you like. But then a thermostat has free will, too.
Heddle's argument reasons from a premise like "The threat of punishment can make someone choose not to commit a crime" to the conclusion "Free will exists".  But as Shallit observes,  someone who sees human choice is an algorithmic response to circumstances has no difficulty in applying this analysis to the case of deterrence.  Heddle's argument works as a piece of rhetoric because its premise evokes a situation that most people think of as involving free will — in other words, it works by smuggling the conclusion, in a disguised form, into its premise.
[I've ignored the fact that Heddle's argument has the form of a reductio ad absurdum — if free will is an illusion, then deterrents are an illusion, and deterrents clearly work to some extent, therefore … The key point, however, is getting the reader to accept that "deterrence" — making a choice that's influenced by potential punishment — is an instance of "free will". Since the question at issue is whether human choices are ever instances of "free will", this is a clear example of petitio principii.]
[Tip of the hat to language hat.]
---