« previous post | next post »
As a Sinologist, one thing that really annoys me is when someone sanctimoniously invokes phony Orientalism to embellish their speech or writing.  One egregious example is that the Chinese "character / symbol" for "crisis" is made up of "danger" plus "opportunity."
Several days ago, Frank Chance sent me the following note: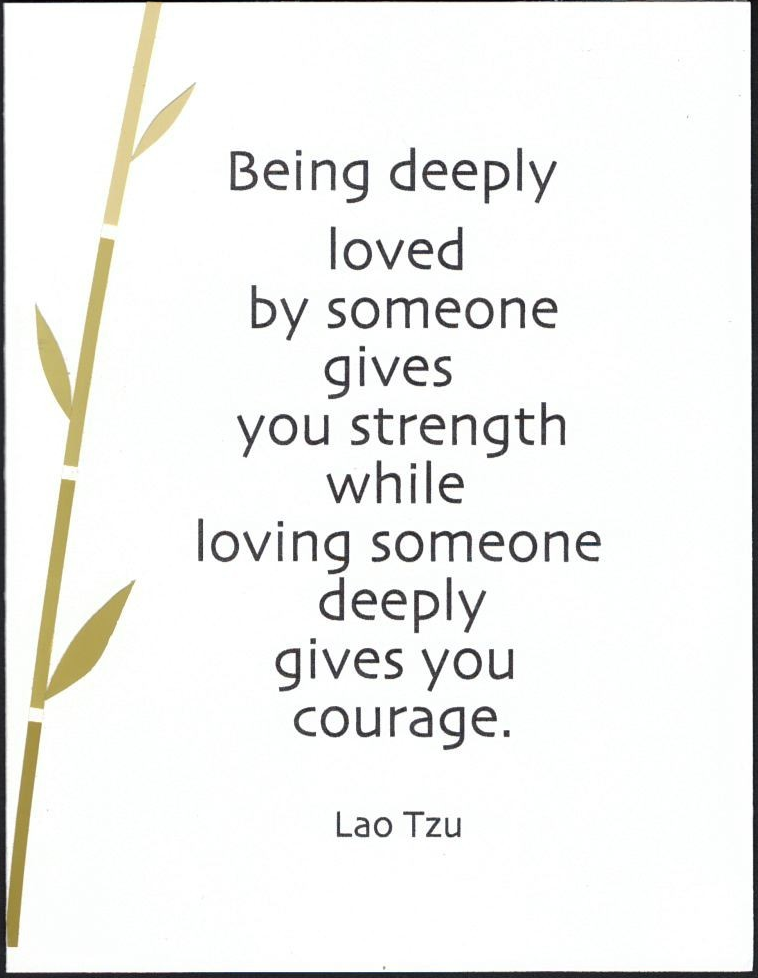 Hmmm…this doesn't seem to correspond with any part of the Laozi I know…not that it matters.
Labelling it "Lao Zi Apocrypha," I sent the card around to some friends and colleagues.

Under the heading "Identification of the Logion," Russell Kirkland replied as follows:
With my decades of experience reading (albeit detesting) what I call in print the "pseudo-translations of fatuous dilettantes" (or some such phrase), I can decipher the words in this Hallmark card (or whatever) as someone's Romanticized Americanized colonialization of lines from DDJ [VHM:  Daode jing / Tao Te Ching] chapter 67, which I translate, more accurately, thus:
I constantly have three treasures:
Hold onto them and treasure them.
The first is called "compassion" (zi).
The second is called "restraint."[1]
The third is "not daring to be at the forefront of the world."
Now being compassionate, one can be courageous.
Being restrained, one can be expansive.
Not daring to be at the forefront of the world, one can be the leader of the things that are com­pleted.[2]
[1] Apparently based on [VHM:  the early commentator] Wang Bi's comment, virtually all translators render jian here as "frugali­ty," which makes little sense:  it is hard to think of other passages that commend any behav­ior in eco­nom­ic terms, or of a sensible explanation of such a commenda­tion.  According to Karlgren (Grammata Serica Recensa #613e), jian carried the original mean­ing of "re­strict" or "restricted," and in this passage such a usage can be readily explained.  It seems intriguing that the term ap­pears nowhere else in the text.
[2] This passage is not in the Guodian materials [VHM:  earliest manuscript finds for this text].  For the final line, I follow the Mawangdui texts, which have a wei before cheng, indicating that cheng is not a verb ("to become"), but rather a modifier of qi.  Most translators insist on reading a politi­cal reference into this line, for no good reason that I can surmise, save that traditional commenta­tors liked to find such references.  We must remember that such commentators were from a tradition that could not read early Zhou folk songs without interpreting them as advice for the ruler.
Russ
PS:  The translation and analysis above is from my chapter, "Self-Fulfillment through Selflessness:  The Moral Teachings of the Daode jing," in Michael Barnhart, ed., Varieties of Ethical Reflection: New Directions for Ethics in a Global Context  (New York: Lexington Books [Rowman and Littlefield], 2002), 21-48.
And a moment later, after I asked Russ whether I could share his comments with others, he added:
I would be glad for you to do so.  Of course, there is nothing in the text that could even remotely be construed as meaning "loving others deeply" AND "being loved by others deeply":  there's only one term, so it can only mean one or the other–not both!  And there's nothing that can be construed as a reference to "strength"–much less strength that results from others' feelings about us.  In other words, its the kind of nonsense that one finds in the old "Buddha's Little Instruction Book" — self-indulgent American "Liberal" (e.g., Emersonian) touchy-feelyism, fraudulently marketed as teachings of a person from another land in the distant past.
Hey, I don't care if Ursula LeGuin wants to pass along to her readers her ideals for how they should live their lives and be happier.  It's (still, for a little while, at least) a free country.  But for her to publish "a translation" of a work that is written in a language that she cannot read — in order to propagate her ideals and values, while giving the impression that those ideals and values are in fact those of "Lao Tzu" is, necessarily, a fraud — like the new "Second Book of Tao" by Stephen Mitchell — another dilettante who cannot read a word of Chinese, and in 1989 told the New York Times that he was qualified to "translate" the DDJ because he had taken Zen lessons!
Then, just yesterday on the train home to Swarthmore, as I was reading an extremely long article by Janet Malcolm entitled "Iphigenia in Forest Hills" in the New Yorker, another ersatz quotation from a Chinese sage caught my eye.  In section / chapter 19, p. 61a, in pronouncing his decision, a judge is quoted as follows:
Miss Borukhova, you set out on a journey of revenge because a judge had the temerity to give the custody of your daughter to your estranged husband.  Another quote, Confucius this time, said:  "A person who sets out on a path of revenge should first dig two graves."
Right away, my pseudo-Orientalism-detection antennae started to twitch and tingle.  Curious to see where Judge Hanophy may have dug up his gem, I came upon this dubious collection of Confucius quotations. I dare say that most of these were just made up out of thin air — figments of somebody's imagination.  They remind me of the only Confucius quotation I knew before I went to college, taught to me by my brother Dave when I was six years old:  "Confucius say [sic]:  'He who cooks carrots and peas in the same pot is unsanitary.'"
Under the heading "Pseudo-Confucius," I sent the "two graves" quotation around to several correspondents.  June Teufel Dreyer replied at once:  "I heard that very quote a couple of days ago, on a TV program about FBI profilers called Criminal Minds."  Woe is us!  It looks as though this one is going viral and will soon be infecting the public consciousness the same way "crisis = danger + opportunity" has for decades.
As an afterthought, June opined, "Actually, I must admit I rather liked the quote, whoever said it.  Perhaps the person responsible for creating the little strips of paper inserted into fortune cookies."
Finally, just before I posted this, Russ Kirkland weighed in again with the following:
I'd bet that most of what 20th-century Anglophones learned as "Confucius say" were actually from Hollywood scriptwriters doing Charlie Chan movies.
But thanks for that page!  By typing "Lao" (sic) into the search box, I came to a page of "Lao-tzu sayings."  Some are real quotes, but others are like this:
Seek not happiness too greedily, and be not fearful of happiness.
Lao-tzu (604 BC – 531 BC)
Not only can I think of no lines in the text than can be read that way; but I cannot think of any context in which "Lao-tzu" — or any of his "brothers in Asian wisdom" — might have said "be not fearful of happiness"!!  First, only an American would have uttered such words!  Secondly, I cannot think of any Asian thinker who would even, conceivably, agree that "it's good to try to be 'happy'."  To seek an emotional state that gives pleasure to the person feeling it is not only absent from Buddhism, Confucianism, Taoism, and Hinduism (etc.), but they all denounce such foolishness, on the same terms.  Frankly, if Emerson tried to sit at the Round Table of the League of Extraordinary Asian Gentlemen (to mix my Hollywood metaphors ;-) ), they would laugh him out of the room….  Well, actually not:  none of them would laugh at anyone, in public.
In one of my next posts, I shall write about a kind of translation that falls somewhere between true and false.
---