« previous post | next post »
Going through the latest batch of Chinglish offerings that friends sent to me last week, my eye was caught by this striking bilingual sign: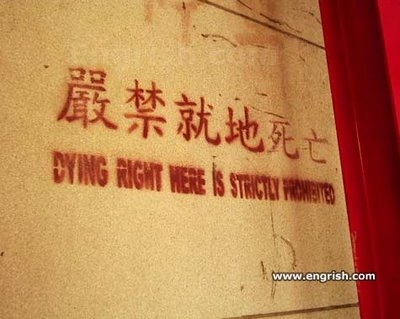 Normally, I do little more than marvel at the mistranslations and ungrammatical constructions that are characteristic of Chinglish. Seldom do I undertake deeper research into how they came about, since the causes of the bloopers and blunders are usually painfully obvious. It is only when Chinglish expressions — whether humorous or not — are hard to explain that I make a special effort to analyze them and figure out how they occurred.
But this one was different.
What struck me about this classic specimen — sardonically captioned by the Engrish.com editor(s) thus: "Go over there to die, please. Thank you." — was the fact that the Chinese is just as ridiculous as the English: yan2jin4 jiu4di4 si3wang2 ("[It is] strictly prohibited to die on [this] spot"). Furthermore, the English — unlike most Chinglish — is a reasonably accurate translation of the Chinese. That's what really caught my attention about this very special instance of supposed Chinglish. Consequently, I decided that this "DYING RIGHT HERE IS STRICTLY PROHIBITED" sign merited further investigation.
The first aspect of the sign that had to be determined was the context in which it appeared. In what circumstances would it be appropriate to tell people to die elsewhere? The emergency room of a hospital? It turns out that the "DYING RIGHT HERE IS STRICTLY PROHIBITED" sign was painted on the wall of a building in the celebrated Taipei district called Huashan Culture Park 華山藝文特區, an artsy area like Soho in New York or 798 in Beijing. You can find a map and photographs of the area here, and pictures here. The exact address of the sign is apparently "原台北酒場,八德路和忠孝東路二段上的一大片廣場"。
Right away, one suspects that artistic playfulness and bohemian irony are operative in the sign under discussion. This suspicion is further confirmed by close examination of the printing of the Chinese characters, where si3wang2 ("to die; to be dead / doomed") is in a different, thinner font. This suggests the possibility that si3wang2 would be replaceable with other activities and behaviors that are "strictly prohibited." Indeed, one often finds similar injunctions against lesser infractions than dying: spitting, urinating, defecating, and so on.
A blogger from Taiwan offers additional views of the sign and agrees with the assessment that it is ironic and playful.
What this clever bilingual sign accomplishes, then, is to make a social comment that is both dramatic and subtle: one is not even permitted to die. Incidentally, a couple of Chinese informants insisted that the sign is "ungrammatical" because si3wang2 as a verb, unlike committing suicide, is an involuntary act, hence one cannot be enjoined against doing it. Be that as it may, this remarkable Taipei sign reminds me somewhat of the famous T-shirts that say "Singapore Is a Fine City" on the front or at the top and lists a number of the many fines imposed by the government on the back or below: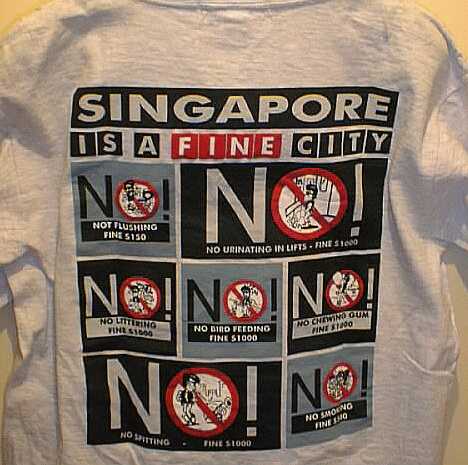 Unfortunately, I must close this post with a sad finale. The "DYING RIGHT HERE IS STRICTLY PROHIBITED" sign in Taipei, which deserves to be considered a work of art, has been defaced: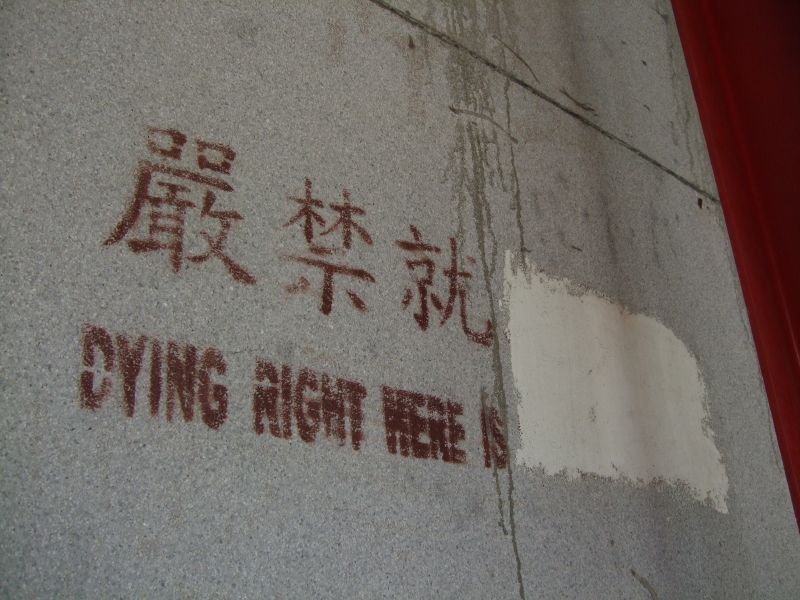 A tip of the hat to Mark Swofford, Gianni Wan, K. H. Cheung, Selena Wang, Tim Xie, William Zhang Zesheng, Valerie Hansen, and Lala Zuo for various types of assistance during my research on this singular sign.
---