« previous post | next post »
Gordon Campbell sent in a pointer to a recent article by Sarah Mennie, "Gay dogs not welcome, diner told", [Adelaide] Sunday Mail, 4/24/2010:
Woodville North man Ian Jolly, 57, was barred from dining at Grange restaurant Thai Spice in May last year after a staff member mistook his guide dog Nudge for a "gay dog", the tribunal heard this week.
A statement given by restaurant owners Hong Hoa Thi To and Anh Hoang Le said one of the waiters had understood Mr Jolly's partner Chris Lawrence "to be saying she wanted to bring a gay dog into the restaurant".
"The staff genuinely believed that Nudge was an ordinary pet dog which had been desexed to become a gay dog," the statement said.
Mr Jolly and Ms Lawrence were refused entry to the restaurant – which displays a "guide dogs welcome" sign – even after providing staff with a guide dogs fact card.
This being Language Log rather than Endocrinology Log, for the most part anyhow, we'll pass over in silence the hormonal misunderstanding, and focus on the phonetic one. And let's grant that in casual speech, the difference between one and two /d/ segments — as in, say, "guide dog" vs. "guy dog" — is likely to fade away. But what about the vowel difference between guide and gay? Shouldn't that have been a clue?
Well, in Adelaide, maybe not so much. Like the vowel in gay, the main-stressed vowel in Australian is a member of the FACE lexical set; and the fact that Australian is jocularly rendered as "Strine" tells you something about the fate of this vowel down under.
For those skilled in the art, a more quantitative version of this story is told by Figure 6 from Felicity Cox, "The acoustic characteristics of /hVd/ vowels in the speech of some Australian teenagers", Australian Journal of Linguistics 2006: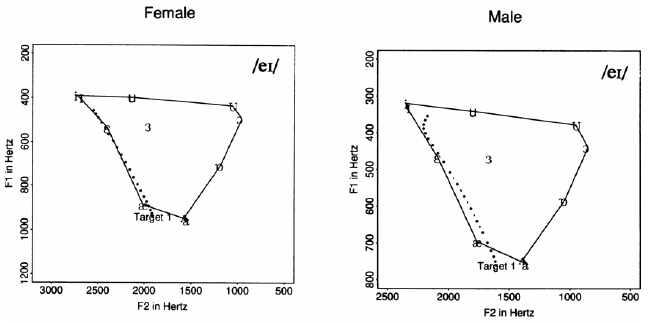 Fig. 6: The time normalised average formant trajectory diagrams for /eɪ/ superimposed onto the monophthong vowel spaces for females and males
What this figure shows is that the vowel in hayed starts right at the bottom of the vowel space, with the most open available vowel sound, and ends with the highest, frontest available vowel sound. For us speakers of American English, in the northern states at least, the "long i" sound of the vowel in hide is the best approximation of this in our normal vowel inventory.
However,  my hide vowel generally starts somewhat backer and ends quite a bit lower — and so, in general, does the Australian variety, according to Cox's Figure 7: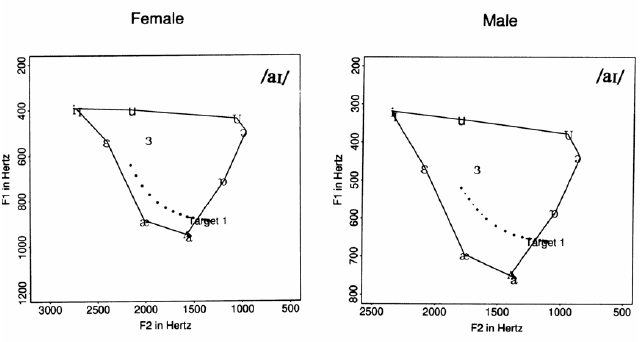 Fig. 7: The time normalised average formant trajectory diagrams for  /aɪ/ superimposed onto the monophthong vowel spaces for females and males.
So for speakers of Australian English, "guide dog" and "gay dog" do have different vowels in the first syllable — lace and lice are not actually homophones — but these two diphthongs are much more similar than they would be in varieties of English where the FACE vowel is pronounced  [ei].
[See  Australian Voices, or Robert Mannell's page "The Vowels of Australian English", for more information. Based on those pages, and on the charts in Jonathan Harrington et al., "An acoustic phonetic study of broad, general, and cultivated Australian English vowels", Australian Journal of Linguistics 1997, I believe that the basic patterns discussed above are fairly general characteristics of Australian English, not limited to the teenagers studied in Cox 2006.]
Given the names of the restaurant owners, it seems possible that the staff involved in this misunderstanding were not native speakers of Australian English, or at least not of the same variety as the affected customers. In particular, the staff may have responded to the local variety of English by systematically collapsing the FACE vowel with the PRICE vowel, so that they have the same phonetic expectations for e.g. raid and ride. For those of us whose FACE and PRICE vowels are very different, this merger is unexpected.  But there's a similar case that's a cross-linguistic stereotype:  many native speakers of languages with simpler vowel inventories tend to collapse the English KIT and FLEECE sets, so that they don't reliably distinguish between (say) hid and heed.
---