« previous post | next post »
Today the New York Times presented two dissections of the style as well as the content of Donald Trump's rhetoric: Patrick Healy and Maggie Haberman, "95,000 Words, Many of Them Ominous, From Donald Trump's Tongue", and Jeremy B. Merrill, "How Donald Trump Talks".
But I haven't seen anyone describe what seems to me to be the most striking aspect of his style: its repetitiveness.
In this sample, I've used color-coding to highlight the repetitions (link):
Q: If you were president right now, what would be the first,
second and third thing you would do in the strategy to defeat ISIS?
A:  Well if I were president
we probably wouldn't be in the problems we have right now,
because it's incredible, we have an attack,
and then all of a sudden we bomb all these sites.
Why didn't we bomb the sites before?
We should have bombed the sites a long time ago, Mika,
These are training camps and training areas largely,
and we didn't take them out —
why is it that we take them out now,
after there's this vicious and violent attack?
Uh the other thing I'd be explaining the problem to people.
We have a president that doesn't even use the term
and won't use the term
radical islamic terrorism.
He doesn't want to use the term
Hilary Clinton the- didn't want to use the term the other day in the debate —
which was a ridiculous and terrible debate frankly, a joke —
but she didn't want to use the term,
she refused to use-
all three of them refused to use the term
radical islamic terrorism.
They- they just can't say it.
They absolutely can't say it.
Here's another passage from the same interview:
Q: So what do you do as far as troops go, how many troops do you send over?
A: Well here's what I would do.
And I've been saying this for a long time,
I've been saying it to you.
I would have, and now they're just starting,
if you remember when I said attack the oil,
because that's their primary source of wealth.
Attack the oil.
People smiled and they laughed and they thought it was a joke,
and they thought it was funny.
Now as of two days ago they're attacking the oil.
Uh I would absolutely I would obliterate their source of wealth.
And I would also attack the banking system,
because they're getting tremendous amounts of funds
through a very complex network
of banking and banking systems.
Here's another example from an earlier interview (link):

Q: Let me ask you about women voters — why should they vote for you?
A: Because I'm very much into the whole thing of helping people and helping women.
Women's health uh issues are such a big thing to me and so important
and you know I have many women that work for me
I was one of the first persons uh people in the construction industry in New York
to put women in charge of projects,
I mean I have it even today,
and I have many women at high positions. I
you know I've gotten a lot of credit for that,
I mean I have so many women working for me
and so many women in high positions working for me
and I've gotten great credit for it.
But in fact nearly every example of his rhetoric that I've looked at has this repetitive cadence, to a degree that is strikingly different from other politicians of this era.
One consequence is that Trump's type-token curve runs well below that of other candidates, as I pointed out in "Political vocabulary display", 9/10/2015, and "Vocabulary display in the CNN debate", 9/18/2015. Trump's propensity for repetitive rhetoric is the reason for this consistent difference: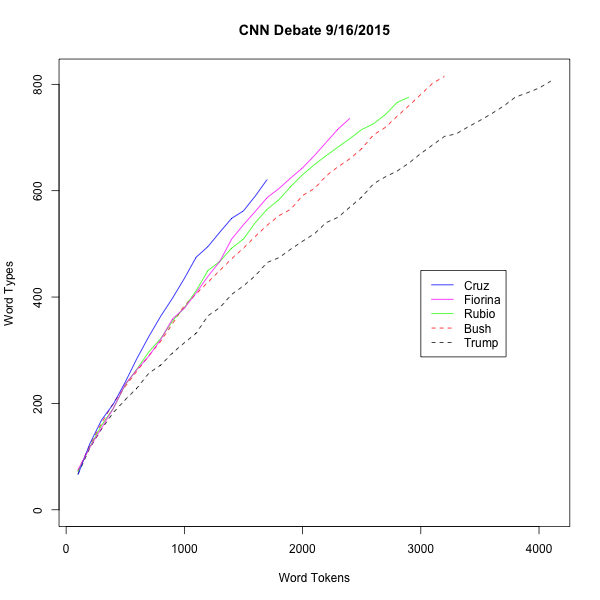 This rhetorical style is somehow familiar, but I've haven't been able to place it in the spectrum of political speechifying that I'm familiar with. Still, this satirical clip comes pretty close.
I certainly don't mean to suggest that Mr. Trump's rhetorical style is due to alcohol consumption — just that the satire in that clip is not entirely random. I haven't been able to find any scientific investigation of this relationship, but Linda Sobell  and Mark Sobell, who studied the effects of drunkenness on text reading ("Effects of alcohol on the speech of alcoholics", Journal of Speech, Language, and Hearing Research 1972) note that "many professional actors and others imitating drunken speech make great use of the characteristic of repetition".
Update — in the comments, Jaime points out that Trump's habit of repeating phrases has been effectively parodied in places like reddit and 4chan for some time, e.g.11/23/2015 on 4chan:
Look, I love the terrorist people. They're great people, I've employed thousands of terrorists, I have a great relationship with the terrorist people. I'm going to do great with the terrorists, in fact a poll came out in Mosul recently, I polled 25% with the terrorists; someone said if you get 25% of the terrorist vote, the election is over… but if I'm elected president, we are going to waterboard the terrorists. We have to waterboard the terrorists, or we won't have a country any more. We're going to waterboard the terrorists, and it's going to be a great waterboarding… and the terrorists are going to pay for it.
"Hey Trump, are you a fascist?"
"You know what, that's something we have to consider closely, something we gotta look at, because we have to make America great again. We don't win anymore. Now you look at some of the fascists, in their early days, they won. They won. They didn't win towards the end because they made a whole bunch of mistakes. Like Franco. Franco made a whole bunch of mistakes and I wouldn't. But he had a country. He had borders. He put up a wall between Morocco and Spain and you know what? Morocco paid for it. Morocco paid for it.
And you know what? Franco took care of his vets! He was very strong in military. So strong on military. And our wounded warriors. How about them folks. I'd be so strong on veterans. Oh my gosh I'd build hospitals so fast for them. It's a disgrace how we treat our veterans.
And Franco was very strong on military. And let me tell you Id be very strong on military.
And how about values folks? What's the best book? That's right! It's the bible. The bible is my favorite book. Great book. What's the second best book? That's right, that guy has it there, THE ART OF THE DEAL! Go ahead and hold it up. You know, a lot of great fascists had a lot of great books. And you know what? They hated communism.
You know who else hates communism? Trump! Trump hates communism. Nobody hates communism more than trump. You know, I don't get enough credit for it, but I spoke out against the soviets in he eighties. Yeah. But those media back there, they won't write about it. THEY WONT WRITE ABOUT IT. I know. They're so dishonest. So dishonest. And you know who else is a communist?
That's right! Bernie Sanders. Oh my. Oh my. Can you believe this guy? He wants free college and free healthcare for everybody! For everybody!!! Can you imagine that? You know who else was for that? That's right, Stalin. Stalin. And you know who prevented universal healthcare in Spain? That's right, Franco. You know, Spain only started getting into this mess when it switched to democracy. It's true. It's true. I hate to say it, but it's true. They switched away from fascism and now look at them. They're poor. They have 40 percent unemployment. Their country is a liberal mess. They don't win anymore.
But Franco made great deals. Oh my gosh great deals! He got Germany to bomb the hell out of the rebels. Paid nothing. It was a great deal. It was a great deal for him. And then, he stayed out of the Second World War! He stayed out of it! He let Hitler and Stalin tear each other apart! And, by the way, I'm just fine with letting Russia bomb ISIS. I've been saying it for a long time. Bomb the oilfields. Why are we worried about Russia doing it? Let them. Franco did. And I made great deals too. Amazing deals. Yuuuuge deals.
So you know, people talk about fascism like its a bad thing. But they won a lot. They won a lot. And we don't win anymore. We don't. And what's the problem with fascism? They say it like its a bad thing. Like its a PC thing! It's always about tone now. But you know what? I'm not worried about tone, so let them write whatever they want about fascism because they don't know what they're talking about. Alright, next question.
---