« previous post | next post »
OK, how do YOU pronounce Eyjafjallajökull?
Andy Newman and Bao Ong, "Iceland Volcano Spews Consonants and Vowels", NYT 4/16/2010, offer a selection of attempts by people they asked in the Times Square subway station. For example:
They end with "the lowdown from a native speaker at the Icelandic consulate, who would give only her first name, spelling unknown but pronounced Becca":
Becca's final, hyper-carefully-articulated performance is presented separately here:
Jóhann Heiðar Árnason has contributed a more fluent Ogg Vorbis pronunciation file to Wikipedia. A transcoded .mp3 version is here:
A youtube clip leads with Jóhann's version, and then offers a cavalcade of broadcast news presenters, whose attempts are, well, somewhat more confident than those of the Times Square passers-by:
And Neal Conan on NPR's Talk of the Nation (broadcast April 19), has clearly done his homework (though he still gets the first vowel wrong), but he still has a bit of trouble getting from one end of the word to the other:
The Icelanders are having a good laugh about it all: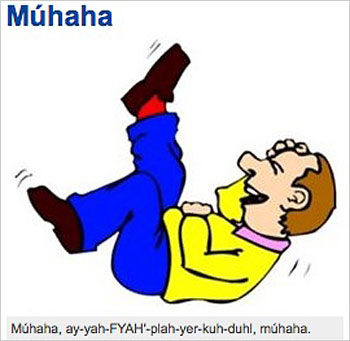 Mark Memmot, "Can You Say 'Eyjafjallajokull'? Icelandic Volcano's Name Is A Tongue-Twister", NPR 4/16/2010, offer an "AP audio clip of Rognvaldur Olafsson, chief inspector of Iceland's Civil Protection Agency, saying "the Eyjafjallajokull volcano" rather rapidly:
I've attempted to cut out just the volcano name itself in this clip:
(And apparently his name, with the proper diacritics, should be Rögnvaldur Ólafsson.)
The BBC's pronunciation guide entry (AY-uh-fyat-luh-YOE-kuutl (-uh)), and the IPA given in the Wikipedia article ([ˈɛɪjaˌfjatlaˌjœːkʏtl̥]), both seem a bit more enthusiastic about the last vowel than Jóhann and Rögnvaldur were. And I'm skeptical of some of the other vowel transcriptions as well.
Another (apparently native) hyperarticulated (and clipped in recording) pronunciation is here:
(This last one has a distinctly different (backer) third vowel than the others.)
Those of you with IPA skillz, how would you render the native pronunciations given in this post?
And another question. In English, we don't generally try to imitate exactly the native pronunciation of foreign proper names, any more than speakers of other languages do for their own borrowings. But especially for unfamiliar names, where there isn't a traditional anglicization, we generally make a sort of half-way attempt. What should the attempt be for Eyjafjallajökull?
[See here for some further (and more serious) discussion by David Shaw, who gives this account of the morphological decomposition:
Eyja is the genitive of ey – meaning 'island'. It's actually the same word as the 'is' in our word island, which explains why the 's' is silent (it comes an erroneous spelling modification in the 15th century). But ey=island is very familiar to us from the names of many an island, like Anglesey (Englishman's island), Sheppey (sheep's island) or Islay (island's island!), also the famous 'new-born' island of Surtsey, just off the south coast of Iceland.
fjalla is the genitive of 'fjöll' (they love their umlauts, those Icelanders) – meaning mountain – and is closely related to the Yorkshire word for mountain/hill – fell. Non-Yorkshire souls (do people from outside 'God's own county' have souls?) might have heard of the outdoor pursuits of 'fell walking' and 'fell running' (insofar as they've heard of anything from Yorkshire that isn't pudding or terriers).
jökull – meaing glacier – is the diminutive (!) form of an Old Norse word meaning 'piece of ice', but, etymologically speaking, it is the same as the 'icle' part of our word icicle, which it still sounds a bit like.
David's suggested anglicization: Eh-ya-fyat-la-yuh-cuttle.
Erlendur in the comments offers this correction: "Eyja is in fact the genitive of eyjar – the plural of ey, so it means islands. Fjalla is indeed the genitive of fjöll, however it means mountains as fjöll is the plural form of fjall." So I guess Eyjafjallajökull means "glacier of the island mountains"? ]
[For some Eyjafjallajökull volcano science,follow the link.]
[As to where those pre-stopped laterals come from, see Pétur Helgason, "Phonetic Variation as a Source of Historical Sound Change: Examples From a Data Base":
In analysing spontaneous speech data from a female speaker of Central Standard Swedish, I have encountered two phonetic processes that are reminiscent of historical sound change in Icelandic. First, this informant frequently preaspirates her unvoiced stops, which in Icelandic is phonologically obligatory. Second, in her speech there are frequent occurrences of emergent [d] between vowels and laterals (i.e. pre-stopped laterals), a fact which bears a striking resemblance to the historical change ll > dl in 16th century Icelandic (the timing is debatable, though). These facts strongly suggest that sound changes where preaspiration arises and [d] emerges between a vowel and a lateral have their roots in the detailed phonetic variation of online speech.
But these variations must be tendencies that are somehow in the cultural DNA of Scandinavian languages, since I've never seen such things in English or any of the other languages I've worked on. ]
[Sarah Hawkins, marooned in Romania, writes:
There are preaspirated stops in Geordie English (Newcastle on Tyne) as well as quite a few current Scandinavian accents. The connection for Geordie is of course obvious, but it would be interesting to see if it's there in say Minnesota, which has some distinctive aspiration, to my ears.
And for the stop before a liquid, I've seen them here and there. I have also seen EPG evidence in a Madrid Spanish speaker of consistent use of complete stop at the onset of what should phonologically just be an alveolar trill (i.e. Spanish /r/).
It's amazing how much we (well, anyway, I) don't know about English and other well-studied languages…]
{Update 4/19/2010 — Another native-speaker performance, from ABC News, is here:
And for more analytic detail about those voiceless lateral fricatives, see this morning's post from John Wells, and my own "A little Icelandic phonetics".]
---