« previous post | next post »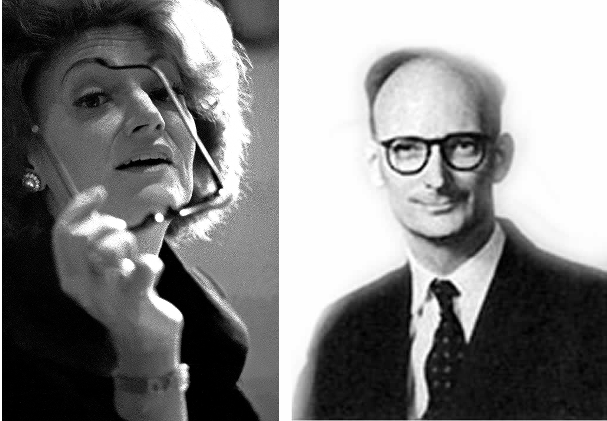 Muriel Spark's memoir Curriculum Vitae antedates discourse-particle like to the early 1920s. And J.L. Austin, in his posthumous work Sense and Sensibilia, defends like as "the great adjuster-word, or, alternatively put, the main flexibility-device by whose aid, in spite of the limited scope of our vocabulary, we can always avoid being left completely speechless."
Muriel Spark describes her reactions, in her "pre-school infancy", to The Doorbell:
That ring at the door that I loved so much would bring, in the afternoon, my mother's friends or, on rare occasions, my married aunts. In the evening a much more exciting variety of family friends rang the bell, many of them fairly eccentric, in whom I took a deep interest. […]
A pulley on the landing, or doorlifter as we called it, would open the street door for visitors who pulled that wonderful doorbell. In those days before I went to school, people were far more important to me than toys or nature. The beauty of walks over the hills and by the sea was beginning to seep into my consciousness by way of the sensations of smell and of sheer liberty and the lyrical suggestiveness of nature-verse, but it had not yet formed a positive delight in my mind such as people presented.
The magic pulley on the landing would often admit a voice first of all, calling up the stairs, for there was a curve in the staircase and one could not see immediately who the visitor was. Then on stage to us, as it seemed, came one of the following:
One of the regular visitors that she goes on to list was "a Miss Macdonald,"
. . . whose name was Margaret, as I gathered from a piece of conversation she reported. Miss Macdonald was dressed in navy blue with a white blouse. She was finer-bred than Miss Pride, but it was said she was not all there. I think my parents were sorry for her. All the time she spoke tears coursed down her cheek. They trickled down into her cup of tea. She couldn't ever stop crying. She was bound up in a court case against someone who had wrongly accused her. Her brother, a lawyer, couldn't do much more than he had already done. The word 'like' peppered her conversation. 'My brother, like, wouldn't go, like, any further with it, like . . .'
Wikipedia says that Muriel Spark, born in 1918, "was educated at James Gillespie's School for Girls (1923–35)", so Miss Macdonald's visits must have taken place in the early 1920s.
Miss Macdonald is presented as "not all there", and her excessive use of like is a symptom of eccentricity, like her constant crying. But both for her crying and for her use of like, what Muriel Spark considers worthy of note is the frequency and not the function.
And in Sense and Sensibilia, J.L. Austin offers a strong defense of like's function. He describes the
… large and important family of words that we may call adjuster-words — words, that is, by the use of which other words are adjusted to meet the innumerable and unforeseeable demands of the world upon language. The position, considerably oversimplified no doubt, is that at a given time our language contains words that enable us (more or less) to say what we want to say in most situations that (we think) are liable to turn up. But vocabularies are finite; and the variety of possible situations that may confront us is neither finite nor precisely foreseeable. So situations are practically bound to crop up sometimes with which our vocabulary is not already fitted to cope in any tidy, straightforward style.
He chooses pigs and pig-like animals as a case in point:
We have the word 'pig', for instance, and a pretty clear idea which animals, among those that we fairly commonly encounter, are and are not to be so called. But one day we come across a new kind of animal, which looks and behaves very much as pigs do, but not quite as pigs do; it is somehow different. Well, we might just keep silent, not knowing what to say; we don't want to say positively that it is a pig, or that it is not. Or we might, if for instance we expected to want to refer to these new creatures pretty often, invent a quite new word for them. But what we could do, and probably would do first of all, is to say, 'It's like a pig.' ('Like' is the great adjuster-word, or, alternatively put, the main flexibility-device by whose aid, in spite of the limited scope of our vocabulary, we can always avoid being left completely speechless.) And then, having said of this animal that it's like a pig, we may proceed with the remark, 'But it isn't a real pig'—or more specifically, and using a term that naturalists favour, 'not a true pig'. 
He suggests that like has special value in this respect:
But, one might ask, do we have to have 'like' to serve this purpose ? We have, after all, other flexibility-devices. For instance, I might say that animals of this new species are 'piggish'; I might perhaps call them 'quasi-pigs', or describe them (in the style of vendors of peculiar wines) as 'pig-type' creatures. But these devices, excellent no doubt in their way, can't be regarded as substitutes for 'like', for this reason: they equip us simply with new expressions on the same level as, functioning in the same way as, the word 'pig' itself; and thus, though they may perhaps help us out of our immediate difficulty, they themselves may land us in exactly the same kind of difficulty at any time. We have this kind of wine, not real port, but a tolerably close approximation to port, and we call it 'port type'. But then someone produces a new kind of wine, not port exactly, but also not quite the same as what we now call 'port type'. So what are we to say? Is it port-type type ? It would be tedious to have to say so, and besides there would clearly be no future in it. But as it is we can say that it is like porttype wine (and for that matter rather like port, too); and in saying this we don't saddle ourselves with a new word, whose application may itself prove problematic if the vintners spring yet another surprise on us. The word 'like' equips us generally to handle the unforeseen, in a way in which new words invented ad hoc don't, and can't.
All of Austin's examples involve adjusting the reference of noun phrases. But Miss Macdonald used like in a syntactically much freer (and thus more useful) way, which Austin would no doubt have applauded, since this freedom equips us to handle an even wider range of referential surprises. For the same reason, like-users during the past century have increasingly followed her lead.
Muffy Siegel ("Like: The Discourse Particle and Semantics", J. of Semantics 2002) notes that
. . . like can, like other discourse particles, appear […] pretty much before any constituent and have scope over that constituent, indicating the lack of a fixed grammatical role.
As I observed in "Divine ambiguity" (1/4/2004), it's easy to see how more syntactically constrained uses of like could morph into more syntactically protean uses — and I suspect that we'll be able to find examples back into the 19th century and beyond of this process.
As for the modern meaning, Muffy Siegel quotes the definition from Lawrence Schourup's 1982 dissertation "Common discourse particles in English conversation":
like is used to express a possible unspecified minor nonequivalence of what is said and what is meant.
This is very much like what Austin wrote:
If we think of words as being shot like arrows at the world, the function of these adjuster-words is to free us from the disability of being able to shoot only straight ahead; by their use on occasion, such words as 'pig' can be, so to speak, brought into connexion with targets lying slightly off the simple, straightforward line on which they are ordinarily aimed. And in this way we gain, besides flexibility, precision; for if I can say, 'Not a real pig, but like a pig', I don't have to tamper with the meaning of 'pig' itself.
Among the few of you still reading, some are probably thinking "But surely it's a problem that the Miss Macdonalds of the world sprinkle like so vigorously into their speech — literally every third word, in Muriel Spark's example".  And some may recall the example from Muffy Siegel's paper that I cited in a long-ago post, where 4 likes are added to 22 non-like words:
She isn't, like, really crazy or anything, but her and her, like, five buddies did, like, paint their hair a really fake-looking, like, purple color.
In response, let me suggest Muriel Spark was indulging in memoiristic hyperbole, and Muffy chose to lead with an especially striking example, in which her informant was trying to transmit some ambiguous information in a scrupulous way.
If we look at extended conversation, even Lena Dunham only uses like about once in 81 words: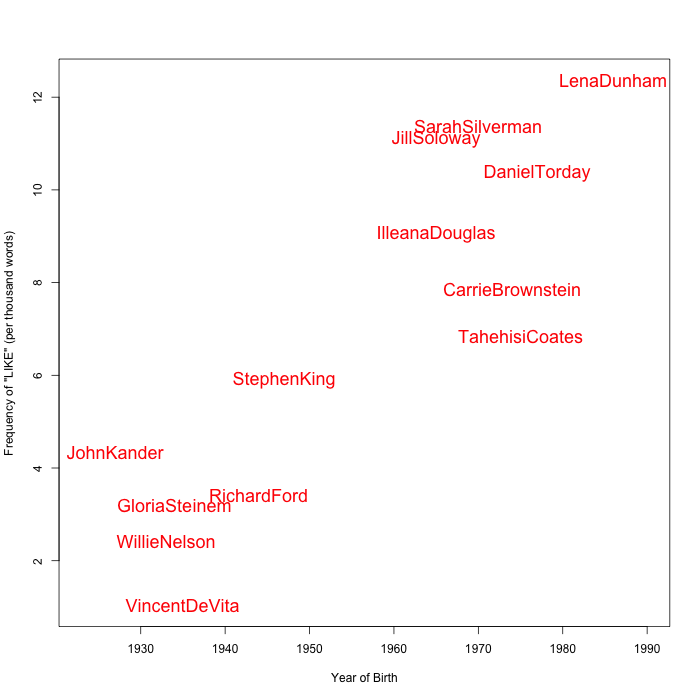 But what about the clear rate change over time? Are Americans getting less and less willing to shoot their referential arrows straight ahead? It's possible. But rather, I suspect, the adjusting force of like has just been getting gradually bleached out, as commonly happens to such words, so that the threshold of target-deviation for using it has gradually shrunk.
[h/t to Barton Swain, "Managing the Decline of, Like, a Great Language", WSJ 4/19/2015 ("Interdiction has failed. The grammatical version of legalizing marijuana may be in order.") ]
---