« previous post | next post »
The title is from the subject line of a message sent to me a few days ago by Anne Henochowicz.  Anne was puzzled by the expression ruǎn Q (軟Q) that occurs on a package of "Japanese style" cakes (mochi) made in Taiwan: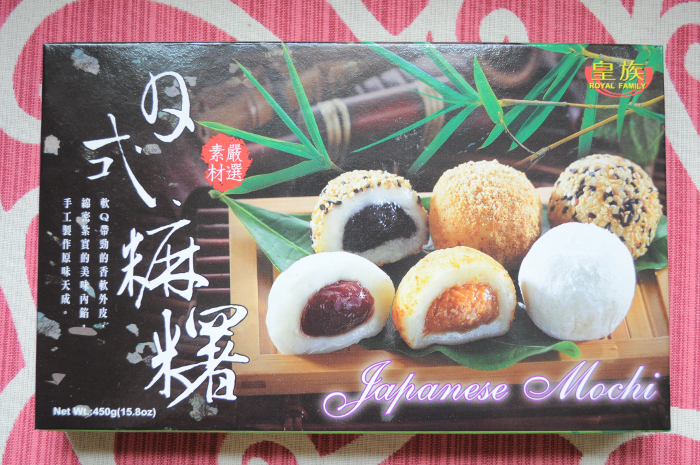 Here's a close-up of the relevant text:

The cakes are made by Royal Family (皇族).
I told Anne that ruǎn Q means "soft and chewy," where the Q (pronounced kiu) is a common Taiwanese morpheme that no one seems to know how to write in Chinese characters.
Another challenge posed by the package is that the characters used to write the Taiwanese equivalent of mochi, 米+麻 and 糬, are both exceedingly rare, neither of them appearing in Hanyu da zidian (Unabridged Dictionary of Chinese Characters; it has 54,678 entries) or other large dictionaries of Chinese characters.  In fact, the first character is so infrequent that I have had to write it in the ad hoc fashion 米+麻.  This extremely rare character is not even in Unicode (unless it has been added very recently), though it is probably a variant of mí or méi 糜[U+7CDC], with the "rice" radical at the bottom instead of on the side, while the second character is shǔ 糬[U+7CEC], which might be cognate with shǔ 薯 ("sweet potato").  Neither 米+麻 nor 糜, however, can compete in frequency with má 麻 ("hemp") for writing the first syllable of the Taiwanese rendition of mochi, since Googling yields 35 matches for "糜糬" versus over seven million for "麻糬."  This is clearly one of the countless cases where the sound of a character trumps its meaning.  In Japanese mochi would be written with the 餅 kanji, but in Modern Standard Mandarin (MSM) that would be pronounced bǐng and would mean "round flatcake."
To return to the problem of Q, however, here's a picture of a package of noodles with the brand name "Ah Q" (阿Q):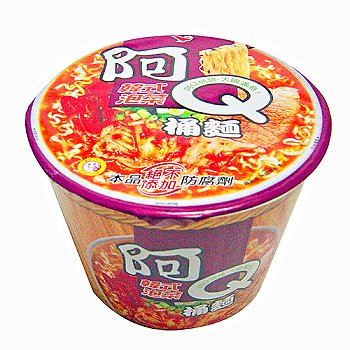 Taiwanese are particularly fond of prefixing the second syllable of a person's given name with "Ah" 阿 to express a feeling of closeness.  For example, the former president of Taiwan, Chen Shui-bian was often referred to as Ah-bian.  So I guess we could think of these "Ah Q" noodles as something like "Uncle Chewy" noodles, i.e., when prepared they are al dente.
This Taiwanese "Q" meaning "chewy" can be intensified by doubling, hence "QQ糖" ("chewy-chewy candy" or "really chewy candy"), nougats that are also styled "mini-Q."
Thus Q is clearly well established in Taiwanese as meaning "chewy," and it has been picked up on the Mainland with the same meaning (especially in advertisements).  Since I've never been able to determine a cognate for this "Q" in other Sinitic languages than Taiwanese and no one has ever been able to tell me how to write this Q morpheme with a Chinese character, I have sometimes wondered whether it might not have come from English "chewy" itself.
Incidentally, these Ah Q noodles have nothing to do with the celebrated anti-hero, also called Ah Q, of Lu Xun's famous novella, "The True Story of Ah Q" 阿Q正傳 ("Ā Q Zhèngzhuàn"), first published serially between December 4, 1921 and February 12, 1922.  "The True Story of Ah Q" is arguably the most influential work of modern Chinese fiction; it is generally considered to be the first work of fiction written in vernacular Chinese after the cultural revolution of the May Fourth Movement in 1919.
All Chinese know who Ah Q is, but no one knows for certain what the "Q" of his name means, much less how to write it in Chinese characters.  The author begins the story by confessing that he himself does not know the origin of Ah Q's name, but there are various theories of where it came from, including that it might derive from "queue," the Manchu-imposed hairstyle which figures prominently in the story.  Lu Xun tells us that the Q of Ah Q's name should be pronounced gui (as it would be romanized in Hanyu Pinyin).
Taiwanese informants tell me that Q can also mean "cute" (ditto for Cantonese).  For instance, Q版 is a "cute edition" of a work; there are Xī yóu Q jì 西遊Q記 and Shǔihǔ Q zhuàn 水滸Q傳, which are "cute" cartoon editions of the famous early vernacular novels, Journey to the West and Water Margins.
A sentence such as nǐ hěn Q a! 你很Q啊 ("You're really cute") is thought to be a kind of clever semi-English, semi-Chinese hybrid.
Since the usages of Q as "chewy" and "cute" are both quite widespread in the Chinese-speaking world, one would need to be very careful about context when referring to a person as "Q" to make certain that one meant that they are "cute" and not "chewy"!
We have seen QQ as "chewy-chewy" or "really chewy" in Taiwanese, but it can also signify a type of instant messaging.  This apparently is derived from ICQ ("I Seek You"; the name of an Israeli-American instant message service) and was originally called "Open ICQ (OICQ)," which was later absorbed into AOL.  This service was developed by Tencent, Inc. of China and was launched in 1999.  In 2000, AOL sued Tencent, which changed the name of OICQ to QQ, a usage that has since become very popular on the Mainland.  One informant described QQ to me as "the Chinese equivalent of MSN" and opined that the name sounds very "cute."
QQ is so popular in China that there are a lot of things named after it.  For example, Q bì Q幣 ("Q money") is a kind of special currency used by customers to buy extra service, and you can use Q as a verb, thus "Q wǒ ba!" Q 我吧 ("Contact me on QQ!").  QQ — with more than a hundred million users (as of March 5, 2010) — is the most popular instant message service in China, much more successful than Microsoft's Windows Messenger and Skype.  Most users are young people, but many older folks also rely on it and would be familiar with the name.
Another usage for QQ on Mainland China is as the name for a mini car produced by Chery Automobile (Qirui 奇瑞), a Chinese company.  To avoid confusion with the internet QQ, it is often referred to as Chery QQ (奇瑞QQ).  Unveiled in 2003, Chery QQ was so successful that it became the best-selling mini-car in 2005-2007.  It is often thought of as a car for ladies.  Since it is the cheapest car in many foreign markets, including the EU, its sales have skyrocketed. (A photo of the Chery QQ is here.)
In addition, QQ is an emoticon for a pair of crying eyes.  Another theory has it that this usage of QQ in the sense of feeling discomfited derives from the Internet game called Warcraft II, where one quits with the command ALT + QQ: "Why don't you QQ, noob?"  Whether you play the game in Chinese or in English, you still have to QQ if you want to opt out.
There are still other uses of Q in China, among them in abbreviations borrowed from English, such as IQ, FAQ, BBQ, etc.  Q on cards, the Queen, is not called Q in Chinese, at least not in Mandarin.  In Mandarin it is called a quānr 圈儿 ("circle"), kuāng 筐 ("basket, container"), dàn 担 ("shoulder-pole [load]") (or dàn 蛋 ["egg"]?), or gēda 疙瘩 ("lump"), depending upon local variants.  The Jack is called a gōur 鉤儿 ("hook"), or a dīngr 釘儿 ("nail"); the King is surprisingly often called a K (kèi or kài) or lǎo K 老K("Old K"), and by some people bǎn 板 ("board").
In Cantonese, Q can apparently also have the meaning of "as luck would have it" or "uncanny" [kiu2, rising tone, probably the character 巧].  For example, if you run into someone randomly, you might say 咁Q既!  = "It's so Q running into you!"  But there is a much more frequent and more widespread usage of Q in written Cantonese, one which is very vulgar.  Namely, one can say 好煩, which would mean "very bothersome," but if you insert a Q between 好 and 煩, hence 好Q煩, it means "fucking bothersome."  Here are some examples with Cantonese romanization and English translation:
"你做乜嘢" [nei5 zou6 mat1 je5] "What are you doing?" =>
"你做乜Q嘢" [nei5 zou6 mat1 lan2 je5] "What the fuck are you doing?"
"你望乜嘢" [nei5 mong6 mat1 je5] "What are you looking at?" =>
"你望乜Q嘢" [nei5 mong6 mat1 lan2 je5] "What the fuck are you looking at?"
"你搵乜嘢" [nei5 wan2 mat1 je5] "What are you looking/searching for?" =>
"你搵乜Q嘢" [nei5 wan1 mat1 lan2 je5] "What the fuck are you looking/searching for?"
In these sentences, the Q is read as [lan2] ("vulgar morphosyllable for male sex organ").  Since lan2 does not sound at all like Q, the Q is not being used for phonetic purposes, but may perhaps be graphically suggestive.
For those who wish to know more about the function and meaning of "Q," see pp. 14-15 of Robert S. Bauer's excellent The Representation of Cantonese with Chinese Characters, where it illustrates the 7th convention of written Cantonese. At the top of page 15, the lexical example with "Q" indicates that "Q" takes the place of some obscene morphosyllable, for example [lan2] "vulgar term for male sex organ," which functions as an intensifier just as expletives do in English; the reader knows to read/substitute [lan2] for Q in the sentence according to the context.  Thus [lan2] can be translated as "fuck," "fucking," or "damn," as in the example cited above, maa4 lan2 faan4 Q煩 ("damn troublesome" or "fucking troublesome").  Page 51 of Bauer's volume reproduces a page from a Cantonese-language comic book in which a sentence with "Q" having the same function occurs.
Although Cantonese "Q" is a handy intensifier, it is considered to be so vulgar that many people substitute for it Chinese characters that sound roughly like "Q" (e.g., 鳩,鬼,巧).  This is odd, since Q as a Cantonese vulgar intensifier is pronounced lan2, not anything that resembles the sound of the letter Q itself.
Enough on Chinese Q for now!  Anne also asked about "AA," which is widely used in Chinese nowadays to mean "go Dutch."  Since this post has already gone on long enough, and a minimally sufficient explanation of AA would require several paragraphs, that will have to wait for another time.
In closing, I'd like to attempt a brief answer to the question posed in the title, "Is Q a Chinese character?"  Since Q is in common usage throughout the Sinophone world to represent several Sinitic morphemes, the argument might well be made that it is indeed a Sinogram (Chinese character).
It wouldn't be the first time that what was originally a foreign symbol became a Chinese character, e.g., 卍 (pronounced wàn = 萬 ["ten thousand"]), which was in use already from at least the early Tang period (618-907) with the meanings "auspicious" and "virtuous"; it is still used as a simplified character for wàn 萬 ("ten thousand").  Even earlier, during the Shang period, around 1200 BC, the character  巫 (MSM wū; "magus," but usually misrendered as "shaman") probably derived from the cross potent.
I would say that, whether Q may be considered a Chinese character or not, it certainly has become a part of the Chinese writing system.  If anyone should try to outlaw Q from all Chinese writing, then there would be no way to talk about the most famous work of modern Chinese fiction or the best-selling Chinese mini-car, and one would not be able to describe the texture of mochi, gummy bears, and lots of other delectables, nor would one be able to ask one's friend to Q him on QQ, and you'd never be able to get out of Warcraft II.
[Thanks are due to Robert Bauer, Henning Kloeter, Tom Bishop, Richard Cook, Grace Wu, Gianni Wan, Sophie Wei, Wicky Tse, Genevieve Leung, and Lu Zhao.]
---