« previous post | next post »
In addition to the evergreen list of things to be thankful for — family, friends, health, worlds full of wonder — I'd like to make a plug for the internet, that connects us to all of them. Less directly than we might sometimes wish, but much more easily.
And for anyone interested in speech, language, and communication, the internet and the virtual universe behind it offer an extraordinary opportunity to make voyages of discovery, and to share what we find.
Here's a tiny example, something from the margins of a small project. I've been dis-editing the transcripts of some Fresh Air interviews, adding disfluencies and so on. Because there are hundreds if not thousands of these interviews available both as audio files and as (clean) transcripts, they offer an interesting opportunity to look at various phenomena in a more or less consistent setting.
Yesterday I reported a bit of evidence about "UM / UH accommodation", and this morning I dis-edited a couple more transcripts, and I thought I noticed a generational effect in the frequency of the discourse particle like, as in this quotation from an interview with Lena Dunham:
I mean, my mom always tells the story of like, you know, from the backseat of the car she and my parent- my dad, when I was like three, would be talking about someone from work. And I'd scream what color's her hair? How old is she? Does she have a husband? Like I just- I needed to know everything about everyone.
I'm not the first — or the thousandth — person to notice that this is an example of language change in progress. See "Like youth and sex" (6/28/2011) for some previous discussion. But the effect struck me as pretty consistent on an individual basis in the Fresh Air interviews that I've seen so far, and so I decided to look at it a bit more quantitatively.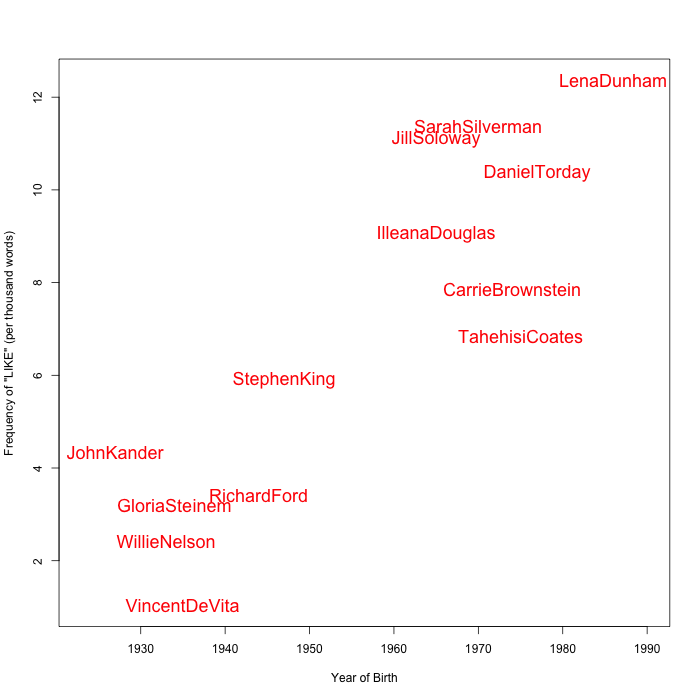 The evidence for like-accommodation is more equivocal (though the effect may turn out to be real):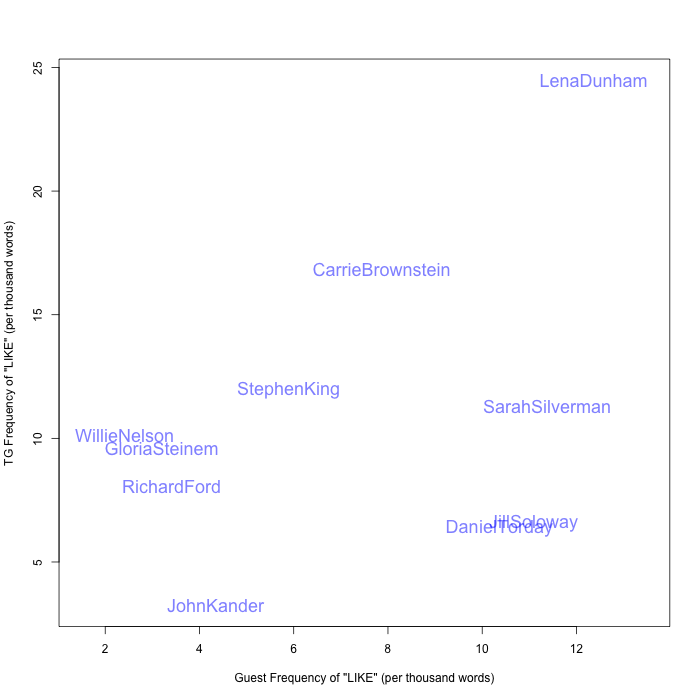 Not a big thing. But I'm thankful!
Update– Interestingly, there's similar age grading of speaking rate (except for Carrie Brownstein, whose speech in the analyzed interview has very long silent pauses throughout):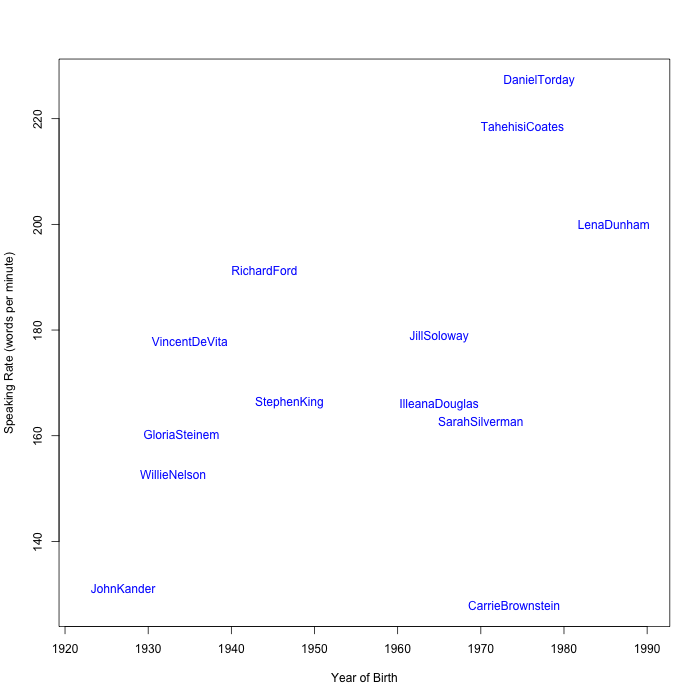 This might just be older people slowing down. But maybe it supports the view of a young person of my acquaintance:
ok like i am always gonna proudly overuse the word "like" bc it makes all the right people mad,, and i like it as a word, i think its aesthetically pleasing,its nice to pepper it in its like. u are winding ur speech around..a central multi purpose word that can even serve as interjection.. like is the powerhouse of the sentence
---