« previous post | next post »
This morning's Get Fuzzy featured a Bulgarian stereotype that seemed slightly, well, random: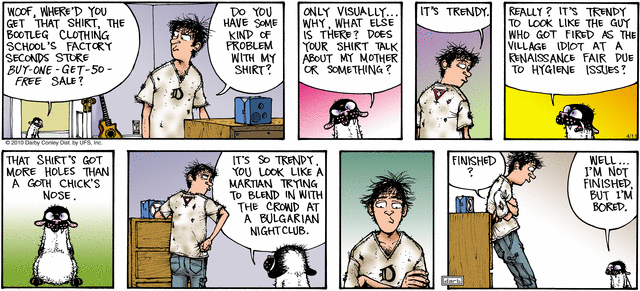 Bucky Katt's assumption seems to be that the dress code at a Bulgarian nightclub would be ragged and strange, thus (at least partly) explaining Rob Wilco's pre-torn and pre-soiled shirt.
As it happens, this morning's Stone Soup featured a more familiar Bulgarian stereotype, based on the history that resulted in the name Lactobacillus bulgaricus:
So I thought I would see what other Bulgarian stereotypes might be floating around out there, and as a result, I stumbled on a relevant story from last fall that I somehow missed at the time — "Aliens 'already exist on earth', Bulgarian scientists claim", The Telegraph, 11/26/2009.
Aliens from outer space are already among us on earth, say Bulgarian government scientists who claim they are already in contact with extraterrestrial life.
Work on deciphering a complex set of symbols sent to them is underway, scientists from the country's Space Research Institute said.
They claim aliens are currently answering 30 questions posed to them.
Lachezar Filipov, deputy director of the Space Research Institute of the Bulgarian Academy of Sciences, confirmed the research.
He said the centre's researchers were analysing 150 crop circles from around the world, which they believe answer the questions.
"Aliens are currently all around us, and are watching us all the time," Mr Filipov told Bulgarian media.
"They are not hostile towards us, rather, they want to help us but we have not grown enough in order to establish direct contact with them."
A few days later, "badmoviefan" at the site abovetopsecret posted a letter said to be from Filipov himself:
This year, I had the opportunity of putting together a team of experts representing various scientific fields and walks of life. We worked together on a project based on the original work on our own Mrs M.Vezneva, a former architect and correspondence member of IAI. Mrs. Vezneva has two published books containing dictionaries of universal symbols language via which she states that pictograms may be interpreted. In her books, she engages in a dialogue regarding global issues with the crop circles "creators". It is based on the universal symbols language, I.e. Pcychometry and telepathy.
The aim of the "Dialogue 2009" experiment is to carry out a similar dialogue regarding the use of the crop circles but using different participants. We believe that the crop circles are real existing formations from unexplained nature, and that they carry information from alien to us sources. We have already 36 participant replies which we are currently analyzing. Currently, there are facts confirming our initial hypothesis, mentioned above, however we will publish our final thoughts after careful consideration by all team members.
More information about Ms. Vezneva's pictogramology is available on a special website, including a dictionary in which my favorite item is the remarkable entry
"A book written within and on the backside" – the human consciousness and sub-consciousness, the human memory from his past lives; the human brain, "sealed by seven seals".
Inexplicably, Cybertronian has not yet been added to the ancient writings in Ms. Vezneva's collection.
As a topical hook, Reuters/Ipsos has just released a poll showing that "One in Five (20%) Global Citizens Believe That Alien Beings Have Come" (4/8/2010). National alien belief rates are reported to range from a high of 45% in India to a low of 8% in the Netherlands, with the U.S. (24%) in the middle. Bulgaria isn't listed, but Italy (25%), Russia (21%), Poland (19%), Czech Republic (18%) and Hungary (14%) are.
Overall,
Those who believe that "alien beings have come to earth and walk amongst us in our communities disguised as us" (20%) are more likely to be men (22%) compared to women (17%), under the age of 35 (25%) compared to those aged 35-54 (16%) and those over the age of 55 (11%) and those more likely to be higher educated (22%) compared to those who are lower or middle educated (19%).
The poll didn't break out national Academy of Science members as a separate category, but perhaps in that case the effects of age neutralize those of sex and education.
[And for lagniappe, this is real science: "Two new alien species of Bidens have been recorded in Bulgaria". The alien Bidens really were found in the Varna railway station, but they turn out not to be among those that Mr. Filipov's group believes are already observing among us on earth.]
[Finally, we need to revisit Roman Jakobson's language-learning method, in which Bulgarian plays a central role.]
---