« previous post | next post »
Dan Nosowitz — "How capicola became gabagool: The Italian New Jersey accent, explained", Atlas Obscura 11/5/2015 — explains the backstory of this video clip:
Of course, as Nosowitz explains, it's not specifically "New Jersey" — you can hear the same thing in New York City or in South Philly, where pizza might sometimes be [ɑ'bits].
A bit more detail about the geographic origins of the various sound changes involved can be found in Martin Maiden, A Linguistic History of Italian, 2014. Maiden says this about final vowel lenition/deletion:

and this about consonant voicing: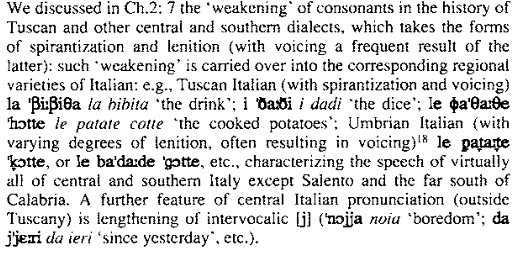 And to put this in a broader context, see e.g. André Martinet, "Celtic Lenition and Western Romance Consonants", Language 1952.
I haven't been able to find the specific geographical distribution (beyond Naples) of the o-to-u raising in the last syllable of "gabagool" — or (for another example) in turning pasta e fagioli into "past(a)e fazool" = ['pɑ.ste.fɑ'zul]:
In "pasta e fagioli" the o-raising looks like metaphony ("a process in which a high vowel has a raising influence on a preceding stressed mid or low vowel". But that won't work in "capicola" (which is apparently capocollo in standard Italian, though that doesn't help…).
Italian unstressed o is generally u in Sicilian (e.g. "Sicilianu" rather than "Siciliano"), but that doesn't help either for the stressed penultimate vowel in "capocollo" — and Sicilian doesn't generally delete final vowels either, as I understand it.
---