« previous post | next post »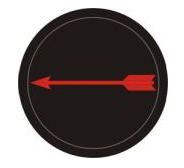 According to Nancy Montgomery, "Army unit recruiting 'innovative thinkers'", Stars and Stripes 3/18/2010, that's the motto of the U.S. Army's Asymmetric Warfare Group. It's said to be the Blackfoot version of the English phrase "Normal is the cycle on a washing machine".
The Army Institute of Heraldry's page on the AWG shows its shoulder sleeve insignia to be "a black circular device edged with a 1/8 inch (.32 cm) black border, a red horizontal arrow, pointing to the left",  as shown in the upper right corner of this post.  But the banner on the AWG's own page shows the same insignia with the cited motto in red around the circumference of the patch, as reproduced below:

The Stars and Stripes article says that the motto "came from a book about the Vietnam War […] [and] was translated in honor of an AWG member who was a member of the Blackfoot Nation."
Versions of the saying "Normal is (just|only|nothing_but) the|a cycle|setting on the|a washing machine" has been around for a while, and it sounds like a Vietnam-era kind of sentiment. The phrase apparently is used in John McAfee's 1993 Vietnam novel Slow walk in a sad rain, and given the  description of the AWG in Stars and Stripes, and the description of the book in this review, it may well be the source of the motto:
The story begins in Special Forces A Camp, number 413, twenty miles from the Cambodian border. The camp's Green Berets, dividing their time between boredom and terror, are ostensibly led by a captain, the narrator of the story. But the officer actually takes his cue from an aggressive sergeant named Shotgun who is alternately crazy and wise, but always irresistibly, frighteningly dangerous. The altogether appropriate motto of A Camp is "Normal is a cycle on a washing machine." Commanding officers issue orders that have no meaning; weapons are used in ways that are the grotesque opposite of their original design. And in an experience that has a real-life counterpart, the Green Berets stumble on a shocking alliance between the CIA and North Vietnam, something they realize they must destroy — even at the cost of bringing both sides down on them.
Can anyone verify the accuracy of the translation into Blackfoot, preferably with an interlinear analysis?
---