« previous post | next post »
The first two and last two panels of today's Doonesbury: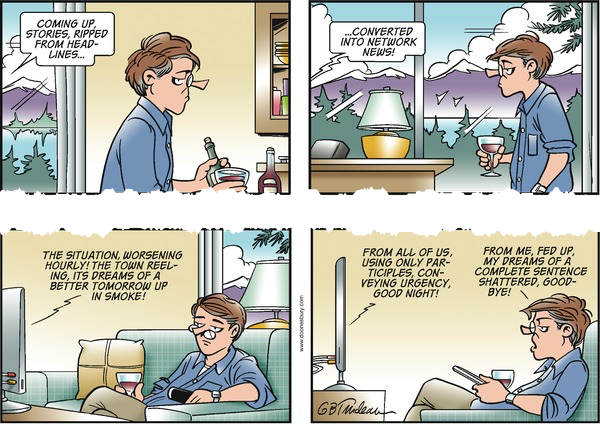 The idea that short phrases convey urgency is a well-established principle of writing advice, e.g. here and here. But it's not obvious to me that either in headlines or in broadcast news, the use of present participles rather than tensed verbs is generally the more urgent-seeming choice:
The town reels, its dreams of a better tomorrow up in smoke!
The town reeling, its dreams of a better tomorrow up in smoke!
Pro: maybe noun-phrase fragments are more urgent than full clauses?
Con: present participles add an extra syllable.
Also, there are famous examples where a sense of urgency is associated with long run-on sentences, for example Molly Bloom's soliloquy from the last chapter of Ulysses:
. . . and the night we missed the boat at Algeciras the watchman  going about serene with his lamp and O that awful deepdown torrent O and the sea the sea crimson  sometimes like fire and the glorious sunsets and the figtrees in the Alameda gardens yes and all the  queer little streets and the pink and blue and yellow houses and the rosegardens and the jessamine  and geraniums and cactuses and Gibraltar as a girl where I was a Flower of the mountain yes when I put the rose in my hair like the Andalusian girls used or shall I wear a red yes and how he kissed me under the Moorish wall and I thought well as well him as another and then I asked him with my eyes to ask again yes and then he asked me would I yes to say yes my mountain flower and first I put my arms around him yes and drew him down to me so he could feel my breasts all perfume yes and his heart was going like mad and yes I said yes I will Yes.
Anyhow, I wonder what the distribution of phrase lengths and participial phrases in recent news broadcasts is — a good topic for someone's term paper!
For future reference, against eventual link rot, the whole Doonesbury strip is here.
---