« previous post | next post »
For fans of what we might call rhetoricometry — methods that let you analyze political discourse without having to listen to it or read it :-) — here's a type-token plot of the contributions to Wednesday's CNN debate of five of the eleven candidates who were featured in the prime-time round: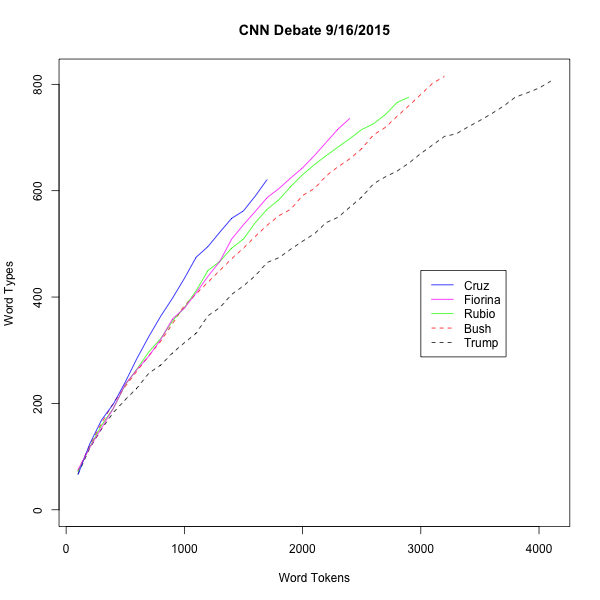 This plot suggests that Donald Trump's relatively low rate of lexical exhibition, noted previously in "Political vocabulary display" (9/10/2015), is a consistent feature of his rhetorical style. But higher rates of vocabulary display are generally associated with higher socio-economic status (See "Lexical bling: Vocabulary display and social status"). And The Donald is stereotypically fond of status displays. So what's up with that?
In this and other respects — more use of pronouns, less use of "the", more parentheticals and disfluencies — Trump's style is relatively informal and conversational. (See "The most Trumpish (and Bushish) words", 9/5/2015, and "Trump's eloquence", 8/5/2015.)
Maybe a clue can be found in Judith Irvine, " When Talk Isn't Cheap: Language And Political Economy." American Ethnologist 1989, which I quoted in "Status and fluency", 5/11/2004:
Among rural Wolof, skills in discourse management are essential to the role of the griot (bard), whose traditional profession involves special rhetorical and conversational duties such as persuasive speechmaking on a patron's behalf, making entertaining conversation, transmitting messages to the public, and performing the various genres of praise-singing. … High-ranking political leaders do not engage in these griot-linked forms of discourse themselves; to do so would be incompatible with their "nobility' and qualifications for office. But their ability to recruit and pay a skillful, reputable griot to speak on their behalf is essential, both to hold high position and to gain access to it in the first place.
As I noted in the cited post, "male members of the British aristocracy are also stereotypically disfluent, at least according to P.G. Wodehouse and Monty Python". (See also this further note on style and status in Wolof.)
So maybe the relationship between status and verbal facility is actually a u-shaped curve even in today's America. Maybe Donald Trump's low rates of lexical ostentation — and his sometimes divergent and apparently incoherent style of presentation — are actually his way of telling us that's he's above all that. If he needs lots of big words and complex sentences arranged in aesthetically impressive paragraphs, he can hire somebody. And it'll be great, trust him.
---