« previous post | next post »
From reader GK:
One of your recent LL postings jogged an old memory. In the early 70s I sometimes hung out at Brown's college radio station, and one evening I was working on creating an ad in the production studio there. Somehow I managed (by accident) to set up the following situation: I was speaking into a microphone whose input fed into the record head of a reel-to-reel tape player, while listening to the output from the play head. I wore thickly padded earphones. The tape first passed the record head, then — after a fractional-second delay — the play head, so that I was hearing my own voice on that delay. Despite my best efforts, I could not utter an entire sentence, but would grind to a halt almost immediately. I wonder whether this effect has been observed in experiments (I would guess so). It's not surprising, of course, but I found it to be a powerful demonstration.
This effect is indeed well studied experimentally. It now goes by the name "delayed auditory feedback" (often abbreviated DAF).
The first documentation of DAF, as far as I know, was almost 60 years ago: Bernard Lee, "Some Effects of Side-Tone Delay", Journal of the Acoustical Society of America 22(5): 639, 1950:
I wish to call to the attention of those who have not yet observed it an interesting experiment in the field of psycho-acoustics which may be duplicated by anyone having access to a magnetic tape recorder with separate recording and playback heads, as for example, the Presto PT-900.
By plugging a telephone headset into the playback jac, a person's voice may be returned to his own ears but delayed by the length of time the tape requires to move from one magnet to the next. The effect of this delayed and dominating echo is startling — it will cause the person to stutter, slow down while raising his voice in pitch or volume, or stop completely.
(These days, you don't need a tape recorder — it's more convenient to use a computer program, e.g. this one.)
Back in the spring of 1950, Lee interpreted his observations in tune with the intellectual fashions of the times:
I believe that this phenomenon invites the application of fundamental concepts presented by Norbert Wiener in his book Cybernetics, since the elements necessary for Wiener's analogy between an electonic circuit oscillating with feedback and the means by which we govern many of our everyday physiological functions are strikingly manifest.
And he describes the effects in almost novelistic terms:
Of the subjects tested thus far, some develop a quavering slow speech of the type associated with cerebral palsy; others may halt, repeat syllables, raise their voice in pitch or volume, and reveal tension by reddening of the face. There seem to be different effects depending on whether the subject is reading, extemporizing, counting, reciting, speaking a foreign language, etc. Some have challenged the disturbance, but none have as yet defeated it. A prolonged session (more than two minutes) is physically tiring.
A couple of months later, he reported some quantitative experimental results, in Bernard S. Lee, "Effects of delayed speech feedback", Journal of the Acoustical Society of America, 22(6): 824–826, 1950:
When a person's own voice is returned to his ears by technique of the multiheaded magnetic tape recorder and earphone a startling disturbance of his speech may be noted. A delay of about 1/4 sec. may cause the subject to speak very slowly but if he maintains normal speed, stuttering characterized by repetition of syllable or fricatives may occur. The level of the returned speech must be somewhat about that hard through bone conduction in order to be effective. This phenomenon seemed especially worthy of attention because of the important role played by the aural monitor of speech and because of the unudual opportunity afforded to experimentally hybridzie a neural and electronic network. A similar psychological upset of speech in certain auditoriums equipped with public address systems has been noted in the past.
He measures the effects in terms of the time to read a short prose passage: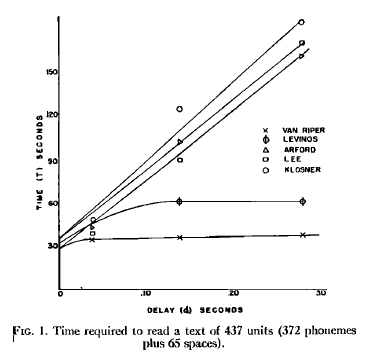 And similarly, the time to recite 40 syllables: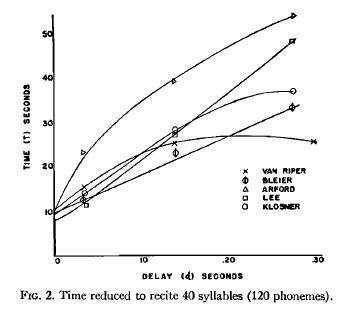 As you can see, there are considerable individual differences. (And quaintly, back in those pre-IRB days, he gives us the names of the subjects…)
Since 1950, there have been thousands of publications on related topics — see Aubrey Yates, "Delayed Auditory Feedback", Psychological Bulletin 60(3) 1963 for an indication of how extensively the topic had been investigated within a decade of Lee's discussions. One reason for the interest is the idea, present in Lee's first article, that this phenomenon may reveal something important about the process of speaking — and perhaps about the origins of some clinical disfluencies.  Another reason is the paradoxical discovery that some people who stutter may become more fluent with moderate amounts of DAF (typically less than 100 msec) — see e.g. Peter Howell, "Effect of delayed auditory feedback and frequency-shifted feedback on speech control and some potentials for future development of prosthetic aids for stammering", Stammering Research 1(1): 31–46 (2004) for a review.
Another (somewhat random) observation that may be of interest to some is the significant (average) effect of speaker sex on response to DAF, as documented in David Corey and Vishnu Cuddapah, "Delayed auditory feedback effects during reading and conversation tasks: Gender differences in fluent adults", Journal of Fluency Disorders 33:291-305, 2008.
Here's their table showing the gender differences in "stuttering-like disfluencies" (SLDs) in conversation and in reading:

And the same information (at least the mean values) in graphical form: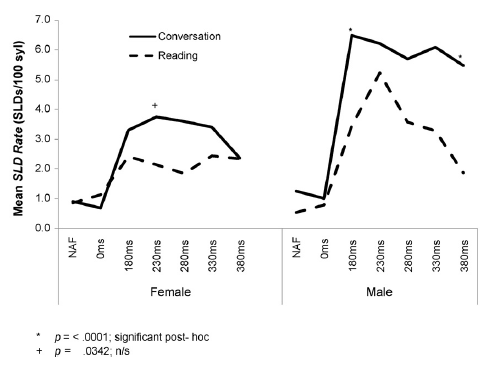 You'll recall from Lee's 1950 paper that there are significant individual differences in response to DAF, within as well as across sexes, so I thought I'd try to calculate effects sizes (in terms of Cohen's d) for the data in table 1. In order to do that, I converted the standard errors to standard deviations, given that there were 20 male and 21 female subjects, and then divided the differences in the means by the pooled standard deviations. This is not really an appropriate measure, given 0 is the lowest possible count, and the performance distribution must have included a certain number of 0s, but we'd need all the original data to calculate more appropriate measures, like differences in quantiles.
| | | |
| --- | --- | --- |
| | Conversation | Reading |
| NAF | -0.42 | 0.56 |
| 0 | -0.46 | 0.32 |
| 180 ms | -0.54 | -0.27 |
| 230 ms | -0.38 | -0.47 |
| 280 ms | -0.35 | -0.32 |
| 330 ms | -0.42 | -0.17 |
| 280 ms | -0.55 | 0.17 |
(Negative numbers indicate fewer errors, on average, among female subjects. See e.g. here for a discussion of what an effect size of d=0.5 means — with the warning that this metric is hard to interpret when we're dealing with small positive-integer measures of performance… If the quantity under study were continuously variable, and not limited to positive integers, then an effect size of -0.5 in this case would lead us to expect that about 64 times out of 100, a randomly-selected trial involving a female subject would show fewer errors than a randomly-selected trial involving a male subject.)
As Corey et al. explain, these sex differences (among non-stutterers) are suggestive, given the large sex differences in the prevalence of stuttering:
Developmental stuttering (DS) is characterized by unintended speech dysfluencies. Specifically, people who stutter experience unintended repeated movements (repetitions of speech sounds) and fixed postures; the latter can take the form of prolonged speech sounds or prolonged silences during speech. Although DS has been widely studied, its etiology remains unknown. The condition begins spontaneously in about 4%of children, and about 75% of these recover spontaneously during childhood. The remaining 25% (1% of the population) continue to stutter throughout adulthood. The prevalence of DS is strongly linked to gender, both among those who recover from childhood stuttering and among those whose stuttering persists into adulthood, with males being more likely than females to experience DS and less likely than females to recover. As a result, the gender difference in DS prevalence increases with age, with the male-to-female ratio growing from about 2:1 in children to about 4:1 to 5:1 in adults. (See the paper for citations to back up these various quantitative and qualitative statements.)
There are lots of theories about where these differences come from; but that's enough for today.
---