« previous post | next post »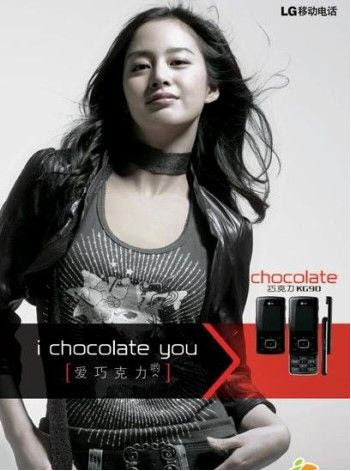 Last year the most popular new New Year's greeting in China was "Happy NIU2 Year!" where NIU2 ("cow") supposedly sounds like "new."
This year, the most popular new Valentine's greeting in China is "I LAO3HU3 老虎 U," where LAO3HU3 (which means "tiger") allegedly sounds like "love" to Chinese speakers.
Of course, this cute slogan, "I LAO3HU3 / Tiger U," which was probably dreamed up by an advertising firm, reminds one of (and may well have been inspired by) the wildly famous "I Chocolate You" campaign for the LG Chocolate cellphone, in which one of the most memorable images was this voluptuous photograph of the Korean actress, Kim Tai-hee.

"I LAO3HU3 老虎 U" is a current favorite for texting or e-mailing friends, but it's also used in advertisements for bars: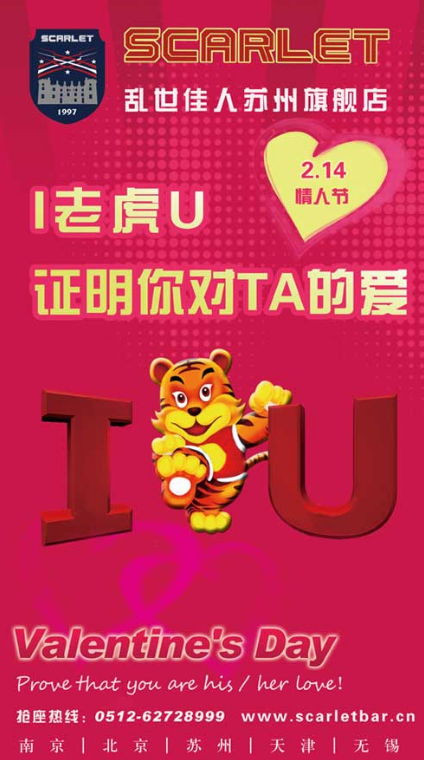 (After reading the comments here, I recommend that LAO3WAI4 ["foreigners"] stay away from this place.)
Also singing contests:

And computers, and so forth: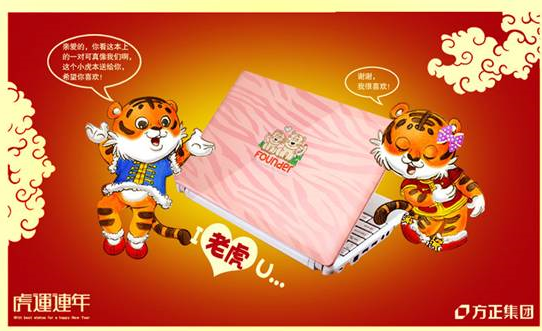 But this "I LAO3HU3 / Tiger You" slogan / greeting is perhaps more clever than either "Happy NIU2 / Cow Year" or "I Chocolate You," since it not only serves as a Valentine's Day declaration of affection, but simultaneously works as a New Year's greeting, February 14 also being the start of the lunar year in 2010. There's another dimension to the "I LAO3HU3 / Tiger You" slogan / greeting, however, that even its creators were probably unaware of, namely, the association of the word "Tiger" with unrestrained love following the disclosures that were made following that car accident on November 27, 2009 in Windermere, Florida.
Incidentally, the relationship between chocolate and Valentine's Day is much more intense in Japan than it is in the West, since OLs ("office ladies"; Japanese: オーエル Ōeru) are obliged to give chocolate to the sararīman (サラリーマン "salaried man") where they work, except when February 14 falls on a Sunday (such as this year). This custom, which was dreamed up by chocolate manufacturers — naturally! — is called giri-choko (義理チョコ), from giri ("obligation") and choko ("chocolate"), i.e., "duty chocolate." After awhile, and with slight advances in Japanese feminism, this got a bit tiresome, so that now the men are supposed to reciprocate on March 14.
---