« previous post | next post »
Making the rounds on Twitter is this discovery by @KingRossco, from the UK Kindle edition of The Great Leader and the Fighter Pilot by Blaine Harden: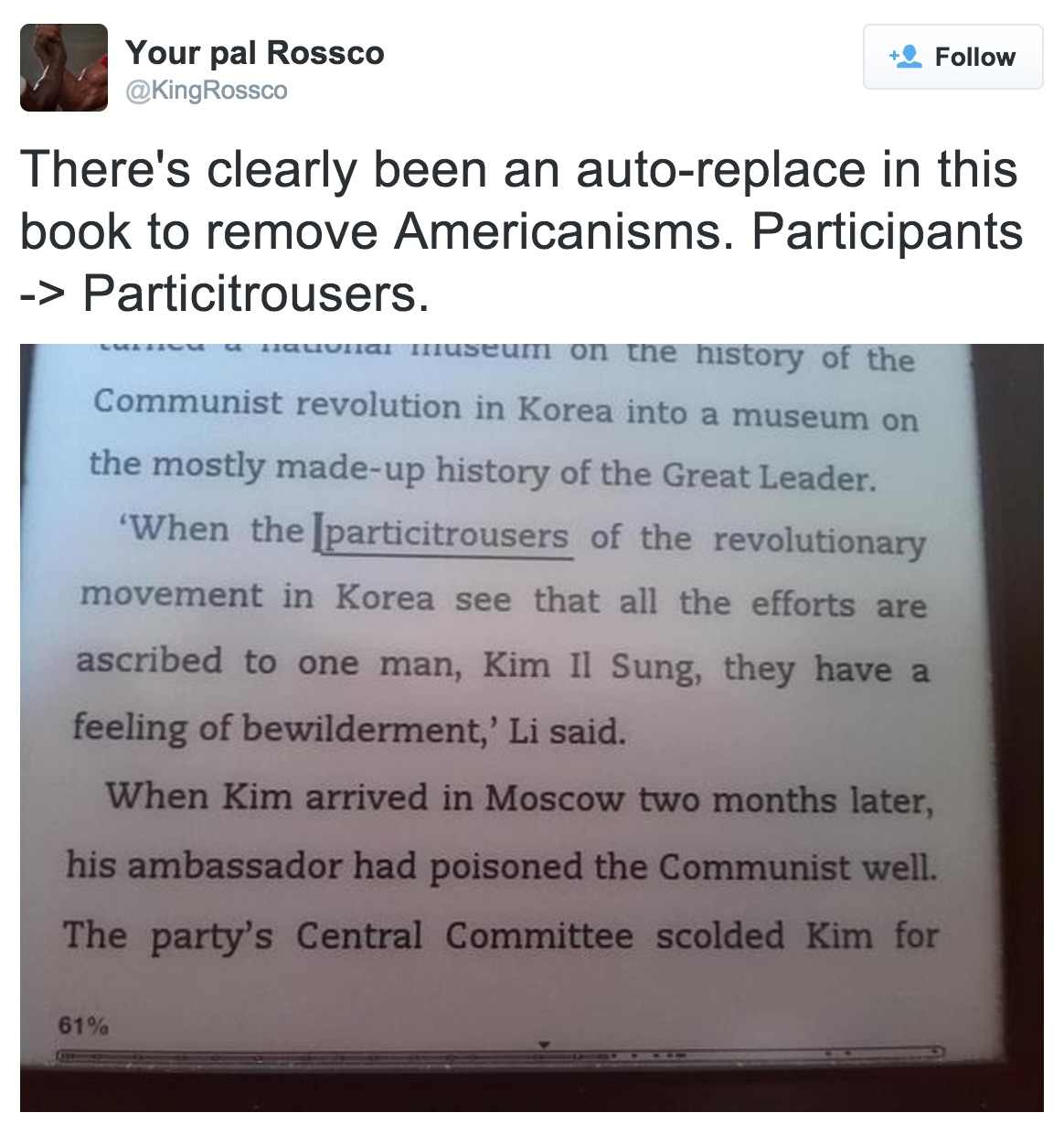 We can surmise that when the UK edition of Harden's book came out for the Kindle, an editor felt the need to screen it for Americanisms that might not translate well across the pond. Pants, understandably, would be one such Americanism to flag, since in British usage pants more typically refers to underwear. The pants/trousers divide was evident in Samuel Butler's 1875 poem, "A Psalm of Montreal: "Thou callest trousers 'pants', whereas I call them 'trousers', Therefore thou art in hell-fire and may the Lord pity thee!" (For more, see my 2006 post, "Pioneers of word rage.")
Using the Google Books version of Harden's book, we can locate six instances where American pants usage could safely be swapped out for trousers. But the search-and-replace mission went too far, finding the substring pants in the sentence beginning, "When the participants of the revolutionary movement in Korea…"
This isn't the first time that sloppy e-book editing has led to search-and-replace follies. A few years ago, we learned of an edition of War and Peace for Barnes & Noble's Nook e-reader in which all instances of Kindle were replaced with Nook, leading to sentences like "It was as if a light had been Nookd…"
And even before the advent of e-readers, we've observed the perils of global search-and-replace — for further examples, see these posts:
On Twitter, Julia M. Wright noted that the search-and-replace artifact particitrousers also appears in a gobbledygook blog post from "Education Expert ON-LINE." That's a case of inartful "article spinning," automated synonymization performed on text so as to render it distinct enough to get past the search engines. (See my 2013 post, "Anatomy of a spambot.") In the same blog post we see other errant substitutions such as advanlabeles for advantages and giftations for presentations, so the change isn't specifically caused by pants avoidance.
A couple of Twitter commenters mentioned occutrousers as another possible result of textual depantsification. Interestingly enough, occutrousers served as the punchline of a joke more than a century ago. The following item appeared in the Mar. 29, 1904 edition of the Washington Star (also reprinted in the May 1904 issue of The American Tailor and Cutter):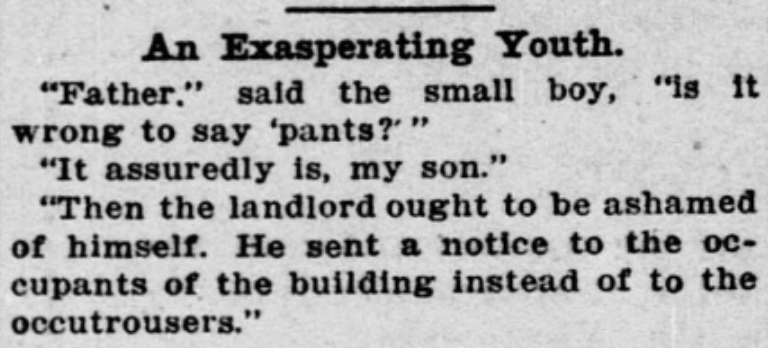 As the joke indicates, the trousers/pants distinction was a source of anxiety at the turn of the 20th century, at least among Anglocentric Americans who recognized pants as an inappropriate word. (Pants started off perfectly innocuously as a chiefly US shortening of pantaloons in the early 19th century, well before the UK "underpants" usage complicated matters.) Americans these days don't worry too much about pants getting misinterpreted, but the usage disparity is still creating headaches for trans-Atlantic editors.
---