« previous post | next post »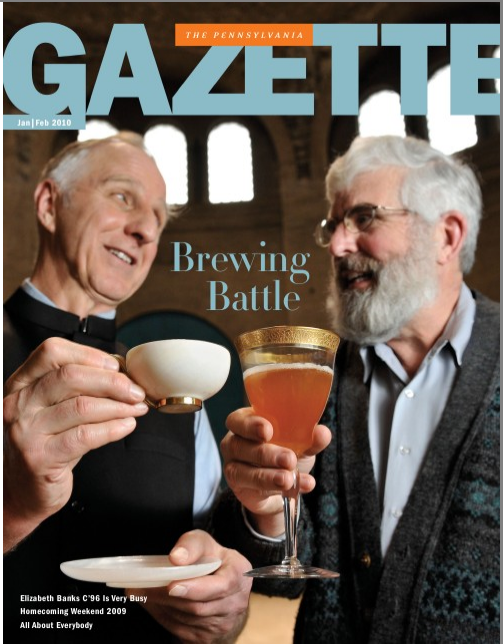 The cover of the January-February issue of the Pennsylvania Gazette has a nice picture of Victor Mair lifting a glass with Patrick McGovern, to illustrate an article about Patrick's new book Uncorking the Past: The Quest for Wine, Beer, and Other Alcoholic Beverages, and an interview with Victor about his new book with Erling Hoh, The True History of Tea. (There are some excerpts from the two books as well.)
The reasons to be interested in the books, and to enjoy these two articles in one of the best alumni magazines around, are mostly not linguistic ones.  However, a couple of language-related points stuck with me.
One was Patrick McGovern's title, "scientific director of the Biomolecular Archaeology Laboratory for Cuisine, Fermented Beverages, and Health at the Penn Museum".   My reasons for finding this interesting are non-obvious, not to say weird.
I've noticed over the years that a surprisingly large fraction of smart undergraduate students have a surprising amount of trouble with what seems to me like a spectacularly simple-minded idea: the simple parallelism between form and meaning that linguists generally call "recursive compositionality", and compiler writers  call "syntax-directed translation".
A trivial example of this would be the relation between form and meaning in arithmetic expressions: thus in evaluating (3+2)*5, you first add 3 and 2, and then multiply the result by 5; whereas in evaluating 3+(2*5), you first multiple 2 and 5, and then add 3 to the result.  Similarly, in evaluating English complex nominals, the phrase stone traffic barrier normally means a traffic barrier made out of stone, not a barrier for stone traffic, and thus its meaning implies the structure (stone (traffic barrier)).  A plausible way to think about this is that you first create the phrase traffic barrier, and the associated concept, and then combine that — structurally and semantically — with stone.  In contrast, the phrase steel bar prices would most plausibly refer to the prices of steel bars, and thus implies the structure ((steel bar) prices).
There are many formalisms for representing and relating linguistic form and meaning, but all of them involve some variant of this principle.  It seems to me that understanding this simple idea is a necessary pre-condition for being able to do any sort of linguistic analysis above the level of morphemes and words.  But when I first started teaching undergraduate linguistics, I learned that just explaining the idea in a lecture is not nearly enough.  Without practice and feedback, a third to a half of the class will miss a generously-graded exam question requiring them to use parentheses, brackets, or trees to indicate the structure of a simple phrase like "State Department Public Relations Director".
In fact, even a homework assignment with feedback is not always enough, even with a warning that the next exam will include such a question.  For some reason that I don't understand, this simple analytic idea is surprisingly hard for some people to grasp.
Anyhow, I generally create a homework assignment and a couple of exam questions to train and test these concepts and skills. And in order to prevent some students from relying on the archives of past homeworks and exams stored (I'm told) at some fraternities and sororities, I need to find new examples every year. So things like "scientific director of the Biomolecular Archaeology Laboratory for Cuisine, Fermented Beverages, and Health at the Penn Museum" go into my file of possible future homework questions.
And in a completely different vein,Trey Popp's article on Patrick McGovern also has a nice example of parodied wine talk:
"We think that chewing is probably the earliest way that humans would have transformed starch into sugar" in order to get fermentation going, McGovern explained in his lecture. Modern beer relies on the enzymes released by sprouted and malted barley to get this job done, but malting barley can be a little tricky. Our saliva contains an enzyme called ptyalin that does the same thing. "It may not sound very appetizing to think of people preparing their beverages this way, but once you get an alcoholic beverage, it does kill off any harmful bacteria."
He paused for a beat. "And it might add some special flavors, too. You never know."
Well, not until you slug it down, anyway. Compared to the saffron-kissed honey of Dogfish Head's Midas Touch, or the chili-tinged chocolate notes of its Maya- and Aztec-inspired Theobroma, the special flavors in the spit-primed Chicha ran more toward funky pink peppercorns with a hint of fraternity basement.
---