« previous post | next post »
Our previous post in the Chinglish Annals was "Mind your head" (8/28/15).  As promised, in this post we turn to the other extremity of the body.
The following sign is displayed on vessels of the Shanghai Ferry service: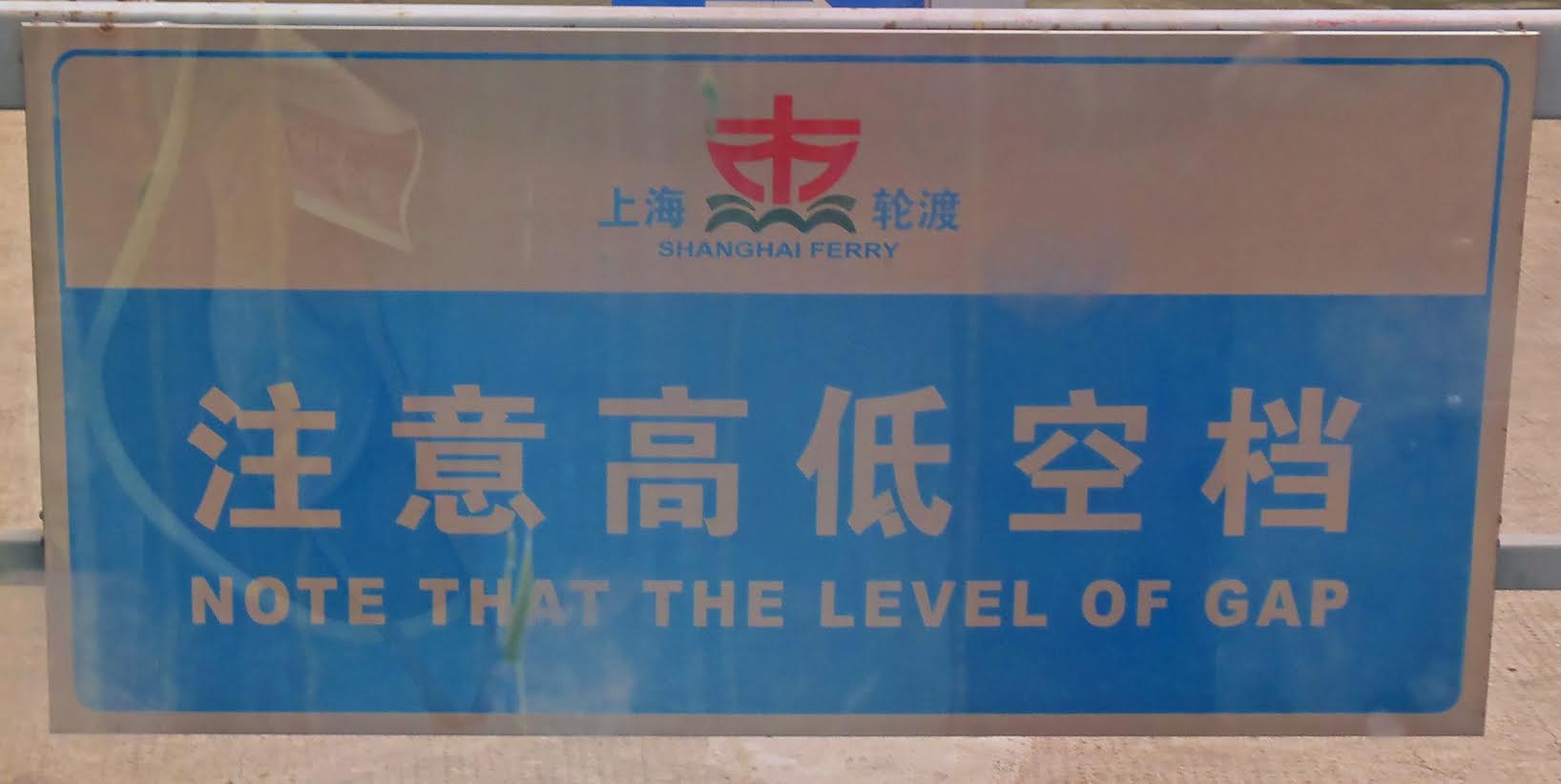 Zhùyì gāodī kòngdàng 注意高低空档
("note the level / height of the gap")
More often, however, we encounter "mind the gap" notices when boarding and exiting subway cars.
I remember when I was living in Hong Kong that, on the wonderful MTR, the phrase "Please mind the gap" was announced in three languages, namely, Cantonese, English, and Mandarin.
cing2 siu2sam1 jyut6toi4 hung1gwik1 (Cant.)
qǐng xiǎoxīn yuètái kòngxì (Mand.)
請小心月台空隙
You can hear these three versions of the announcement as spoken at four groups of stations here, with a slight variation in wording in the fourth iteration.
At some East Rail Line stations, you may hear "Please mind the gap and be aware of the difference in levels between the platform and the train".
Cant.:
cing2 siu2sam1 hung1gwik1 kap6 lau4ji3 jyut6toi4 jyu5 ce1soeng1 dei6min2 (citation: min6) ge3 gou1dai1
請小心空隙及留意月台與車廂地面嘅高低
Mand.:
qǐng xiǎoxīn kòngxì jí liúyì yuètái yǔ chēxiāng dìmiàn de gāodī
請小心空隙及留意月台與車廂地面的高低
The major reason for this more elaborate announcement, I think, is that the gaps between platform and train at East Rail Line stations are much larger than those of other lines, probably because the platforms are very long and sometimes curved (this is the line that goes out into the hills and mountains of the New Territories).  The sole difference in wording between the Cantonese and Mandarin versions is that Mandarin de 的 is replaced by Cantonese ge3 嘅 (both are attributive particles).
It was only in 1969 that "Mind the gap" announcements were introduced on the London Underground.  This Wikipedia article tells the fascinating story of how the phrase spread around the world.  Mindful of our recent discussion about differences in length for equivalent expressions in various languages, I find it particularly interesting that the French version is in the form of an alexandrine:
"Attention à la marche en descendant du train"
("Watch your step while getting off the train")
At the University City Septa train station, where I get on and off the train every day, stenciled in large black letters on the yellow strip at the edge of the platform it says:  WATCH THE GAP.  Day in and day out, I watch the gap.
[Thanks to Pui Ling Tang and Bob Bauer]
---