« previous post | next post »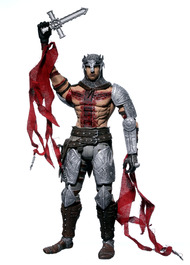 According to Dave Itzkoff, "Abandon All Poetry, but Enter Hell With Attitude", NYT 1/29/2010:
There's a new edition of Dante's "Inferno" that's recently begun appearing in bookstores. Same words. Different cover. It's got a big picture of a muscular fellow in a spiky crown and an overline that says, "The literary classic that inspired the epic video game."
It's true. "Inferno" is now a video game, with a brawny, armor-clad Dante as its protagonist.
The guys at Electronic Arts' Visceral Games studio found it necessary to give Dante a little help:
"If you're trying to make an action game, it's thin," Jonathan Knight, the game's executive producer, said of the original text. "It's Dante, who's kind of passive, and he's a poet and he's philosophical. We had to take the bold step of saying, 'How do we make this guy an action hero?'" […]
"It's a highbrow/lowbrow project by design," Mr. Knight said. "If you know the poem, the game has a lot to offer. If you just want to mash buttons and kill demons, that's all it has to be for you."
But Dante's abs and greaves to the side, Mr. Knight's artists are not the first to explore the less philosophical aspects of the Inferno. There's some T-rated stuff in William Blake's 1826 Dante engravings: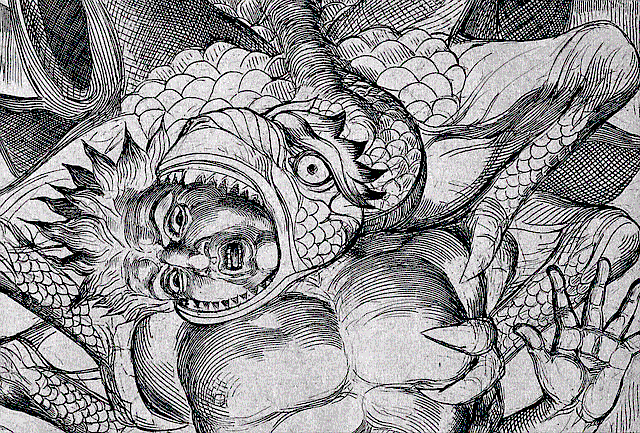 And here's William Bouguereau's 1850 "Dante and Virgil in Hell":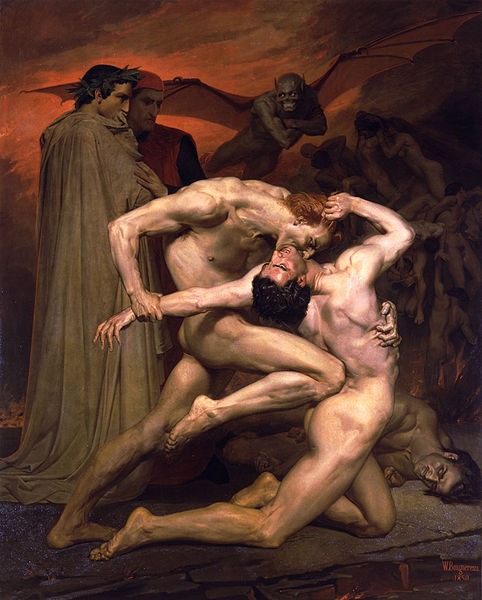 Of course, in 1850 there wasn't a Facebook App to send your friends to hell. And the original 1867 edition of Henry Wadsworth Longfellow's translation didn't have an armored scythe-wielding Dante on its cover, as the 2010 Del Rey paperback re-issue does.
Anyhow, the NYT headline's "Abandon all poetry" meme-instance reminded me of a strange blog post that I recently read, "Let Poetry Die", by Patrick Gillespie.
His argument is this:
I love poetry.
But as far as the public is concerned, poetry died with the modernists. […]
[W]hen any human being, let alone poets, can act without consequence, the dogs of mediocrity, narcissism and hedonism will be let loose. In the past, public reception was the choke collar that largely kept mediocrity at bay, but when poets were able to create their own audience (themselves) all those checks and balances evaporated.
It's my own opinion that [this] attitude is toxic and anathema to great art and poisonous to art in general. It's a shame and the results are indisputable. When poets left their audience, their audience left them.
And so, he says, we should stop giving poets grants to write poems for each other, or salaries to teach poetry to college students, and instead let them engage in a Darwinian struggle for a mass audience — or at least, one that's big enough to pay the rent. "[I]t would be better if all poets were thrown to the dogs of public opinion."
I found this post strange, not because of Gillespie's conclusion, but because of what's obviously missing from his argument.  There's a group of recent poets who never left their audience, and whose audience never left them: the lyricists of popular songs. There's W.C. Handy, Irving Berlin, Ira Gershwin, Robert Johnson, Woodie Guthrie, Hank Williams, Chuck Berry, Smokey Robinson, Stephen Sondheim, Joni Mitchell, Bob Dylan, Dolly Parton, John Lennon, Paul Simon, and hundreds of others, whose audience has been bigger than Dante's ever was.
Thus one version of the proposed experiment has already been done, and the results are open for interpretation. The basic issues involved are old ones, and it's worth noting that Dante has been engaged with them since the beginning. In addition to La Divina Commedia, he wrote De Vulgari Eloquentia, after all.
And when Longfellow translated Dante in the middle of the 19th century, it was part of a self-conscious intellectual conspiracy to promote mass appreciation of classical works in "modern languages". Thus K. P. Van Anglen, "Before Longfellow: Dante and the Polarization of New England", Dante Studies 2001:
[Dante]'s local reception also reflects Boston's literary politics, especially the fears of its educated elite; and so, derivative or not, he was deployed in a distinctly American cultural context for self-conscious ideological, political, and social ends. It is to that context, and to those fears and politics and ends that we must therefore turn if we are to understand Dante's early New England reception.
When Longfellow was a boy, Boston was still dominated, as it had been since its foundation, by "a socially and culturally distinct class" as high-minded as it was tenacious in asserting its influence. Known (from their main religious affiliation) as the 'Boston Unitarians,' these "prosperous merchants and their professional allies exercised leadership in Boston," using their influence to make the city "the most important literary center in the United States," and "eastern Massachusetts . . . the most intellectually exciting part of the country." In doing so, they wanted Boston to be a "republic of letters, . . . not a democracy," an enclave in which they would function as "a New England clerisy" maintaining cultural domination. This goal was all the more pressing since they believed in the "irreconcilable antagonism between belles lettres on the one side and democracy and the marketplace on the other"; and so they "conceived of the critic's office as essentially political and social: like the vigilant Federalist statesman, the critic was to police the commonwealth of letters to keep out the unworthy."
On balance, then, I suspect that both Dante and Longfellow would have been pleased with the new edition of the Inferno.
---