« previous post | next post »
Below is a guest post by Nicole Holliday, Rachel Burdin, and Joseph Tyler:
---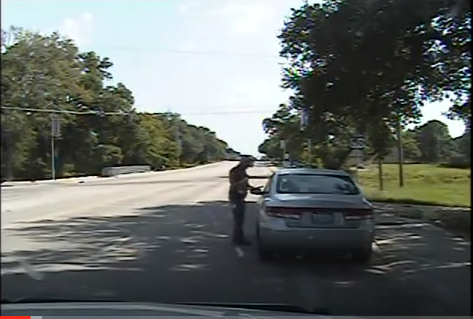 Sandra Bland's traffic stop and the tragic series of events that occurred afterwards have been the subject of many recent think pieces, but few authors have examined why the initial traffic stop went wrong in the first place. The most obvious explanation might be simple racial profiling, which almost certainly played a role, but the dash cam video of the event also shows an interaction that escalated at an alarmingly rapid pace. The conversation between Sandra Bland and police officer who stopped her, officer Brian Encinia started out relatively calmly, but clearly didn't stay that way. Amid the frustration, heartbreak, and demands for justice, everyone wants to know, how did a seemingly simple traffic stop turn into verbal and physical violence, setting off a chain of events that eventually led to Bland's death?
As linguists trained in analyzing variation in people's speech, including the distinct ways African Americans talk, we believe that language and linguistic discrimination played a role in the failure of the interaction between Sandra Bland and Officer Encinia. In particular, we believe that Officer Encinia's (mis)perception of Bland's language style contributed to the escalation of the situation: Encinia's perception of Bland's "non-compliance", which led to his pulling her from the car, was triggered not just by what Bland said, but also by how she said it. Several conservative commentators and proponents of respectability politics have blamed Bland for this escalation, essentially claiming that had she talked more "politely" she would still be alive today. That argument is problematic since it doesn't hold the officer accountable for his actions and over-emphasizes the little control Bland had over the outcome of the situation. Instead, we argue that officer Encinia suffered a series of racially-influenced misreadings of Bland's speech that led him to see her as especially emotional and uncooperative. It's clear from Bland's choice of of words that she was unhappy with the stop, but we claim that it was her tone, and not just her words, that was perceived by the officer as hostile, defiant, and threatening.
Sandra Bland's traffic stop occurred in a social context where African Americans suffer racial discrimination in everything from employment opportunities to interactions with the police. And as has been well-documented, language often plays an important role in this type of discrimination. Research shows that not only can listeners tell the difference between someone who "sounds black" and someone who "sounds white", but that this ability to guess someone's race based on how they talk has profound social consequences. Linguist John Baugh has shown that, for example, sounding black can be detrimental to a housing search, with landlords telling a caller that they hear as black that an apartment had already been rented out, but then later offering to show the still-vacant property to a caller who they hear as white-sounding. Much as African Americans are racially profiled (e.g. "driving while black"), many are also profiled on the basis of their speech.
One element that varies between voices which are perceived as black and those which are perceived as white are differences in rhythm and melody. For example, scholars who study African American English (a cover term for a wide variety of ways of speaking commonly associated with African Americans; sometimes known as "ebonics") have shown that black speakers may use more words with stressed accents on them (which we'll write in ALL CAPS), and that those accented words are often louder and higher in pitch. This results in a variety of English that sounds distinctly African American, even if a speaker doesn't use many of the stigmatized grammatical features commonly associated with African American English: a person can say a sentence that, on paper, is quite standard, but still be heard as sounding black. Sometimes this distinctive way of speaking is praised and seen as powerful: both Martin Luther King Jr., and Barack Obama use features of African American English in their speech. But often, the distinctiveness of African American English is heard negatively, feeding into stereotypes that African Americans are "loud" or "dramatic". These stereotypes are often aimed at black women in particular, and this can have negative effects: for example, a recent paper has shown that black girls are twice as likely to be suspended for the nebulous crime of "defiance", a category that includes "talking back" and "having an attitude", perceptions that were likely fueled by their distinct speech patterns.
Sandra Bland's traffic stop, as caught by the dash cam video, occurred in a world where African American English is identifiably different, and often leads to more negative perceptions of its speakers, regardless of what is actually said. In her interaction with officer Encinia, we can hear Bland using distinctly African American intonational features, even though her grammar is not necessarily typical of African American English. In the beginning of their second interaction, after Encinia has returned to her vehicle, Encinia says "You ok?". Bland responds,
"I'M WAITin' on YOU, YOU. THIS is YOUR JOB. I'M WAITin' ON YOU."
Bland not only uses more stresses than a typical white speaker might use in this context; these stresses are louder and higher. Then, after Encinia says "you seem very irritated", Bland responds,
"I REALLY am, 'cause I feel like it's CRAP what i'm getting a TICKET for. I was GETTING OUT of your WAY, you was SPEEDING up, TAILING me, so I MOVE OVER, and you STOP me."
Bland continues to use more stresses than linguists might expect from a comparable white speaker in a similar situation. We think this may have contributed to Encinia hearing Bland as more emotional or combative than she really was. To compare, in Encinia's speech, he only uses a similar stress patterns to Bland's later in the interaction, when he begins to shout at her:
"GET OUT of the CAR NOW"
In Encinia's own speech, and likely in his perception of Bland's, more stressed syllables means a tone that is angry and combative. While Bland is obviously upset about a potential ticket, she is likely not as angry as Encinia perceives her to be. The differences between Bland's and Encinia's dialects and speech styles contributed to his misperception of her. And at the moment when Bland declines to put out her cigarette, the groundwork of misunderstanding has already been laid, leading Encinia to treat Bland as if she were being hostile.
Sandra Bland was highly educated, with a college degree, and a new job at her alma mater, so if any black speaker would ever be safe from damaging stereotypes, it would probably be her. In many ways, Bland's speech style doesn't trigger the open hatred and disdain that people have towards the more stigmatized and mocked features of African American English. For example, she doesn't use habitual be (The be in "He be running"). Nonetheless, the melody of her speech clearly marks her as an African American woman. And this melody is often perceived as angrier and more irritated to those who are unfamiliar with African American English intonation. The result is that all the negative stereotyping associated with African American English is triggered for Encinia, and for him, Bland quickly becomes a stereotype— just another "angry", "defiant" black women whom he needed to control. It seems that this is what Encinia is testing when he asks her to put out her cigarette. When Bland refuses, his expectations are fulfilled of her as the defiant black woman. It's at this moment— when she explicitly acknowledges that she's refusing to play his game—that he orders her out of her car, and the situation escalates out of control.
As we mentioned, there are those who continue to blame Bland for the situation's escalation, claiming that she shouldn't have "talked back" to the officer. But, as so many authors and activists have pointed out, it's likely that no amount of "respectable behavior" would have prevented this escalation. The fact is that Sandra Bland was at a disadvantage the moment she opened her mouth. The officer saw and heard her, and likely formed an opinion about her based on both her race and her language. Whether Bland had the right to ask the officer why she was being apprehended and to demand her rights (to stay in her car, to call her lawyer), isn't up for debate. All people have those rights. But part of why Sandra Bland's behavior was interpreted as "talking back" is that the officer heard her as "talking black". And it is clear that in this climate of increasingly tense interactions between the police and black Americans, "talking black" might be enough of a crime to be arrested for.
---
Above is a guest post by Nicole Holliday, Rachel Burdin, and Joseph Tyler.
---