« previous post | next post »
If you don't know who Lei Feng is, you should.  He's China's equivalent of the Good Samaritan and Alfred E. Neuman ("What, me worry?") all wrapped up in one (for those of you who are not familiar with Alfred E. Neuman, one of my high school heroes, here's the real McCoy).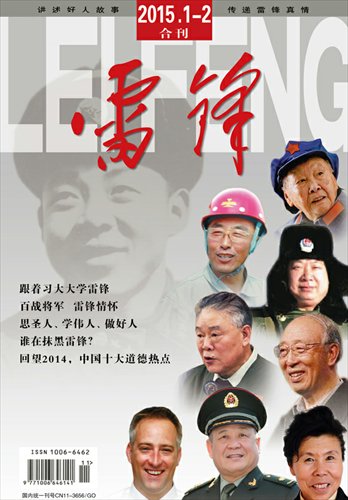 That's the cover of a new magazine devoted to promoting Lei Feng as the spiritual hero for the age, as introduced in an article by Yuen Yeuk-laam from Global Times:
"Magazine seeks to renew spirit of Lei Feng amid increasing decline in moral values" (8/2/15)
Since this article appeared in Global Times, a newspaper published by the People's Daily which is often used to disseminate Chinese Communist Party (CCP) policy positions, we can be sure that the government is taking this new venture very seriously.
Lei Feng, a soldier of the People's Liberation Army born in 1940 and died at the age of 21, has been highly praised by the Party leaders for his selfless acts and has been portrayed as a role model after his death. The country even launched an annual nationwide "Learn From Comrade Lei Feng" campaign to encourage people to do good deeds since 1960s.
With the passage of time, Lei's spirit has faded in the society increasingly driven by materialist gains. A group of cultural experts and Lei's supporters therefore decided to launch a monthly magazine that instills positive energy into the society and enhance moral values.
This being Language Log, I do not want to get into the pros and cons of the ideological content and political intent of the new magazine.  I simply want to focus on one striking aspect of the cover that caught my attention.  Namely, together with the benign, smiling visage of the eponymous hero, looming very large in the background is his name in gigantic Roman letters.
In standard script, that "grassy" (cursive) calligraphy would be 雷锋 (pinyin with tones:  Léi Fēng).  These two characters are from Mao's "famous" inscription written in memory of Lei Feng:
Xiàng Léi Fēng tóngzhì xuéxí
Máo Zédōng
向雷鋒同志学習
毛澤東
Learn from Comrade Lei Feng
Mao Zedong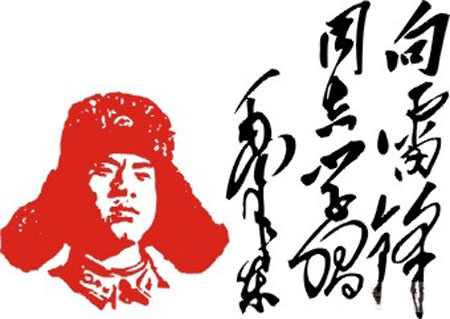 Comment from a colleague who is a historian and connoisseur of Chinese calligraphy: "Mao's calligraphic style is supposed to be the cursive, though strictly speaking, it's somewhat nondescript and nonscholarly."
What are the designers trying to convey with this arrangement? Why make the pinyin overshadow everything else on the cover, including Lei Feng's face (the clearly visible white letters overlie Lei's gray, fuzzed photograph)? I can understand putting the pinyin somewhere on the cover, especially since a lot of people might have trouble recognizing both of the characters (particularly the second one), but why make it so large? The pinyin occupies more than one quarter of the height of the cover.
[Hat tip to Geoff Wade]
---