« previous post | next post »
In a comment on yesterday's post about Noam Chomsky's use of creaky voice ("And we have a winner…", 7/26/2015), Tara wrote
At the risk of sounding like I missed the joke: creakiness in a speaker Chomsky's age is much more likely to be physiological in origin than stylistic. I checked older footage of Chomsky, and he does seem to have been quite a bit less creaky in the 60s than today. But more importantly, listen to William F. Buckley in the same recording! I suspect that Noam has been out-creaked.
Here's the recording in question:
And Noam Chomsky's Creakometer™ reading is indeed lower in this 1969 interview with William F. Buckley than it was in the 2005 interview with Ali G — 23.7% f0 estimates below the lower edge of his modal distribution, as opposed to 44.1%:
| | |
| --- | --- |
| 1969 Interview with WFB | 2005 Interview with Ali G |
| | |
And it's likely, as Tara says, that the main source of the difference is age.  But 23.7 is still a fairly high reading — there's plenty of creak/fry in Chomsky's 1969 voice, e.g.
Fundamentally there is no argument any more
(Sequence shown = "argument any more")
As for William F. Buckley, whether he "out-creaks Noam" is a matter of definition.  Only about 13.1% of his f0 estimates are below the lower edge of his modal range: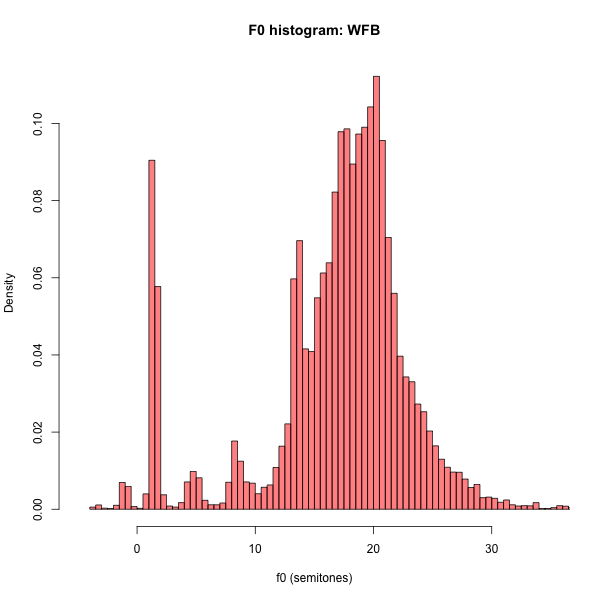 On the other hand, his modal pitch range is REALLY low — comparing quantiles: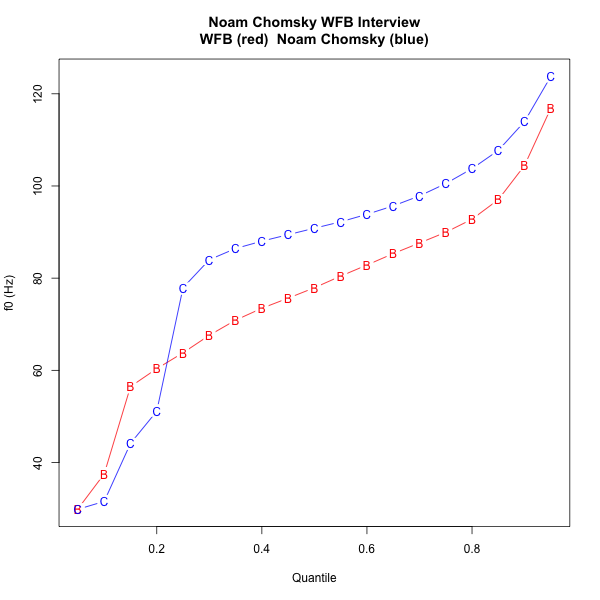 His median f0 is about 78 Hz, which the lowest that I think I've ever seen, and thus quite a bit of his modal-voice f0 distribution sounds creaky:
This seems to be an important part of what people refer to as his "aristocratic drawl". Thus see Michelle Tsai, "Why Did William F. Buckley Jr. Talk Like That?", Slate 2/28/2008, or this American Dialect Society listserv note from Paul Johnston:
I used to do some research at Edinburgh with a colleague of mine, a voice quality expert, on the dialectal component of voice qualities, both phonation type (which creak falls under) and articulatory setting, trying to find constraints on phonemic inventory and sound change driven by one or the other kind of voice quality. One thing we found that most Americans have at least some degree of creak (as do upper-middle-class Edinburgh speakers). The degree varies, though. and besides nasality, the label of "Long Island lockjaw" suggests a close jaw articulatory setting on top of everything else, which is definitely not a common American trait.  That I do associate with upscale speakers from the East Coast of both sexes–if I try to do an accent typical of the (male) preppies I grew up with in New Jersey–kind of like a rhotic version of ex-governor Tom Kean or William F. Buckley–I automatically increase creak, close my jaw and retract my tongue to add a bit of pharyngealization. I don't do anything with nasality (and I'm quite DEnasal, though that can be perceived as nasal), but offhand, as a hypothesis, this is where the gender divide in upscale New Jersey creakers comes in. Female speakers have the nasality, males don't. Both sexes, though, seem to have the pharyngealization as part of the whole VQ complex. Midwesterners identify this setting as an "affected" voice, though I think there are native speakers with this setting, too.
So maybe the whole "young female creaky-voice thing", if it really exists, is just an extension of Larchmont Lockjaw? That would fit with the "City Girl Squawk" aspect of what Jason Horowitz called "The Affect" in a 2006 New York Observer story.
---