« previous post | next post »
Back in February, Arika Okrent asked "What is vocal fry?", in her column at Mental Floss. And she pointed out that
People's voices naturally drop in pitch at the end of phrases, and in many speakers, it will drop into the fry zone at that point. The evidence that it's a female thing is also anecdotal. Plenty of men fall into vocal fry. For instance, Noam Chomsky has it pretty bad.
As an example, she embedded Ali G's interview with Prof. Chomsky a decade ago, which we linked to back in 2006 ("Ali G in the land of colorless green ideas", 4/5/2006):
So I thought I'd try out the Creakometer™ that I proposed a couple of days ago ("More Pinker Peace creak", 7/25/2015), which is based on the proportion of pitch estimates below the speaker's modal-range distribution. Thus the young woman introducing Steven Pinker's Nobel Peace Forum lecture scored 23.4%: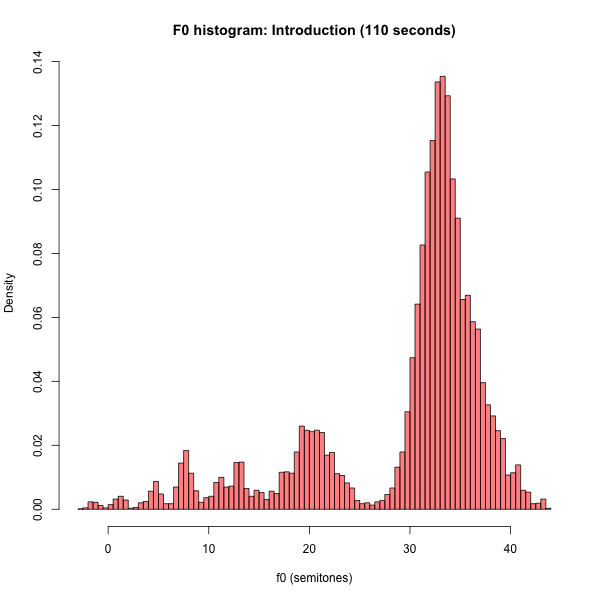 Since then, I've looked at a half a dozen other speakers (without reporting on it yet), and I've seen a range from around 2% on up, with that 24.3% the highest seen so far. But Noam's score in the Ali G interview is 44.1%: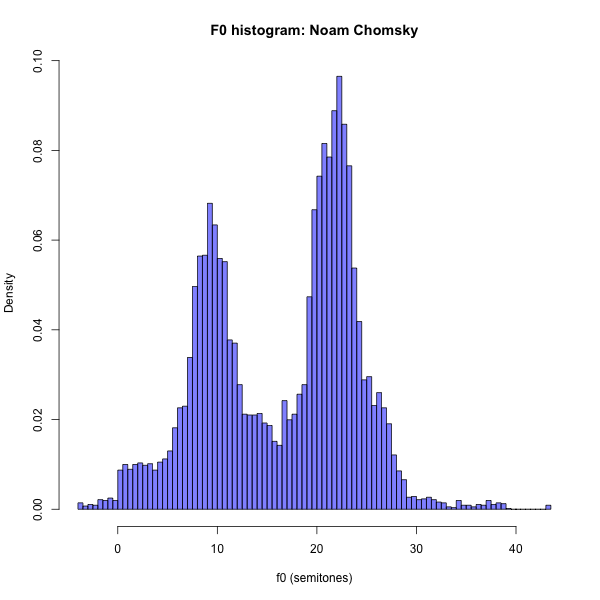 As Arika observed, "No one seems to be complaining that Chomsky's creaky voice makes him sound ditzy."
[N.B. I pointed out in that earlier post that the Creakometer still needs a bit of calibration, since different pitch-tracker choices will affect the scores. But still…]
---