« previous post | next post »
Occasionally one encounters pinyin with no hanzi (Chinese characters); see at the bottom of this photograph taken by Randy Alexander at a small mall right across from the main entrance to Xiamen (Amoy) University: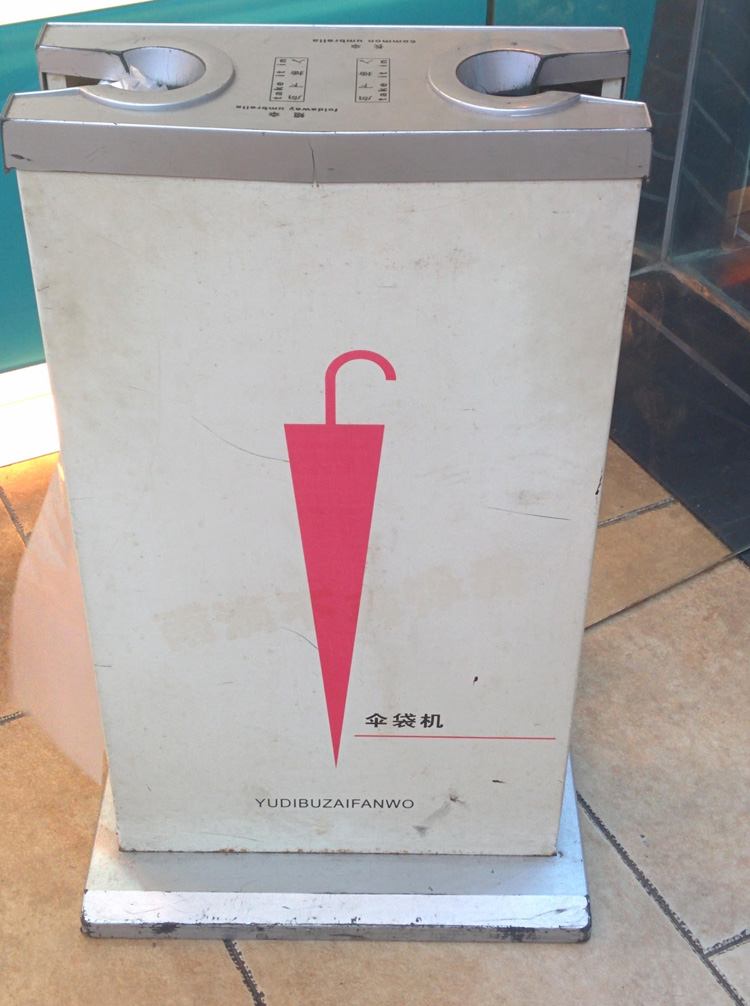 It looks like a strange contraption, but the picture on the side tells us that it has something to do with umbrellas, and the three Chinese characters explain that it is a sǎndàijī 伞袋机 ("umbrella bag machine").
Those are enough hints to make sense of the otherwise challenging pinyin sans tones or spacing:
YUDIBUZAIFANWO
Randy and I think the pinyin is a transcription of yǔdī bù zài fán wǒ 雨滴不再烦我 ("raindrops will no longer bother me").  But that is fairly literary, making the toneless and spaceless pinyin all the more difficult to understand.
Here is a less literary, more colloquial rendering:
yǔdī bù zài ràng wǒ fán(nǎo) 雨滴不再让我烦(恼)
("raindrops will no longer bother me")
Though it sounds rather weird, the following has also been suggested:
yǔdī bù zài máfan wǒ 雨滴不再麻烦我
("raindrops will no longer bother me")
I like Maiheng Dietrich's commonsense comment:
Wow, speaking of awkward Chinese! Grammatically, all three are legitimate. The second (with "恼") sounds the best to me, but it's rather poetic. The first and third are both what I would call awkward Chinese. What does this machine do? Produce a plastic bag for your wet umbrella? I don't know what I would say really, maybe "湿伞不再成为问题*" or "解决湿伞问题**." I definitely wouldn't call it 雨滴*** as I associate 雨滴 with the rain drops falling from the sky, not a wet umbrella. However, there is one potential problem with 湿伞**** showing in pinyin because there are several homophone combinations, and people would immediately think of 十三*****、失散****** etc. instead of wet umbrellas. I guess I didn't solve your problem.
* shī sǎn bù zài chéngwéi wèntí ("[your] wet umbrella will no longer be a problem")
** jiějué shī sǎn wèntí ("solve [your] wet umbrella problem")
*** yǔdī ("raindrops")
**** shī sǎn ("wet umbrella")
***** shísān ("13")
****** shīsàn ("scattered")
Probably what they're trying to convey is something like this:
bù zài dānxīn (yǔsǎn) nòng shī dìmiàn 不再担心(雨伞)弄湿地面
("there's no longer a need for [you] to worry that [your umbrella] will make the floor wet").
Randy observes:
…I really doubt that many people would notice what it said there [in pinyin], but the graphic designer apparently thought it was hip. I've seen things like this around but hadn't thought to keep track of them. As far as I can tell they seem to appear in trendy places. I'll try to take more pictures as I come across more examples.
On an unrelated topic: I've been jamming with some local musicians every now and then. They included me in a WeChat group that they use to tell people when to meet, and to discuss equipment and so forth. They're certainly not shy about throwing in English words when they write: jam, hang (out), bass. They're all between 20 and 30 years old. I don't notice that happening at all with people in their 40s and 50s.
As we have seen many times before, use of Roman letters is perceived as cool and cosmopolitan, even if what is written in the alphabet is not understood.  See, for example:
I have occasionally bought products made in China whose packaging (and sometimes even instructions) have no characters and no English, just pinyin.  Usually the pinyin is run together in long strings like "YUDIBUZAIFANWO" or will have all syllables separated by a space. Seldom does it come with tones marked.  Rarely is there both correct spacing of words and tones indicated.
Keep your eyes open for all types.  I'll be especially pleased to receive instances of pinyin only, no matter whether it is correctly parsed or not and whether it has tones marked or not.
[Thanks to Fangyi Cheng and Rebecca Fu]
---