« previous post | next post »
Reader MH wrote to ask "I was wondering if the following phenomenon is backed up by any data, and if so, if it's unique to English", with respect to a bit of Twitter social science, wherein happymrlocust asked
Tell me twitter, when you refer to your grandparents together, who comes first, the grandmother or the grandfather?
and learned that:
Possibly this is an english language thing, but most replies have been "grandma first". Which is very curious.
We don't learn why happymrlocust finds this suprising, but I'll assume that the phenomenon of interest to MH is  the verbal order of grandparents. We can start by (semi-) confirming the reported twitter polling data:
| | | | | |
| --- | --- | --- | --- | --- |
| | LDC Tel | LDC News | COCA | NYT.12 |
| grandpa and grandma | 3 | 26 | 39 | 5 |
| grandma and grandpa | 20 | 175 | 117 | 499 |
| grandfather and grandmother | 1 | 50 | 28 | 4 |
| grandmother and grandfather | 5 | 46 | 33 | 6 |
This evidence suggests that for the colloquial forms, "grandma and grandpa" is indeed strongly preferred over "grandpa and grandma":  3-to-1 in LDC telephone conversational transcripts; 7-to-1 in LDC news archives; 3-to-1 in Mark Davies' COCA corpus; 100-to-1 in the past year of NYT archives.  These are pretty consistent, except for the NYT counts, where something funny must be going on.
(And by the way, just to confirm the observation that Google counts no longer have even order-of-magnitude comparative validity in matters of usage (if they ever did), Google gives us 1,610,000 hits for "grandpa and grandma", compared to 577,000 for "grandma and grandpa".)
For the full forms — "grandmother and grandfather" vs. "grandfather and grandmother" — there's apparently not any strong preference in either direction.
As for why common binomial phrases should have preferences in one direction or another, the literature on this general topic is more than two millennia old, beginning with Pāṇini's rules for word order in dvandva compounds (discussed in Fritz Staal, Word Order in Sanskrit and Universal Grammar, 1967). The literature continues in Yakov Malkiel "Studies in irreversible binomials" Lingua 8: 113-160, 1959; William Cooper and John. R. Ross, "World order", in Papers from the parasession on functionalism, 63-111, CLS 1975; Steven Pinker and David Birdsong, "Speakers' sensitivity to rules of frozen word order", Journal of Verbal Learning and Verbal Behavior 18: 497-508, 1979; and many other works.
The general conclusion of this body of research is that there's a fairly long list of phonological, semantic and pragmatic tendencies, which collectively influence preferences without determining them in all cases; and that these tendencies are partly but not entirely universal. The Pinker and Birdsong paper has a good summary of the state of the field after its first couple of millennia, including this list of semantic preferences related to the self (the "Me First" principle):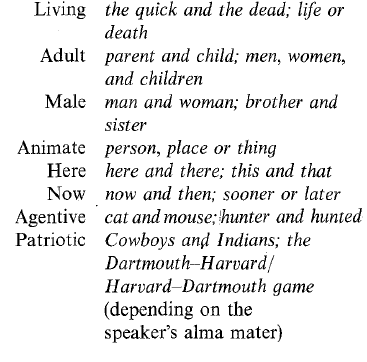 Here's P&B's summary of proposed phonological principles: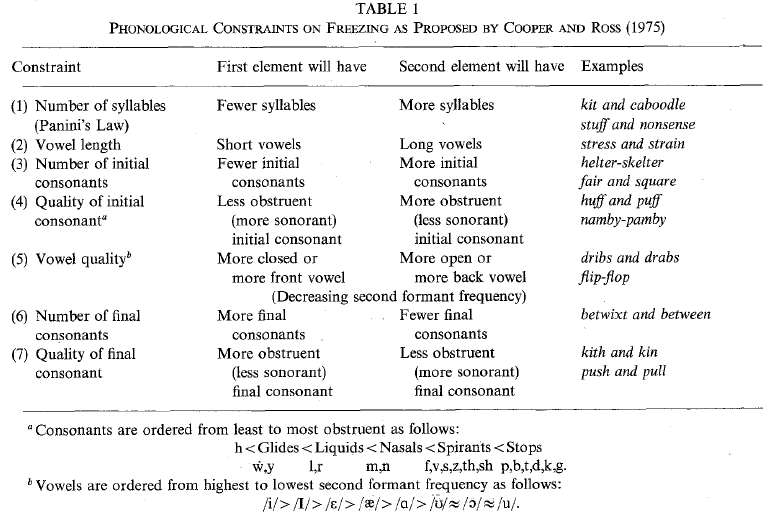 And their evaluation of the literature's support for them: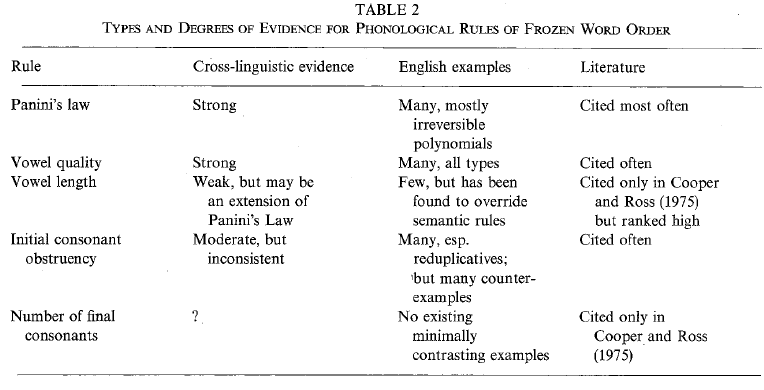 They did an experiment, using nonsense-word binomials, with English native speakers and two classes of English learners to test these ideas: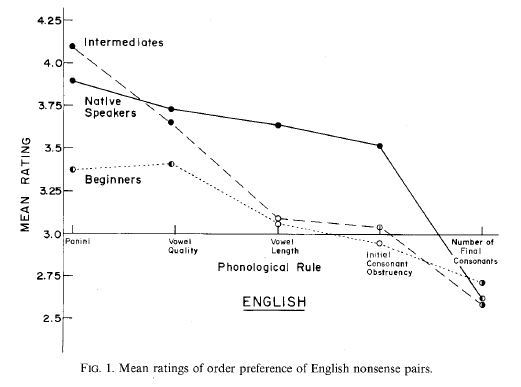 And a similar experiment with French: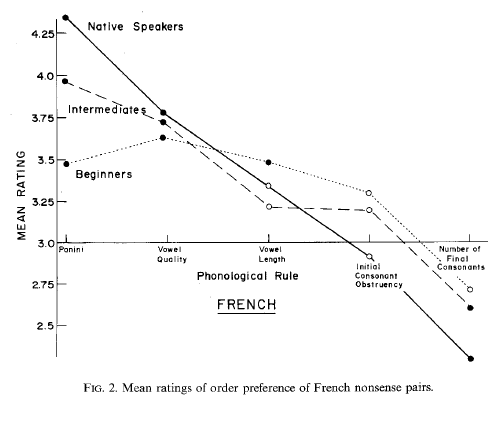 What does all this say about the order of grandparents?
Not much, except that the "quality of initial consonant" principle correctly predicts "ma and pa", and (perhaps by extension and/or by analogy) "grandma and grandpa".
[Update — more here and here.]
---