« previous post | next post »
Alissa Rubin, "Coping? Students in France just aren't", NYT 6/23/2015:
There is no easy translation or even a firm concept of the word "coping" in French, so when it turned up last week in a question on the national exam to earn a high school degree, it set off a fracas among the 350,000 or so students who took the test.
So far, about 12,000 of them have signed a petition posted four days ago on a social media site, change.org, arguing that the question was "too difficult."
The word appeared in the English reading comprehension section of this year's baccalaureate general exam, which requires an intermediate level of proficiency in two foreign languages.
The petition, "Annulation de la #QuestionM au Bac d'Anglais !", now has 12,459 supporters. It begins by postulating that
Il est totalement inadmissible de proposer un sujet de bac avec des questions incompréhensibles et impossibles à traiter. ("It is totally unacceptable to offer a baccalaureate-exam topic with incomprehensible questions")
Here's the offending question:
That Ian Mc Ewan Bac question in full: #questionM pic.twitter.com/5dV7FhVhlS

— AnneElisabeth Moutet (@moutet) June 23, 2015
A counter-petition, "Pétition contre ces pétitions de merde pour le bac" ("Petition against these shit petitions about the baccalaureate"), has 33 supporters.
There are several versions of the "coping is incomprehensible" argument. One version, to be filed under "No Word for X", is quoted in the NYT article:
"This word 'to cope' is unusually hard to translate into French," wrote Carol Just, a teacher of English in France, on the change.org website, "and the English notion is difficult to understand even for experienced adult learners because there is no real equivalent in the French language and in the French mind."
There seems indeed to be no French word exactly equivalent to coping — which is no surprise, since such exact translation equivalents are the exception rather than the rule. But there are plenty of ways to translate the concept, as listed e.g. here, including the verb gérer, glossed as "manage; handle; deal with". So this argument seems as weak as most "No Word for X" arguments are.
Another argument is that the English word coping is just too rare. "Les lycéens veulent faire annuler une question «trop difficile» au bac d'anglais", Le Figaro 6/21/2015:
Énervé, Arthur, 17 ans, lycéen parisien, a lancé vendredi soir une pétition sur le site Change.Org pour demander au ministère de l'Éducation de tout bonnement annuler la question. […] «À la sortie de l'épreuve», a-t-il raconté à l'AFP, «j'ai parlé à un ami dans un autre lycée et j'ai découvert qu'il avait eu exactement le même problème que moi avec la question M. Alors, j'ai lancé une pétition pour savoir si beaucoup d'autres l'avaient eu aussi, et c'est devenu viral. Plein de personnes n'ont pas compris le mot 'coping', c'est un mot peu courant», affirme-t-il.
Annoyed, Arthur, a 17-year-old Parisian high school student, started a petition Friday evening on change.org to ask the Minister of Education to simply annul the question. […] "At the start of the ordeal," he told AFP, "I spoke with a friend in another high school and I discovered that he had exactly the same problem as I did with Question M. So I started a petition to see if many others had felt the same way, and it went viral. Lots of people didn't understand the word 'coping', it's word that's rarely used", he asserted.
In fact, forms of the verb cope are reasonably common in English, according to corpus.byu.edu — about 25.3 per million in COCA, and about 16.5 per million for the wordform coping itself. only about 1% of which are used in the architectural sense ("a finishing or protective course or cap to an exterior masonry wall or the like", or  "a piece of woodwork having its end shaped to fit together with a molding").
Wordforms with current frequency similar to coping include pushing, alarm, and corruption, according to the Google Books ngram viewer as well as according to the counts in COCA: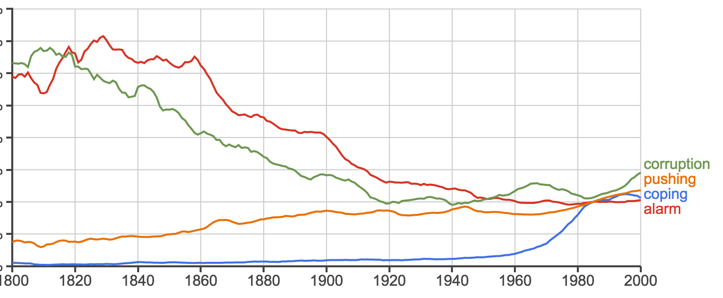 These are not exactly "mots peu courants".
But the Google Books ngram evidence suggests that frequent use of coping is a relatively recent thing, mostly post-1960 and even post-1980: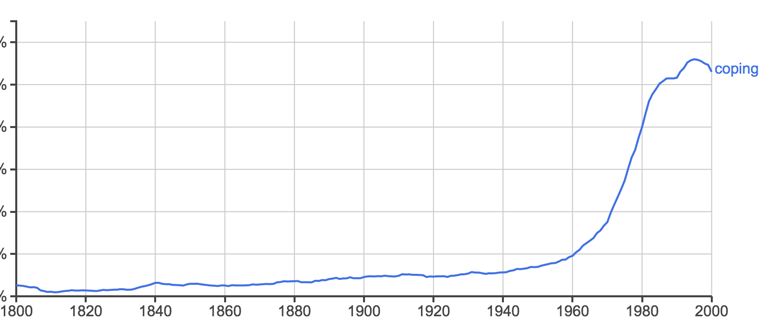 And it's possible that French secondary-school instruction in English tends to focus on older works, or at least older forms of the language. (For some other complaints about English-language instruction in France, see Michel Delarche, "Coping with English: pourquoi nos étudiants sont faibles en anglais", Mediapart 6/24/2015.)
The coping story has of course gone viral — some of the uptake is cited in Laura Wojcik's 6/23/2015 article in Le Monde, "Bac 2015 : ne pas comprendre « coping », est-ce être nul en anglais ?". And the brouhaha made NPR's Morning Edition on 6/24: "French Students Not 'Coping' Well With English Test Question".
Viral complaints about baccalaureate questions in France are becoming a sort of tradition — last year it was complaints about Victor Hugo's poem Crepuscule. This topic was obviously less attractive to Anglophone media than French inability to cope with coping, but the French media coverage would have been a good way to brush up your colloquial French. Even the headlines are instructive:
"Bac de français : 'Crépuscule de merde', Victor Hugo enflamme Twitter" ("French Baccalaureate: 'Fucking Twilight', Victor Hugo enflames Twitter"), TF1 6/18/2014. This one brings up the construction "X de merde", which we saw earlier in "pétitions de merde" — it's literally "X of shit", and seems to have roughly the same content as English "fucking X", but I have the impression that it's somewhat less taboo.
"Bac français: 'Victor Hugo, enfoiré, avec ton Crépuscule!'" ("French Baccalaureate: 'Victor Hugo, you asshole, with your Twilight!"), L'Express 6/18/2014. Here we have enfoiré, which (I think) is the past participle of a no-longer-current verb enfoirer "to cover in excrement", and now seems to have become bleached of specific excremental content and turned into a general rude term of disapproval, like "bastard" or "asshole".
"​Le bac de Français sur Twitter ? 'Victor Hugo si j'te croise dans la rue t'es mort'" ("The French baccalaureate on Twitter: 'Victor Hugo, if I see you on the street, you're dead'"), MetroNews 6/18/2014.
"Bac 2014 : 'Victor Hugo il m'a prit la tête truc de fou'" ("Baccalaureate 2014: 'Victor Hugo, he got me crazy worked up'"), Le Nouvel Observateur 6/18/1014. Here we have prendre la tete à X (lit. "take the head to someone") = "get X riled up", combined with what I guess is an adverbial-adjunct use of truc de fou (lit. "thing of fool") = "crazy thing". Some more colloquial goodness in the article itself:
Quelle est la réaction des lycéens au poème "Crépuscule" de Victor Hugo ? Rien qui ne se rapporte, de près ou de loin, à la poésie : "Torches toi avec ton brin d'herbe fdp de Victor Hugo", "Nike ta mère Victor Hugo et Nike la mère à tes de potes aussi pd" ou encore – notre préféré au "Nouvel Obs" – "Victor Hugo et toute sa compagnie créole de poètes la, ils m'ont prit la tête truc de fou".
I'll leave most of this as an exercise for the reader, with the initial clue that "torches-toi" = "wipe yourself" is apparently a rude way of saying fuggedaboutit, and "fdp" must be "fils de pute" = "son of a bitch".
Overall, I've learned quite a bit of French from this English-exam controversy.
Another topic, connected only by the thread of cross-linguistic comprehension difficulties: My daily walk to the LPP takes me past the Institut Curie, whose building is decorated with the slogan

which took me aback the first few times I read it, since it seems to mean "Together, let's get cancer quickly", or maybe "let's get quickness cancer". Of course, given that a biomedical research institute is featuring this slogan, I quickly inferred that prendre here must somehow mean "defeat". (And indeed, the institute's English-language page renders it as "Together, let's beat cancer".
Still, the verb prendre can mean "get" as well as "take", as in "Il a encore pris une gifle par sa mère" = "He got another slap from his mother". So I wondered whether the slogan is in fact ambiguous in an unfortunate way.
But in the first place, prendre is apparently not used for getting illnesses. And in the second place, prendre quelqu'un de vitesse is apparently an idiom meaning to overtake or outrace someone, and so anyone who knows that idiom (which did not include me) would presumably be protected against going to the wrong meaning for "prenons le cancer".
---