« previous post | next post »
Referring to its title as "Kochinglish", Kendall Willets called my attention to the following Korean TV show: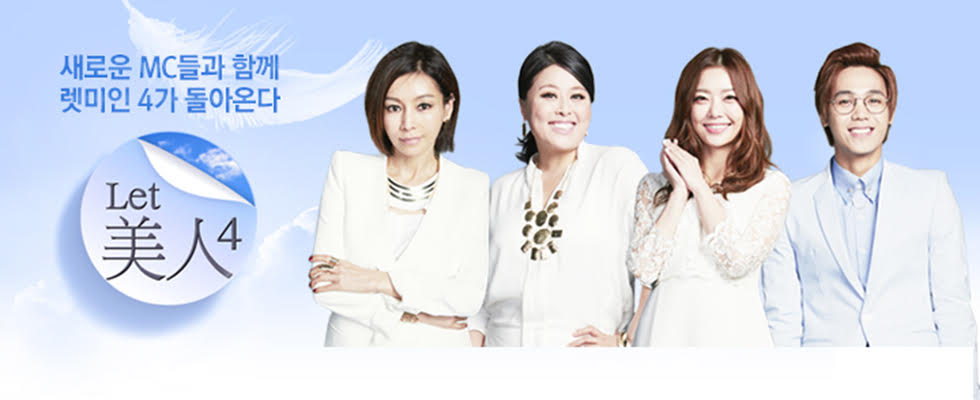 논란을 넘어 감동으로, 인생대반전 메이크오버쇼

Kendall notes: "It's apparently a makeover show for people who like puns."
The title, at least, depends on a bilingual pun to work:
Let 美人 4
美人 ("beauty") is "miin" in Korean, so that is an evident pun for "Let me in". The "4" refers to the fourth season of the show.
It's rather unusual to see Chinese characters being used in Korea nowadays, but an exception is made here to emphasize the Sinitic meaning of the morphemes (though miin 미인 would still mean the same thing, and the Hangul spelling does appear in the ad as well).
The accompanying explanation says that the "Let-me-in four" are coming back together with a new MC.
"Let Me In" is a Korean reality TV show about men and women with physical defects who are bullied because of their appearance, but can't afford to have plastic surgery. If they send in the story of their life and are selected to appear on the show, they will receive free cosmetic surgery and be turned into a beautiful person.
Korean friends tell me that this show is quite popular, so much so that the format has been exported to Thailand. However, the show has raised many eyebrows due to its indirect advertising, promotion of outer beauty, and unnecessary plastic surgery on parts of the body that are without significant defect.
As one of my Korean colleagues put it:
…many women's civil rights groups criticize this program for advertising cosmetic beauty, commercialism, materialism, and also for devaluing women's innate worth. Of course, this program itself claims they are not doing so, but only providing consultation and plastic surgery to those who have serious physical challenges, to provide them a "life." I think it really depends on how you view it.
Delving deeper into the pun in the title, a Korean friend wrote:
Now the reason why I got interested in this reality show was mainly for its title: "Let 美人". In Korean, the pronunciation of 美人 is "mi-in." So the title sounds like "Let me in" in English. Why is this interesting? Well, I had a chance to watch a well directed vampire movie years ago and the title was "Let Me In" (2010)!
It wasn't a great movie but it was well directed and the (fe)male child actors were pretty good. So, on the one hand, there is this vampire-horror movie, and on the other hand, a reality show talking about plastic surgery. And I couldn't stop thinking that whoever came up with this name for the TV show was an idiot to use the same name/pun from a horror movie. Moreover, "Let 美人" doesn't even make sense. It has no meaning in either English or Korean…well…grammatically speaking.
My view on this show: Let Me Out! (which I guess is the title of several movies, Android Apps games, TV shows, pop songs, and so on).
[Thanks to Bob Ramsey, Bill Hannas, Haewon Cho, and Daniel Sou]
---