« previous post | next post »
David Donnell:
A friend in Ames, Iowa, sent me this photo of a small framed picture she purchased at a garage sale in her town. She is curious what the language is, and what it says…in English.
She added, "I got the impression from the other items at this woman's sale that she had done some traveling and picked up souvenirs from all over the world. (I could be wrong, though!)"
Myself, I am clueless about what language it is, and clueless how to even google it! (I tried a Google image search and got nothing useful, and googling the word "Capamoba" also didn't help.)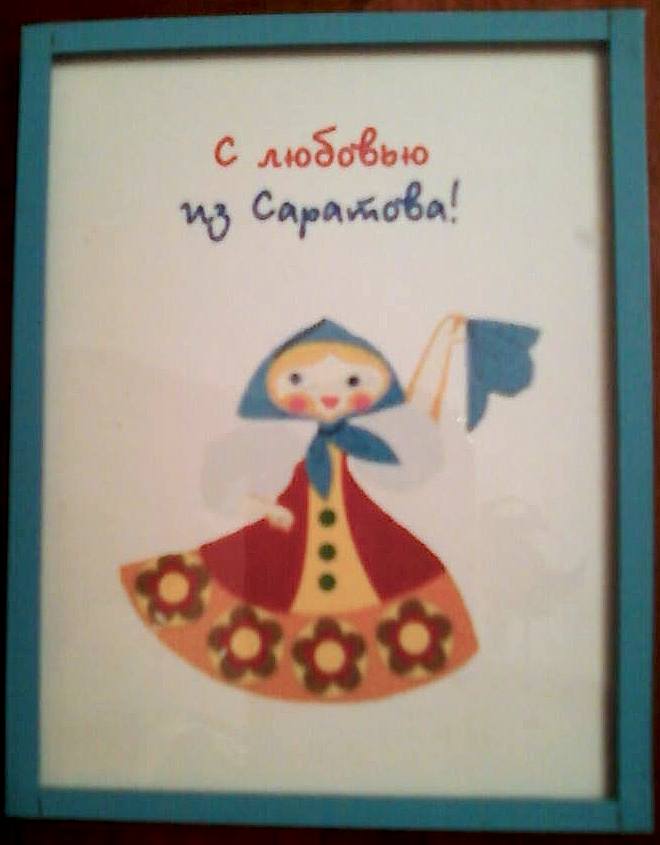 The letters are clearly cyrillic, and the top line is clearly
с любовью = "with love" in Russian
The second line is
из <PlaceName> = "from <PlaceName>"
I'm less certain about what the place name is, but  the -a at the end is the genitive case, and the apparent 'm' with a stroke over it is probably a semi-cursive 't', in which case the place might be Saratov, and the whole text would be
с любовью из Саратова = "with love from Saratov".
It's slightly puzzling how a woman from Ames, Iowa, would have picked up a souvenir from Saratov, though, since as Wikipedia explains
Until the end of the Soviet Union in 1991, Saratov was designated a "closed city", that is, strictly off limits to all foreigners due to its military importance. This was due to the presence of a vital military aircraft manufacturing facility in the city.
Maybe the woman was actually a Russian emigrée? Or someone picked it up on a trip before WW I or after 1991? I guess a post-1991 cruise on the Volga would be the most likely source.
Unless I've interpreted the m-ish letter wrong, and it's a different place name?
---