« previous post | next post »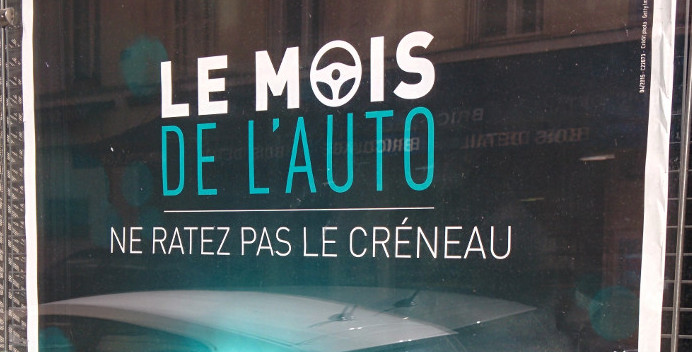 Spending a couple of months in Paris frequently exposes me to the wonders of semantic drift. Many of the new French words that I'm learning turn out to be unexpected figurative senses of words that I already knew — though sometimes I need to look them up to realize that I knew them, because the figurative usage is non-obvious.
For example, the picture on the right shows a sign in the window of a local Credit Agricole branch, urging me not to miss the "créneau". What, I wondered, is a créneau, and what would it mean to miss it?
After looking this word up, I realized that I knew its original meaning, namely what I would call in English a "crenellation" or a "crenel" — which the OED glosses as "One of the open spaces or indentations alternating with the merlons or cops of an embattled parapet, used for shooting or launching projectiles upon the enemy". Or as the wordreference dictionary puts it:
créneau nm (ouverture répétée pratiquée sur un parapet): crenation, crenel
_____Les archers tirent depuis les créneaux.
But Crédit Agricole is not worried about manning the auto-insurance battlements — the ad involves one of the figurative extensions of créneau whose existence I had not previously suspected:
créneau nm (temps libre dans un agenda):  slot, time slot, gap, window n
_____Généralement je trouve un créneau dans la semaine pour aller marcher.
créneau nm (temps d'antenne réservé à qqn) slot n
_____Les annonceurs recherchent des créneaux en début de soirée.
créneau nm (segment de marché en expansion) market opportunity n
_____Actuellement la tablette électronique est un créneau porteur.
créneau nm (manœuvre pour se garer) parallel parking n
Several of the figurative extensions of créneau correspond in English to figurative extensions of slot, which according to the OED was originally (from about 1400) "The slight depression or hollow running down the middle of the breast".
Slot then developed extended senses like
"An elongated narrow depression or perforation made in the thickness of a piece of timber, etc., usually for the reception of some other part or piece, whether fixed or movable" (from 1523);
"The opening in a slot-machine for the reception of a coin" (from 1888);
"The middle of the semi-circular or horseshoe-shaped desk at which a newspaper's sub-editors work, occupied by the chief sub-editor" (from 1917);
"Aeronaut. A linear gap in an aerofoil, running parallel to its leading edge, which allows the passage of air from the lower to the upper surface and so increases the lift" (from 1920).
I was not surprised to learn that the sense "A marked-out parking space" dates only from 1944.
But I wouldn't have guessed that the sense "A position in a list, hierarchy, system, or scheme; a position to be filled; a category; a place or division in a timetable, esp. in broadcasting" was not attested before 1942.
And it's interesting that créneau and slot both extended to "time slots" and "parking slots" (though créneau is apparently only the parallel-to-the-curb kind), while créneau also extended to the "market segment" sense for which English mostly uses niche.
I had read about literal créneaux in sources like Le Comte de Monte Cristo. And of course my strongest immediate association with French parapets is the Monty Python taunting scene:
The OED gives crenel an etymology that also connects it to kernel and cranny:
Etymology: < Old French (12th cent.) crenel, plural creniaus (modern French créneau , -eaux). Old French variants were kernel , karnel , whence also English carnel n.1, kernel n.2 q.v. The French word is apparently diminutive of cren , cran notch (of which however Littré has no example before 15th cent.); see crena n. and compare cranny n.
So anyhow, does it mean anything that the French etymology sees appointment times, schedule segments, and parking spaces as figurative openings in a defensive wall made for "shooting or launching projectiles upon the enemy", while English speakers see them figuratively as shaped depressions made to allow pieces of wood to be fit together into useful structures?
Probably not. But the etymological fallacy is often tempting.
[Update — Looking up the C/A "mois de l'auto" campaign on line, I see that it's actually a special deal for auto loans at an interest rate of 2.9%, with two months of free insurance thrown in. So I think the "créneau" in question is the limited period of time during which the offer is good.]
---